Home

>

News

>

DSEI 2023: Kongsberg Maritime unveils new Mission Bay Handling System
DSEI 2023: Kongsberg Maritime unveils new Mission Bay Handling System
Kongsberg Maritime unveiled its new Mission Bay Handling System at DSEI 2023 and has signed a contract to supply Kamewa waterjets for 17 Jurmo-class landing craft for the Finnish Navy.
Kongsberg's new Mission Bay Handling System (MBHS), on display at DSEI 2023, consists of three main elements: a frame system, overhead crane and standalone cargo handling solutions.
The frame is a fully interchangeable rail system that is fixed to the deck above the mission bay, meaning in-sea assets such as small boats and UUVs are suspended from the rails and can be moved from storage. 
The overhead system has a standardised interface with the ship, which comprises the rails and a unit which is suspended from them and connects to range of tools. The handling attachments are interchangeable and can be swapped without altering the frame. 
Related Articles
SH Defence's Cube system gains more naval partners
DSEI 2023: Kongsberg expects launch customer for Vanguard multrole ship imminently
New Zealand explores modular ship designs for future naval fleet
The system can be based on a single or double rail, capable of handling loads of 6t and 12t  respectively. The overhead multi-purpose crane can handle containers weighing up to 15t. 
The third element of the MBHS consists of a deck skid system, a cargo handling crane for containers and an overhead auxiliary crane for lighter loads of up to 1.2t.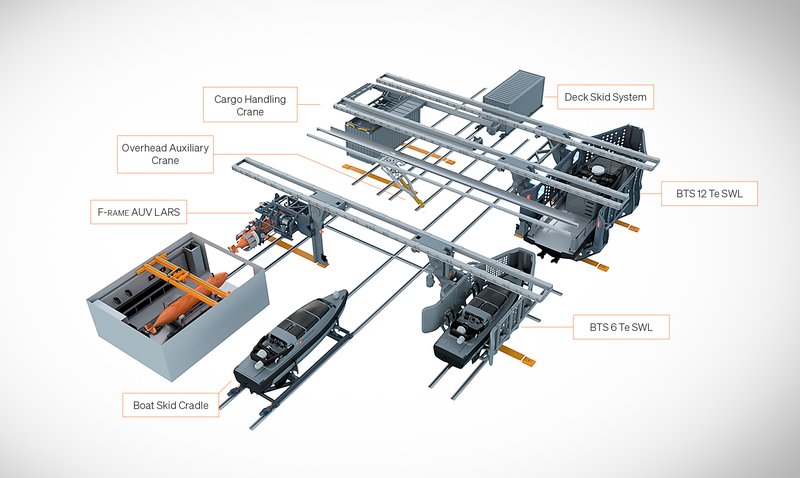 Kongsberg's Mission Bay Handling System can be used to launch and stow small boats and uncrewed systems from a naval vessel. (Image: Kongsberg) 
According to company representatives, the new MBHS will allow the use of a very wide variety of small craft, USVs and UUVs or AUVs from the same ship. 
Without the modularity, customers would need to have different ships for different types of operation, while the mission bay supports different tasks with only minor configuration changes.
Robert Breivik, Kongsberg's senior sales manager - naval, emphasised the significance of modularity in modern operations, stating: 'I speak to a lot of navies, and the one thing they all want is modularity. Navies want platforms that can easily be transformed to meet mission requirements, so the days of ships that are dedicated to a small range of tasks are over.'
Alongside unveiling its new product, Kongsberg signed a contract to supply its Kamewa waterjets for 17 Jurmo-class landing craft for the Finnish Navy. The contract was signed in late June and is worth €25.5 million, including taxes and spare parts.
Magnus Fahlén, senior VP – waterjets, at Kongsberg Maritime, said: 'Kongsberg Maritime is once again proud to be supplying our highly-efficient waterjets to Marine Alutech. We've worked with the company for more than 30 years as they have evolved into one of the leading builders of fast, agile military and specialist craft. 
'The Jurmo-class has a proven track record with the Finnish Navy, and this latest order for 17 will bolster the capabilities of its coastal armed forces.'
Shephard's DSEI 2023 coverage is sponsored by:

More from DSEI 2023 | View all news