Home

>

News

>

Black Sea drone attack reaffirms threat to naval vessels
Black Sea drone attack reaffirms threat to naval vessels
A naval expert tells Shephard the Ukrainian attack on the Russian Black Sea Fleet assets, as reported, fits into a long tradition of weaker navies seeking to find ways to counter more powerful opponents.
On Saturday, three Russian vessels were reportedly targeted from the air and the sea using a mix of UAS and USVs, damaging the Russian ship Admiral Makarov – an Admiral Grigorovich-class frigate.
While details of Saturday's reported Ukrainian attack on Russian naval forces in and around Sevastopol remain unclear, the incident has served as a reminder of the threat posed by remote-controlled explosive boats.
In footage widely circulated on social media, a USV, like that which washed up near the Sevastopol Naval Base in Crimea earlier this year, can be seen sailing towards a Russian vessel before the camera cuts out.
A senior US military official commented on the incident: 'Finally, we're tracking the reports and Russian statements regarding an alleged attack against Russian Navy vessels in Sevastopol.
'We do assess that there were explosions there, but I'm not going to have a damage assessment to share, nor am I going to have any further information to provide in terms of what may have caused these explosions.'
In the wake of the attack, Russia withdrew from the UN-brokered grain deal to allow exports by sea from Ukraine that are vital for global food security. The Russian MoD called the attack a 'terrorist' act, adding that in the course of defending against the USV and UAV attack, its forces destroyed 'four marine unmanned vehicles'.
International Institute for Strategic Studies (IISS) senior fellow for naval forces and maritime security Nick Childs told Shephard that video footage supported the suspicion that the attack used a mix of aerial and surface uncrewed systems.
He added: 'This is likely to sharpen the focus on a threat which many navies have been increasingly concerned about anyway, of the use of such systems against shipping and warships, including potentially in large numbers or as swarms. In a sense, it's not new or surprising.'
The Black Sea is not the only area in the world with a similar naval threat, and Childs cited the Gulf as another area of concern, particularly the activities of by Iranian actors.
Houthi rebels in Yemen have also used remote-controlled boats filled with explosives to attack targets in the Red Sea. In January 2017, the Saudi Arabian Al Madinah-class frigate Al Madinah was damaged after being hit by such a USV. These boats were also reportedly used in attacks on the port of Mokha, Yemen.
Using small craft filled with explosives to target larger vessels is nothing new. In October 2000, two suicide pilots of a small craft attacked the Arleigh Burke-class destroyer, USS Cole. The attack occurred while the ship was undertaking a fuel stop at the port of Aden in Yemen en route to the Persian Gulf.
Going further back, Italian explosive-laden motor boats crippled UK RN heavy cruiser HMS York during WWII.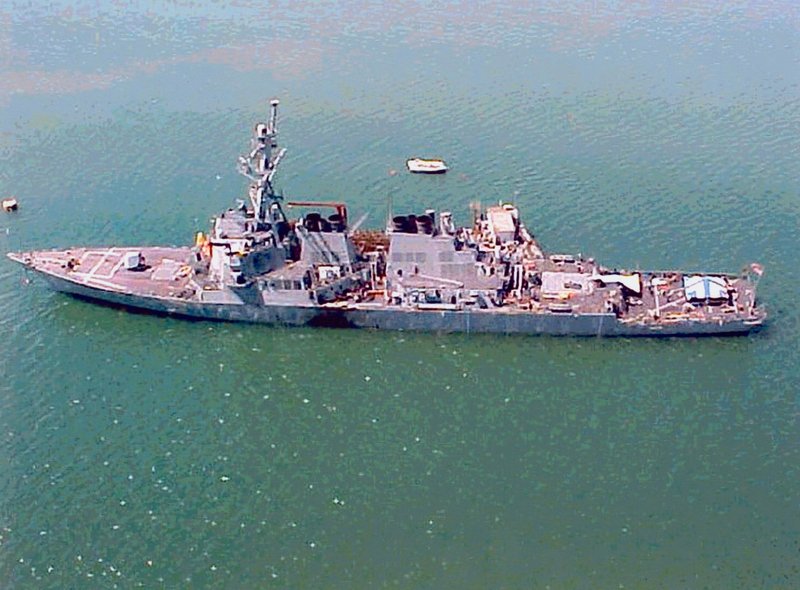 Damage to USS Cole in the aftermath of the attack in 2000. (Photo: FBI)
How can navies defend against USV and small boat threats?
Most navies are alert to the threat of USVs and small boats and are developing capabilities in response to help defend against these threats.
Childs said: 'They are not easy threats to defend against, as they present difficult targets, and certainly require a great deal of alertness and skill, and the right kinds of equipment in order to counter them.
'These could include jamming systems, rapid-fire guns, lasers and short-range missiles (including potentially from embarked helicopters) but also different tactics of operations and increased port protection, which could be everything from more traditional booms to uncrewed vessels themselves.'
He added that the extent to which the Russian Navy was geared up to face small surface threats was uncertain 'since – among other things – the "tally" from what took place remains unclear.'
Some ship designers have taken novel approaches to unconventional threats, such as Naval Group, which has designed the French and Greek navies' Frégate de Défense et d'Intervention or FDI frigates with a dedicated asymmetric warfare bridge.
'Warships, like all weapons systems, have their vulnerabilities, and the key is being ready and operating in a way that reduces these.'— IISS senior fellow Nick Childs
Childs said that the incident, as reported, was another reminder that 'in the modern world, relatively modest technologies can be used to pose significant threats to major naval forces'.
He added: 'In a sense, it fits into a long tradition, particularly of weaker navies seeking to find ways of countering more powerful opponents, and navies generally trying to attack their opponents when they're most vulnerable, including in harbour.
It's what saw the invention of torpedoes, the wide use of the sea mine, and even the more ingenious ways from an earlier age of trying to find ways to attack warships in their harbours and sanctuaries.'
Addressing these, he explained, usually involved increasing inventiveness in return when it comes to countermeasures and adapting tactics and operational procedures to drive down risks.
'Warships, like all weapons systems, have their vulnerabilities, and the key is being ready and operating in a way that reduces these,' he concluded.