Home

>

News

>

DSEI 2023: IAI launches new loitering munition with VTOL and changeable warhead
DSEI 2023: IAI launches new loitering munition with VTOL and changeable warhead
IAI has developed a new VTOL recoverable loitering munition, the Rotem Alpha, which draws upon the companies Rotem L system and is being presented at DSEI alongside the concept of a mobile containerised system capable of launching more than a dozen weapons.
Rotem Alpha can be equipped with one of two warheads, anti-tank or fragmentation, with fuses including contact, delayed or proximity. The company notes that warheads can be changed in the field but this is not the preferred scenario.
In one scenario, the system's sensor suite autonomously detects and locates hostile enemy fire, like artillery, rockets and missile launchers, and then investigates and engages in a direct attack using its EO day/night seeker.
Speaking to Shephard at DSEI, Alon Tamir, marketing manager, MBT missiles division, at IAI, said the system had similar components to Rotem L such as payload and ground control station, which provided it with a high level of maturity.
Related Articles
Singapore Airshow: IAI showcases loitering munitions
'Unlike other loitering munitions or those operated from canisters, this system, because of its VTOL capability, can be launched in confined areas, such as surrounded by buildings or in forests, and launching does not present a safety issue for other personnel,' Tamir said.
The UAS operates to a distance of 40km LoS providing an hour's endurance with 8kg of payload, but as it is recoverable the battery can be replaced or the system recharged in the field but this is not seen as a preferred scenario by the company.
'The VTOL nature of the system also provides it with a perch capability where a number could remain on station and deny access to an area or protect a site,' Tamir said.
'The range would remain at 40km but this could be extended with radio relay and the Alpha Rotem could remain on station for 24h.'
In current configuration the day/night sensor weighs 1kg and the warhead 3kg allowing for an additional 4kg for better capability or extended endurance. The system weighs 25kg but is transportable by two people with the 10kg battery able to be removed. It can also be vehicle transported and in either scenario deployed within 2min.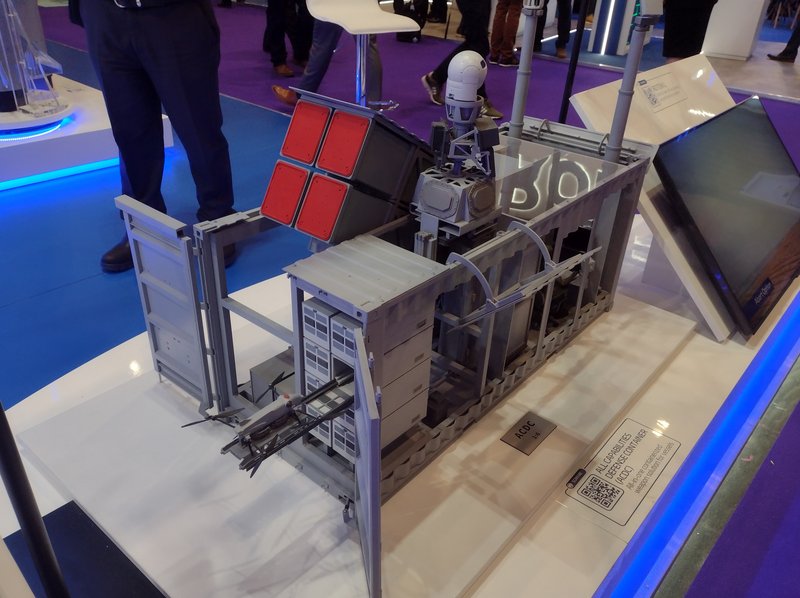 The ACDC container system on display at DSEI showing Rotem Alpha launcher on the right and Mini-Harpy launcher on the left. (Photo: author)
The containerised system, dubbed All Capabilities Defence Container (ACDC), is shown in mock-up form at the show with radar, EO sensor, workstations for operators and the company's Mini-Harpy loitering munition but it is designed to be flexible in terms of subsystems
Shephard's DSEI 2023 coverage is sponsored by:

More from DSEI 2023 | View all news
With the satellite industry at a pivotal juncture, Intelsat is investing in advanced technologies like 5G and optical communications, striving to enhance worldwide connectivity and address emerging governmental needs.

From its emergence as a ground-breaking design in the 1950s to its widespread deployment in diverse operations worldwide, the Chinook continues to leave an indelible mark on the aviation landscape. Shephard sums up the latest developments and tells you everything you need to know about the workhorse of many armies and air forces in the 2020s.

Controp Precision Technologies unveiled its Smart Vision AI software for enhancing the level of autonomy and automation for a variety of surveillance and reconnaissance missions at DSEI 2023.

Babcock has signed an MoU with propulsion experts Cosworth to investigate the use of hybrid power systems in military vehicles and will begin with integrating a Catalytic Generator (Cat Gen) into a 70 Series Toyota Land Cruiser.

DSEI 2023 took place in the shadow of the largest European land war in more than seven decades and a growth in conversations about artificial intelligence (AI) with limited UK immediate defence programme opportunities; many of the new products and exhibitors' announcements reflected this.

Israeli UAS developer SpearUAV introduced a submarine-launched capsule option for its Viper 750 UAV at DSEI 2023.