Home

>

News

>

Malaysia signs contracts for light combat aircraft and MALE UAVs
Malaysia signs contracts for light combat aircraft and MALE UAVs
Malaysia announced several important aircraft contracts at LIMA 2023, including UAVs and light combat aircraft.
Malaysia's MoD signed several contracts for aircraft – Italian-built maritime patrol aircraft, Turkish MALE UAVs and South Korean light combat aircraft – at LIMA 2023 in Langkawi on 25 May.
The deal for three Anka-S MALE UAVs was worth MYR423.8 million ($91.6 million) to Turkish Aerospace, and it was much awaited given that the two parties signed a letter of intent in around October 2022 after the RMAF had selected the Anka-S.
Bertan Kurt, Turkish Aerospace's VP of Corporate Marketing and Communications, told Shephard that the deal covered three UAVs, a single ground control station and two years of support. After that period, the RMAF will take full responsibility for maintaining the Ankas. However, Turkish Aerospace has an engineering and design centre based in Selangor that can provide assistance if required.
Malaysia becomes the seventh export client for the Anka. The Anka-S designation indicates that Malaysian aircraft are equipped with SATCOM, enabling the UAV to utilise its endurance of 30+h fully. Malaysian pilots and technicians will train on the system in Turkey for two years.
Kurt also noted that Malaysia selected a new type of radar not used by any other Anka user. Therefore, integration work for this undisclosed type of radar onto the Anka will mean delivery will take about two years. Shephard understands that Malaysian aircraft will also feature modified wings.
Kurt could not say whether Malaysia would arm its aircraft. The Anka platform features hardpoints, so Malaysia can certainly acquire munitions should it wish to at any stage in the future.
The Malaysian MoD labelled this procurement as 'Phase 1'. Kurt thus expected that Malaysia would require additional aircraft under follow-on phases, and Malaysia has previously talked about needing 6-12 MALE UAVs.
Nor does this necessarily mean the RMAF will procure more Ankas, as Kurt expected to offer even more capable UAVs like the twin-engine Aksungur later.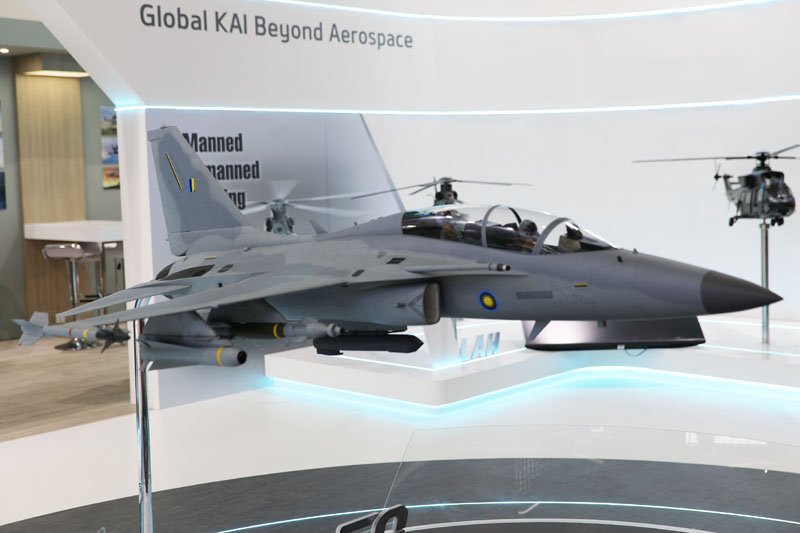 At LIMA 2023, KAI 're-sealed' a contract with Malaysia for 18 FA-50 light combat aircraft, several months after the deal was made. (Photo: Gordon Arthur)
In dollar terms, the largest contract went to Korea Aerospace Industries (KAI) for 18 units of FA-50M lead-in fighter trainers/light fighters. These FA-50s for the Royal Malaysian Air Force (RMAF) are valued at MYR3.84 billion ($830.3 million). This procurement was actually inked on 24 February, so the LIMA signing was merely a ceremonial one.
Providing Shephard with more detail, Sangshin Park, KAI's Regional Manager & Chief, International Business Development, Asia, said these FA-50 Block 20 aircraft would receive the PhantomStrike AESA radar from Raytheon.
This move is necessary because Malaysian politics prevent it from considering installation of the usual Elta ELM-2032 radar as used by the Republic of Korea Air Force (ROKAF). However, Malaysia will not be alone in paying for integration of this new radar onto the FA-50, since Poland also opted for the PhantomStrike under a US government-approved direct commercial sale.
Features of the FA-50 Block 20 include an aerial refuelling probe, conformal fuel tank, radar and the ability to fire medium-range air-to-air missiles and air-to-ground missiles.
First FA-50Ms for the RMAF are due for delivery by October 2026, and the last by August 2027. Remembering that KAI is also providing 48 FA-50s (ten Block 10 and 38 Block 20 aircraft) to Poland from 2023-28, this cements the South Korean OEM's reputation for meeting swift delivery schedules. Incidentally, Park noted the first Polish FA-50s will be handed over in May, after being diverted from an ROKAF production lot.
With the RMAF still flying 13 Hawk 208 trainer jets, there is plenty of scope for Malaysia to acquire more FA-50s. Additionally, eight F/A-18D Hornet and 18 Su-30MKM fighters will eventually need to be replaced with a multirole combat aircraft, so Park suggested that another squadron of 18 FA-50s remains a distinct possibility for the RMAF.
Malaysia joins Indonesia, the Philippines and Thailand as a T-50/FA-50 user within Southeast Asia.
Providers of munitions are also following Malaysia's FA-50 purchase closely. MBDA, for example, believes the short-range ASRAAM and the Brimstone air-to-ground missile would be suitable for the RMAF.
Another major aircraft contract inked at LIMA 2023 was for a pair of ATR 72 MPA maritime patrol aircraft.
More from Air Warfare
India will order a dozen extra Su-30 fighters from Russia, these to be assembled by HAL within India.

Adjustments to an existing contract aims to facilitate the continued development and operational use of Gripen C/D aircraft beyond 2030, in parallel with the introduction of the Gripen E next-generation fighter.

From its emergence as a ground-breaking design in the 1950s to its widespread deployment in diverse operations worldwide, the Chinook continues to leave an indelible mark on the aviation landscape. Shephard sums up the latest developments and tells you everything you need to know about the workhorse of many armies and air forces in the 2020s.