Saab details Finnish and Dutch combat training solutions at IT2EC 2023
Saab has revealed more details about its Ground Combat Indoor Trainer delivered to the Finnish Armed Forces and showcased its van-based Mobile Combat Training Centre.
On the second day of IT2EC 2023, Saab briefed Shephard on some of the recent developments in its training and simulation portfolio.
For the first time, the Swedish company talked about the delivery of its Ground Combat Indoor Trainer (GC IDT) for the Finnish Armed Forces.
The modular and scalable trainer, which the Finns call SAITS, comes in multiple configurations that cover a rich variety of equipment, including realistic small arms, support and anti-tank weapons.
Related Articles
IT2EC: Training fundamental to the US Army's modernisation
IDSI and Varjo showcase mixed reality Joint Terminal Attack Controller trainer at IT2EC 2023
Brunner puts Apache MR motion sim on display at IT2EC 2023
The latter include the NLAW, AT4 and Carl-Gustaf. The AT4 and small arms have a fully realistic recoil and resistance when shooting.
Shooters do not experience recoil with the Carl-Gustaf and the NLAW replicas, as the real weapons do not produce a kick-back either.
Jerker Andersson, business development manager for Saab, said all weapons can replicate a 99.8% trajectory fidelity.
Saab finalised the delivery in 2021 for Finland, and now there are 61 systems deployed in 21 different locations within the country, he said.
The Finnish Army is using the system for all its conscripts, about 20,000 troops each year.
Andersson said the Saab arms trainer has dramatically changed how Finland trains for small arms and anti-tank weaponry, moving away from a 'ladder-like' towards a 'wheel-like' approach. 
'What's impressive is that virtual simulation used to be a "nice to have", some viewed it as the initial phase [of the training], then you did everything live,' Andersson said.
'Now you're using virtual first, then you go out to do the live firing and you qualify yourself, then back to into the virtual trainer again.'
The SAITS feedback and after-action review are adapted to each weapon type to get the most efficient training.
The system provides different types of feedback divided info weapon data, performance and results.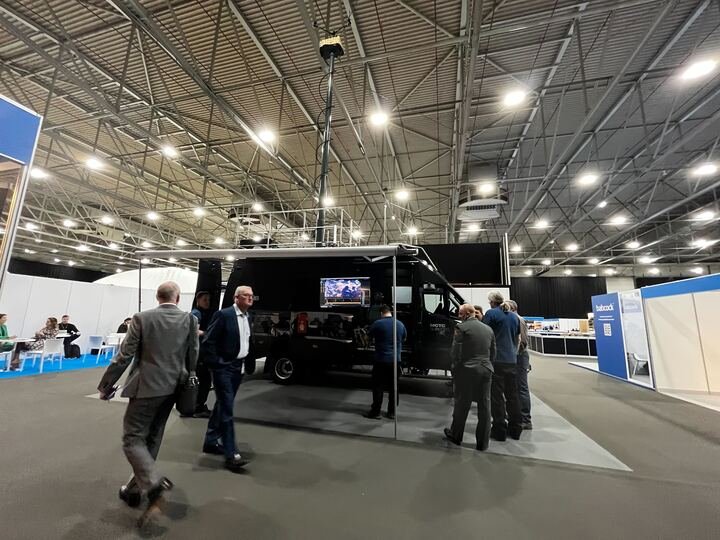 Different combat situations can be realistically simulated with the MCTC system. (Photo: Author) 
Sensors in the replica weapons monitor their status as well. The performance evaluation gives a detailed view of the gunner's weapon handling before and during the firing. The result is a scoring based on several user-defined parameters.
The system also provides realistic target reactions.
Humans and vehicles in GC IDT/SAITS have various target areas with different levels of protection and reactions when hit. With this, decision-making includes the initial point of aim and choice regarding re-engagement.
Saab also showcased its Mobile Combat Training Centre (MCTC) at IT2EC.
Different combat situations can be realistically simulated with the MCTC, using lasers and sensors. It can simulate small- and large-calibre attacks and determine the extent to which a target is damaged.
Saab signed a contract for delivery of live training systems and services to the Dutch armed forces in June 2021. The order included the supply of new equipment and functionality with a ten-year support element.
The system showcased in Rotterdam was a new mobile, van-based version of MCTC that can be set up in a matter of minutes.
The vehicle is equipped with a hybrid system which can be charged by a built-in generator.
Shephard's IT2EC 2023 coverage is sponsored by:
More from IT²EC 2023 | View all news