Digital Battlespace
EW Singapore: Thai Gripens strike like Litening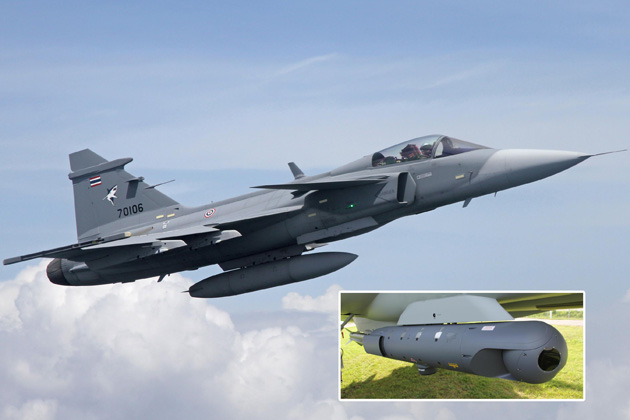 The Royal Thai Air Force (RTAF) has enhanced its Gripen fighter squadron's capability by purchasing Rafael's Litening III targeting and navigation pods, which significantly increases their capability when using guided weapons.
The Litening III is the latest addition to the RTAF's 12 Saab Gripens belonging to Wing 7 in southern Thailand. The RTAF recently organised a training course for pilots and technicians to use and maintain these new pods.
The Litening III is an all-weather, multispectral airborne targeting and navigation pod. Its wide-ranging capabilities include delivery of laser-guided bombs, GPS-guided munitions, precision strikes and battle damage assessment.
It tracks stationary and moving targets on the ground or in the air. Apart from routine RTAF missions, the Gripen squadron also operates with Royal Thai Navy ships using a data link to maintain security at sea.
The RTAF has already equipped its Gripen squadron with weapons like IRIS-T air-to-air missiles and RBS15F anti-ship missiles.
Rohde & Schwarz is presenting its R&S ARDRONIS radio-controlled anti-UAV solution at the EW Singapore 2017 exhibition. The Automatic Radio-controlled Drone Identification Solution (ARDRONIS) has been ... Read More

China is copying the Russian route of building information warfare capabilities, according to a keynote speaker at the Electronic Warfare Singapore conference and exhibition on ... Read More

IZT announced the availability of two new digital wideband receivers for 2017: the R5000 and R3302. Launched at the inaugural Electronic Warfare Singapore exhibition, the R5000 ... Read More