Digital Battlespace
EW Singapore: SAF unveils network-centric capability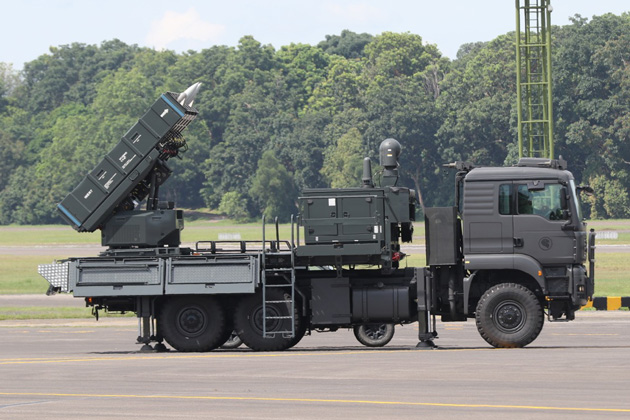 The Singapore Armed Forces (SAF) has been steadily developing network-centric capabilities as part of its modernisation.
Its Island Air Defence network has become operational following its unveiling in late-2016. A key feature of the system is the combination of radar, command and control, and missile units into a single island-wide network.
This network enables seamless dissemination of information and the air picture. It is said to be the first of its kind to have such air defence units networked at the national level.
Chief defence scientist Quek Gim Pew said, 'When you are that networked it can be both presented as a strength and a weakness. While we continue to see how we can better network our resources, we want to pay more attention to how we can secure them.'
The network's flexible architecture allows systems from various manufacturers with differing communication standards to easily plug and play seamlessly. The Rafael SPYDER air defence missile system was the first integrated into the network in 2014, and the future MBDA Aster 30 SAMP/T and other radar systems will likely follow suit as well.
The SAF network includes both wired and wireless networks like the Army Battlefield Internet.
Quek said the defence technology community would have to integrate more artificial intelligence systems. 'When you have that many sensor networks, you might be overwhelmed by the information. The number of needles might be the same but you just add more hay,' he elaborated. 
Therefore, artificial intelligence will be used to pick out crucial pieces of information amidst the myriad of data.
Rohde & Schwarz is presenting its R&S ARDRONIS radio-controlled anti-UAV solution at the EW Singapore 2017 exhibition. The Automatic Radio-controlled Drone Identification Solution (ARDRONIS) has been ... Read More

China is copying the Russian route of building information warfare capabilities, according to a keynote speaker at the Electronic Warfare Singapore conference and exhibition on ... Read More

IZT announced the availability of two new digital wideband receivers for 2017: the R5000 and R3302. Launched at the inaugural Electronic Warfare Singapore exhibition, the R5000 ... Read More