Digital Battlespace
EW Singapore: Indian AEW programme faces trouble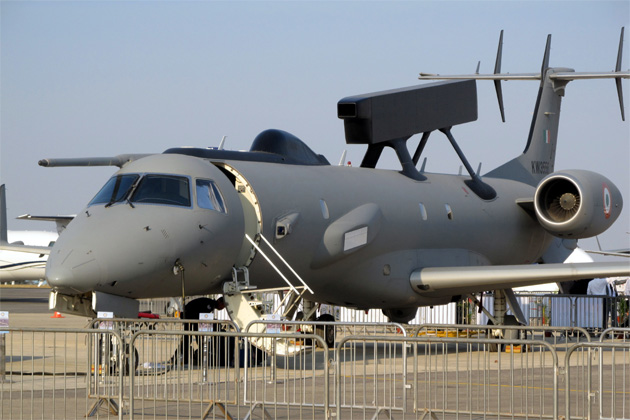 India's home-grown airborne early warning (AEW) programme utilising three Embraer 145 aircraft, the first of which was supposed to be inducted by the end of 2016, has been further delayed due to an enquiry into Embraer by India's Central Bureau of Investigation (CBI).
EMB 145 spares will continue to be purchased, but an official close to the project said: 'This is an informal blacklist.'
The Indian Air Force (IAF) did not respond to Shephard enquiries, but it is known the US Department of Justice, which had been conducting a corruption probe, recently handed documents to the CBI investigating $6 million in kickbacks.
This 2008 AEW contract valued at around $300 million included structural changes to the aircraft, integration of Indian radars and a logistics support package.
Elsewhere, to boost the IAF's AEW capability, discussions continue over two Airbus A330 aircraft to carry indigenous radar. Challenges could arise in adapting the current radar system designed for a 24t airframe to a 200t platform, including greater power and endurance requirements.
'The Embraer AEW uses a two-sided Sword antenna [but] the larger aircraft would use a three-sided antenna,' an aerospace engineer told Shephard. There is speculation the radar could be installed with support from Elbit Systems.
The RfP for the larger AEW platform stated the OEM would be responsible for the design and manufacture of a 10m-diameter rotodome and pylon, plus installation of mission systems and customer-furnished equipment amounting to 20t in weight.
India approved Airbus for this tender in March 2015.
The IAF also operates three A-50EI aircraft (Ilyushin Il-76-based) fitted with an IAI Phalcon radar and mission control systems.
Rohde & Schwarz is presenting its R&S ARDRONIS radio-controlled anti-UAV solution at the EW Singapore 2017 exhibition. The Automatic Radio-controlled Drone Identification Solution (ARDRONIS) has been ... Read More

China is copying the Russian route of building information warfare capabilities, according to a keynote speaker at the Electronic Warfare Singapore conference and exhibition on ... Read More

IZT announced the availability of two new digital wideband receivers for 2017: the R5000 and R3302. Launched at the inaugural Electronic Warfare Singapore exhibition, the R5000 ... Read More