Digital Battlespace
EW Singapore: E-2D Hawkeye coming to Asia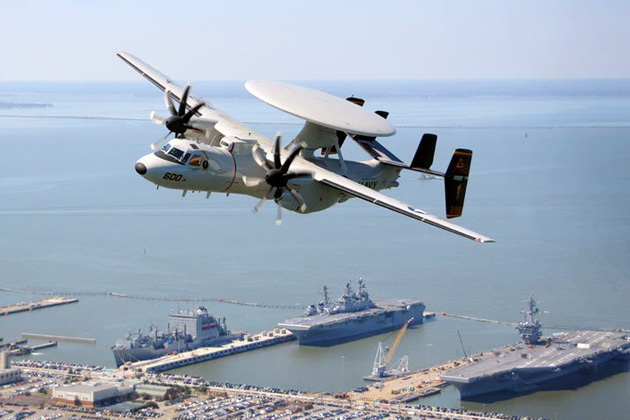 Next month the US Navy (USN) will move a squadron of Northrop Grumman E-2D Advanced Hawkeye airborne early warning (AEW) aircraft from Norfolk Naval Station in the US to Japan.
Carrier Airborne Early Warning Squadron 125 (VAW-125) 'Tigertails', with five aircraft and 225 personnel, will be stationed at Marine Corps Air Station Iwakuni. Its assets will deploy aboard the carrier USS Ronald Reagan forward-based in Japan.
This will be the E-2D's first deployment to the Asia-Pacific region, which is on edge amidst greater military boisterousness by China. There is also concern about a resurgent Russia in the Far East.
The USN said in a statement: 'These moves are in accordance with the Navy's strategic vision for the rebalance to the Asia-Pacific, a plan to put the most advanced and capable units forward in order to support the United States' commitment to the defence of Japan and the security and stability of the region.'
Replacing E-2C Hawkeyes of VAW-115 in Japan, the newer E-2D offers a longer-range Lockheed Martin AN/APY-9 radar giving 360º coverage, as well as upgraded communications, mission computers and data links.
The radar is said to be capable of detecting stealth aircraft, this being an important consideration given that both Russia and China are on the verge of mass producing stealth fighters.
The USN will eventually field 75 E-2D AEW aircraft. Japan will be particularly interested in this overseas deployment since it has already formally ordered two of the four examples that it is seeking.
Another aspect of the US rebalance to Asia-Pacific is seen in the deployment of Lockheed Martin F-35B fighters of the US Marine Corps (USMC) to Japan. On 9 January fighters of Marine Fighter Attack Squadron 121 (VMFA-121) 'Green Knights' began the journey to Iwakuni from Yuma, Arizona.
This is the first operational overseas deployment for the F-35B. 
F-35B aircraft will deploy from USN amphibious assault ships from next year onwards and, in readiness for this, USS Wasp (LHD 1) will deploy to Japan later this year.
Rohde & Schwarz is presenting its R&S ARDRONIS radio-controlled anti-UAV solution at the EW Singapore 2017 exhibition. The Automatic Radio-controlled Drone Identification Solution (ARDRONIS) has been ... Read More

China is copying the Russian route of building information warfare capabilities, according to a keynote speaker at the Electronic Warfare Singapore conference and exhibition on ... Read More

IZT announced the availability of two new digital wideband receivers for 2017: the R5000 and R3302. Launched at the inaugural Electronic Warfare Singapore exhibition, the R5000 ... Read More