Home

>

News

>

DSEI 2023: Adarga unveils Vantage AI information and data analysis platform
DSEI 2023: Adarga unveils Vantage AI information and data analysis platform
UK AI company Adarga has unveiled its Vantage information analysis tool at DSEI, a system already in service with the UK MoD, individual forces and Stratcom.
Adarga's Vantage system builds on the company's Knowledge Platform which was developed over a period of six years and processes, organises and analyses open source material as well as information held by the user's military, security and intelligence services.
The system has a range of ways of presenting data graphically or in text as well as via user interfaces which allow interrogation and manipulation of the data, allowing operators to establish relationships between actors in a particular geographic or less literal environment.
Vantage provides a 'question and answer' capability which will inform of different aspects to an answer, network exploration which diagrammatically demonstrates connections between people and a workspace which allows for storage and sharing of relevant information across a range of platforms or products.
Related Articles
British Army to demonstrate AI tool for troops
DSEI 2021: British Army and Adarga partner on BattleLab hackathon
CEO of Adarga, Rob Bassett Cross, said the system was developed in response to his time in the British Army when 'it wasn't possible to process information available, whether traditional, non-traditional, restricted, open source or classified, quickly enough to find connections'.
'[We designed Vantage] as a straightforward easy-to-use software-as-a-service product that an analyst, decision-maker or planner can use in their everyday workflow to help them make better decisions where better in our world is much faster over far greater volumes and complexity of data.
'We've got deployments of our software across the MoD, across all of the frontline commands, and for a variety of use cases such as strategic planning, long-sighted horizon scanning, understanding what global adversaries are up to.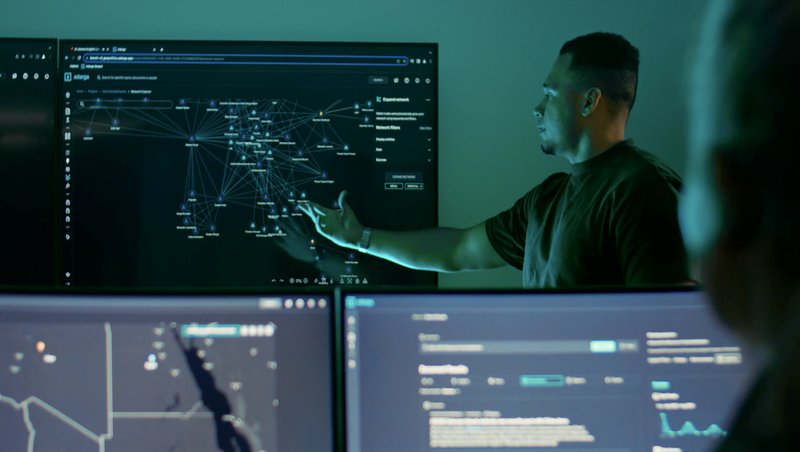 Vantage allows for manipulation can varied presentation of data. (Photo: Adarga)
'We have used it in more tactical use cases, enhancing the common operating picture, taking some of those more disparate esoteric sources of data that are within the battlefield and fusing them for a commander to get a more accurate granular operating pic of the operating environment.'
Some of the original impetus for the concept came from the commercial world such as banking where collation and fusing of data informs decision-making processes and Vantage is also being used by companies based on open source and commercial data to inform judgements of geopolitical situations.
The company is looking to two of the UK's closest allies, Australia and the US or AUKUS, as potential customers for Vantage and already has a small number of personnel in those countries but may eventually expand that to the Five Eyes nations and possibly eventually NATO.
Shephard's DSEI 2023 coverage is sponsored by:

More from DSEI 2023 | View all news