Home

>

News

>

Philippines ponders SAR helicopters, and Chinooks instead of Mi-171s
Philippines ponders SAR helicopters, and Chinooks instead of Mi-171s
In some areas, the rotary-winged fleet of the Philippine military has progressed, but in others, it has stagnated or even reversed.
The Philippine Air Force (PAF) has reneged on a deal with Russia for new Mi-171 medium-lift helicopters, but it still has requirements for both heavy-lift and search-and-rescue helicopters.
The PAF's 505th Search and Rescue Group currently operates six W-3A Sokols and a solitary S-70A-5 in the SAR role, but these numbers are insufficient to provide national coverage.
The retirement of the air force's UH-1 fleet, which encompassed three Bell 205A-1s of the 505th Search and Rescue Group, means that aircraft need to be replaced. The helicopters are used for civilian search and rescue, but such a capability has long been neglected behind other PAF priorities.
Contenders for a requirement for at least three new SAR aircraft include more S-70i helicopters from Sikorsky, as well as contenders from Bell, Korea Aerospace Industries (KAI) and Leonardo (the AW139M), according to the Philippine MaxDefense blog site.
The SAR helicopter requirement forms part of the 2nd List of the Horizon 2 modernisation programme. However, numerous programmes from Horizon 2 (which covered the 2018-22 period) remain unfunded and orphaned by the government.
Financial resources for this requirement appear a low priority, even though a budget of PHP3.73 billion ($66.8 million) has been assigned. Nonetheless, given the frequency of natural disasters in the Philippines, such aircraft are needed.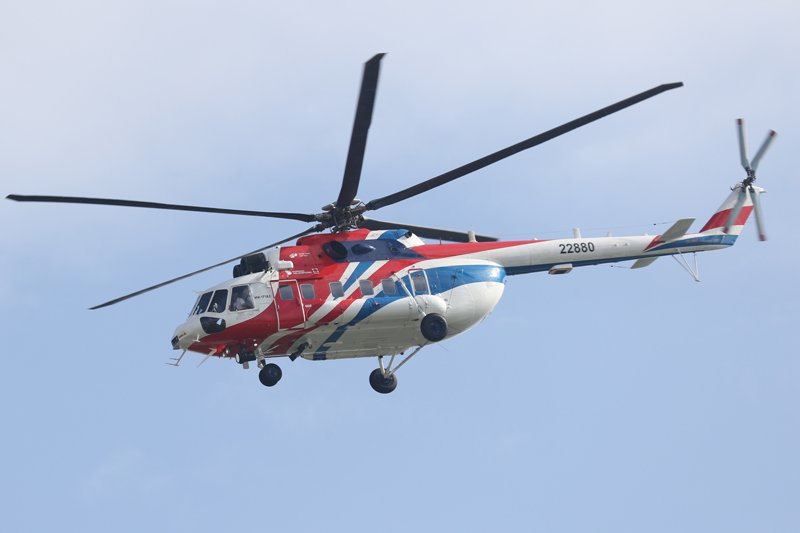 The PAF cancelled its contract for Russian Mi-171 helicopters midyear. The newest Mi-171A2 variant is pictured here. (Photo: Gordon Arthur)
Moving on to another PAF helicopter programme, the former administration of Rodrigo Duterte cancelled a contract for 16 Mi-171 helicopters – plus one bonus aircraft – from Russia before leaving office. The PHP12.798 billion ($268.7 million) deal had been signed with Moscow in November 2021.
On 26 July, former Defense Secretary Delfin Lorenzana said the project had been scuppered because of fears the US might enact penalties under its Countering America's Adversaries Through Sanctions Act (CAATSA).
The first payment of PHP1.92 billion (equating to 15% of the contract value) was made to Russia in January, which would have seen first Mi-171 deliveries at the end of 2023. However, clawing back monies paid might prove difficult for Manila.
The PAF had wanted these Russian-built helicopters for its heavy-lift helicopter requirement, so it is back to the drawing board for Manila now.
As an alternative, the US is proffering CH-47 Chinooks to the Philippines, something confirmed by Jose Romualdez, the Philippine Ambassador to the US. 'I understand the United States has offered to try to come up with a similar amount that we were going to spend with the Russian helicopters. In other words, at a special price.'
Romualdez added that the US had not pressured Manila into cancelling the Mi-171 transaction.