Home

>

News

>

Eurofighter Typhoon sales: what a difference a decade makes
Eurofighter Typhoon sales: what a difference a decade makes
In the second week of August, BAE Systems released a statement confirming that 12 of 24 Typhoon Tranche 3 models had now arrived in Qatar. Despite this favourable export news, the aircraft's industrial future remains somewhat clouded.
Although the Typhoon is regarded as an excellent aircraft, it suffers from several shortcomings. Its four partner nations had differing perspectives and enthusiasm for investment from the outset, and from an export viewpoint, this complicates government-to-government and commercial negotiations.
The upgrade path has been erratic, particularly compared to France's Rafale, and the aircraft is complex and expensive to operate (published Austrian figures of around €77,000 per hour did not help). But seen as an export proposition, a summation of these and some wider issues seems to suggest it has lost its market niche.
Why have there been no recent export sales of the Typhoon?
The (relatively) recent Omani and Kuwaiti contracts are clearly good for morale, but obscure some sobering facts. The aircraft has not won a new export order since Kuwait in 2016 and while those 24 aircraft plus Oman's 28 from 2012 are solid business, the absence of recent success is concurrent with an increasingly competitive environment.
Related Articles
Delays in TR-3 software pushes out Belgian F-35A delivery timeline
DSEI 2023: GCAP sixth-gen fighter makes industrial and technological progress
DSEI 2023: Striker II helmet programme for Typhoon fighter jet gets £40 million boost
Since 2016, the F-35's unbeaten string of successes and Rafale's phoenix-like revival have diminished Typhoon's room to manoeuvre. The German Quadriga order for 38 was a key lifeline and Spain's 20-unit Halcon contract added additional security, but these are essentially replacements rather than new business.
Another 90 examples for the Luftwaffe seemed possible, but with recent events this might well be downgraded in priority and the German F-35 buy potentially accelerated. Airbus's proposed two-seat EW variant, which seemed like a very good idea, has generated scant enthusiasm.
There is a sense that the respective partners may have to some extent lost interest in further export efforts. Bid participation is expensive and the short-term value of any contract may well be negative. This also has to be shared, which adds another layer of complexity.
The UK and Italy are partnering on a new aircraft in direct competition to that of Spain and Germany, so whatever polite smiles might be worn during conferences, this is not conducive to export collaboration.
How have politics influenced combat aircraft procurement?
Combat aircraft procurement is as much about politics as capability. Eurofighter's withdrawal from Canada's fighter contest (as did Dassault) was based on a view that the political winds were unfairly blowing. Saab stayed the course but in the face of a US-backed Lockheed offering, Eurofighter (the company) was correct to exit. However, an 88-unit export order was something it really needed, as was Finland's 64-strong HX programme, while India should have been the jewel in the export crown.
For many years, BAE has cited a memorandum of understanding that Saudi Arabia will procure a second batch of aircraft, to replace aging Tornado GR.4s. German hesitancy in allowing exports has previously loomed over sales outside Europe and this has not receded. The Saudi purchase has not been realised, nor arguably does the Kingdom need the aircraft.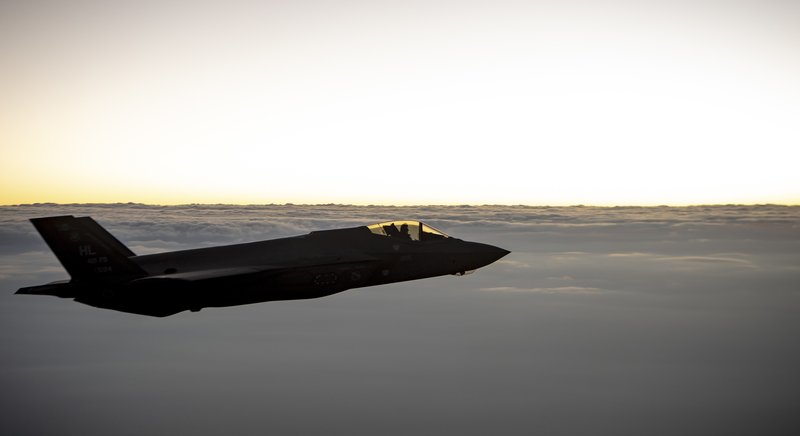 Above: The F-35 has emerged from the shadows of a decade ago to chalk up a winning streak of major export sales in recent years. (Photo: USAF)
Dassault meanwhile has snapped up a series of middle-sized military markets, while many governments are seeking the acclaim that accompanies an F-35 offer. Boeing will move heaven and earth to transition F-15 users to the EX while the F-16 Viper Block 70 and Gripen E are advancing from the single-engined direction.
It is difficult to forecast new Typhoon export opportunities. Poland has been mentioned, but even Warsaw's intense procurement drive would surely balk at another fast jet. Most realistic opportunities have been decided, with those technically still open looking either towards the F-35 or a lighter aircraft.
Exports are unlikely to be completely over, but Typhoon's selling point as a large and capable multi-role fighter does seem less aligned with remaining demand.
Typhoon managed strong sales during its initial period of export offering, but this dried up just as Rafale and F-35 shook off their lethargy and presented a new and single-government-sponsored face to the market. Both Paris and Washington, without the need to consult partners, have successfully managed export relationships.
Having multiple government participants and a high variety of industrial partners sits in contrast to this. If MENA markets are off the table, Eastern Europe has swung behind US products and the Indo-Pacific is largely decided in its next buys, little obvious remains for a fighter of Typhoon's size and programme status.
This story originally appeared in Shephard's monthly Decisive Edge: Air newsletter. This delivers expert insights and in-depth coverage of the latest defence industry developments. Don't miss out on the opportunity to be among the first to read these exclusive stories as soon as they publish by signing up to our newsletters here.
Shephard's DSEI 2023 coverage is sponsored by:

More from DSEI 2023 | View all news
With the satellite industry at a pivotal juncture, Intelsat is investing in advanced technologies like 5G and optical communications, striving to enhance worldwide connectivity and address emerging governmental needs.

From its emergence as a ground-breaking design in the 1950s to its widespread deployment in diverse operations worldwide, the Chinook continues to leave an indelible mark on the aviation landscape. Shephard sums up the latest developments and tells you everything you need to know about the workhorse of many armies and air forces in the 2020s.

Controp Precision Technologies unveiled its Smart Vision AI software for enhancing the level of autonomy and automation for a variety of surveillance and reconnaissance missions at DSEI 2023.

Babcock has signed an MoU with propulsion experts Cosworth to investigate the use of hybrid power systems in military vehicles and will begin with integrating a Catalytic Generator (Cat Gen) into a 70 Series Toyota Land Cruiser.

DSEI 2023 took place in the shadow of the largest European land war in more than seven decades and a growth in conversations about artificial intelligence (AI) with limited UK immediate defence programme opportunities; many of the new products and exhibitors' announcements reflected this.

Israeli UAS developer SpearUAV introduced a submarine-launched capsule option for its Viper 750 UAV at DSEI 2023.