Home

>

News

>

DSEI: Milrem displays new versions of THeMIS and reveals plans for larger UGV
DSEI: Milrem displays new versions of THeMIS and reveals plans for larger UGV
Milrem Robotics has now supplied more than 100 of its Tracked Hybrid Modular Infantry System (THeMIS) hybrid UGVs including approximately 15 for service in Ukraine. Lessons learned are continuing to inform the platform's development, according to the company.
The TheMIS UGV has also been sold to Australia, Estonia, France, Germany, India, Italy, the Netherlands, Norway, Saudi Arabia, Spain, the UK, the USA and other countries in a range of variants. Company chief sales officer Patrick Shepherd said these customers have also helped further development of the platform.
At DSEI the company was showing the two latest iterations of the system, THeMIS Combat and THeMIS Observe.
Observe was described by Shepherd as a proof of concept but in service and the company's home country of Estonia is 'looking at something similar with different systems'.
Related Articles
Thailand to test out combat UGV
Spain receives its first THeMIS vehicle
Ukraine receives THeMIS for casualty evacuation missions
'We are showing it at DSEI with Sequrest's mobile multi-camouflage that provides radar absorption and protection [but it could also use a system like Saab Barracuda's].'
The agility of the system with mast-mounted optronics, for example Hevi Optronics Hevitracks, and radar, for example Thales' Squire, as well as a shot detector such as the Metravib Defence Pearl means personnel can remain remote from any EW or kinetic attack.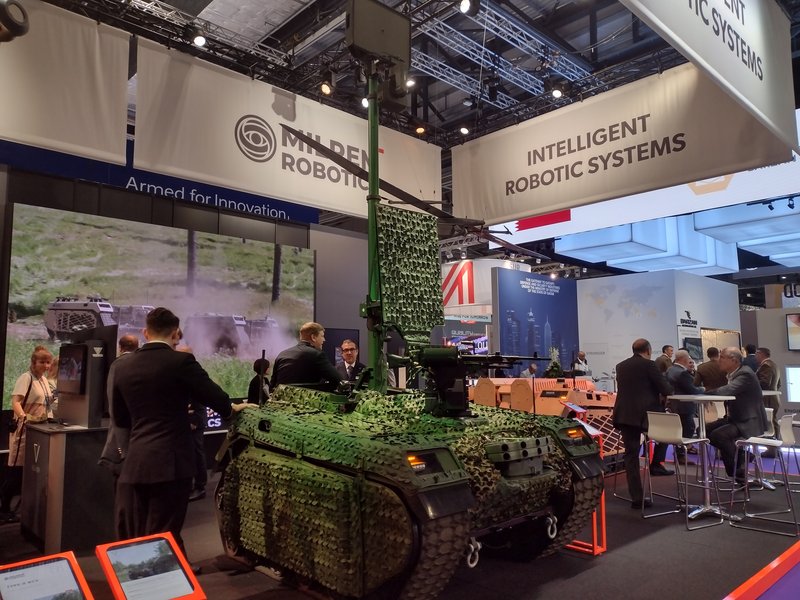 THeMIS could benefit from advanced camouflage systems such as Sequrest's multi-mobile camouflage or a similar system from Saab Barracuda. (Photo: author)
The THeMIS Combat is designed to operate with a loitering munition and one system proposed is the Hunter 2-S which carries a 2kg payload, has a cruising altitude of 500m, a maximum speed of 2m/s and a flight time of 45min with a communication range of 50km.
The Combat system has been purchased by the Netherlands in a different configuration under a special waiver from the EU which is required for an armed UGV.
'As Ukrainian forces go through combat they are learning and feeding it back and we are putting that into the system,' Shepherd said.
'We are in the process, the early design phase, for a new variant which will be larger and this will require design changes for that reason and this likely to be ready in 2025.'
Shephard's DSEI 2023 coverage is sponsored by:

More from DSEI 2023 | View all news