Home

>

News

>

The HF Renaissance – The Evolving Electronic Warfare Threats and the Need for Resilient Waveforms (Studio)
The HF Renaissance – The Evolving Electronic Warfare Threats and the Need for Resilient Waveforms (Studio)
Amid modern warfare's complexity and electronic warfare threats, NATO and its allies are balancing legacy systems with new technologies. With the importance of resilient waveforms underscored, High Frequency (HF) technology has emerged as a robust solution, leading to an "HF renaissance".
Brought to you in partnership with L3Harris
The Ukraine conflict has exposed the complexity and speed of modern warfare, with a need for faster decision-making and reliable communications, even under the umbrella of electronic warfare (EW) threats. Resilient waveforms are increasingly vital, ensuring robustness for the next-generation fight.
General Sir Richard Barrons is the former commander of the UK's Joint Forces Command. He argues that the return to great power confrontation occurring at the same time as the introduction of next-generation networking technologies, is fundamentally changing the game.
'We are in the foothills of the most significant transformation of armed forces for over 100 years in the way that digital age technologies are changing, not just how we equip, but how we organise, and the methods and tactics that are that are adopted,' says Barrons, who is now Co-Chair of Universal Defence and Security Solutions (UDSS).
NATO and its allies are indeed maintaining legacy systems while introducing new technologies, according to Thomas Withington, an independent EW, radar and military communications expert. Many legacy systems are still in use, such as Link 16, Link 11 in the naval domain, and the Single Channel Ground and Airborne Radio System (SINCGARS).
The Technological Shift and Future Trends
At the same time, however, there has been a profound technological shift. For example, take the use of low earth orbit (LEO) satellite constellations, such as the Starlink constellation in Ukraine, as well as 5G communications. Militaries are looking to the future through 6G cellular communications protocols and cognitive radios.
This presents a complex picture, Withington says. Militaries are seeking to maximise 'our legacy communication systems and trying to retool those as best we can for this new era of multidomain operations and multidomain integration we find ourselves in, while still trying to pull in this new technology and seeing what it can do for us'.
If the Ukraine experience has demonstrated anything in the communications arena, it is the need for resiliency, says Alan Pilecki, chief engineer for the High Frequency (HF) product line at L3Harris. This means communications technology that evolves to address the increasing threat from sophisticated enemies, he explains.
In a contested environment, there is the danger that the communications technology that Western nations and their allies will be targeted through EW or even kinetic means.
However, Pilecki says L3Harris has invested heavily in its HF technologies to ensure it is resilient and can withstand such threats.
'What can we get in the hands of the Ukrainian forces to counter those threats, to mitigate those threats and to maintain communications, but also maintain the safety of the forces that have that communications equipment?'
HF Communications: A Robust Solution
HF communications technology is increasingly in focus as a robust, cost-effective, beyond-line-of-sight communications capability, ensuring continued coverage even in a satellite-denied environment. Deployed forces in remote areas can communicate over distances of 3,000 km or more with HF manpack radios, for instance.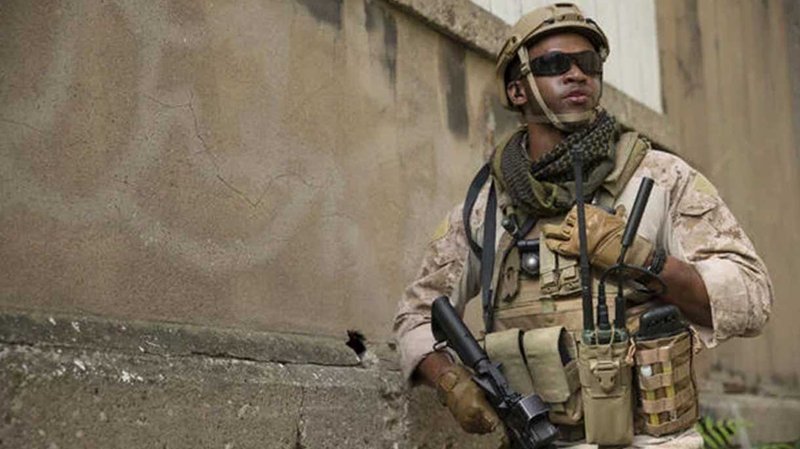 L3Harris focuses on HF solutions through its Type 1 AN/PRC-160 and Type 3 RF-7800H products. Its resilient waveform technology integrates HF accessories and 4G ALE and is evolving to meet the requirements of the modern battlefield, Pilecki says, with new firmware updates and hardware upgrades increasing capacity and capability.
The idea is not to replace satcom or other technologies but to increase and bolster 'the tools in your toolbelt', Pilecki says.
He notes that HF communications are now moving up the Primary, Alternate, Contingency and Emergency (PACE) communications priority plan for many customers, becoming the Alternate or even the Primary choice in certain cases.
Scott Pichette, L3Harris portfolio manager for the HF and airborne product groups, says the shifting focus in communications is tied to changes in the modern battlefield and the growing capabilities of "near-peer" rivals.
Improved Capabilities for the Modern Battlefield
Military planners are preparing for conflicts in which the electromagnetic spectrum will be a contested environment, either through jamming technology or the ability to intercept communications.
HF has been a lower priority over the past 15-20 years because of the acceleration of satcom capabilities, Pichette notes, pointing to the high throughput rates the latter can achieve and the ability to stay connected beyond line of sight (BLOS).
Traditional HF systems had lower throughout, he notes, though they did provide BLOS capability. Additionally, they often needed a significant amount of equipment, such as antennas and other systems, along with high power demands.
However, L3Harris's investments in the technology have helped to drive an "HF Renaissance", he argues. The company has used its research and development investments to move the technology forward, exceeding market expectations. Warfighters in the tactical HF market now have access to smaller, lighter and improved HF solutions to communicate around the globe.
This is all part of the story of the contested environment, Pichette says, and how the US and its allies are responding.
'There are certain threats out there that HF is well suited to navigate around – it can be leaned upon in a tactical environment, in a wide and diverse battlespace,' he explains.
'If you consider different future battlespaces, things will be very spread out, a lot of players will all be networked in, and HF is well suited for that.'
By providing another option for warfighters and military planners, HF radio can help militaries prepare for a rapidly evolving and unpredictable defence environment, which has the capacity to surprise.
Encryption, Vulnerability, and Future Concerns
For example, Withington pointed to the vulnerability of unencrypted communications, something he says has affected both sides in the Ukraine conflict, particularly when using relatively inexpensive, civilian-standard radios.
While NATO has very good encryption down to the tactical level, it must be continually reassessed.
'Is that encryption robust enough? Are those radios survivable enough electromagnetically if we find ourselves in a war?'
Withington says he had not expected to see the use of Starlink so soon after the full-scale Russian invasion of Ukraine. However, he warns that such systems will not always be impervious to adversaries.
'The use of these private sector satellite constellations is very interesting, and the inability of Russia to meaningfully interfere with that is also interesting,' he says.
However, he cautions that near-peer adversaries would be watching very closely, learning lessons to help them disrupt such technology in future operations. 'They'll be retooling their own electronic warfare capabilities and doctrine to accommodate that, to take account of it.'
Against this evolving threat picture, the benefits of a diverse PACE toolkit are clearer than ever before.