Home

>

News

>

Myanmar unveils new indigenous military vehicles at Independence Day parade
Myanmar unveils new indigenous military vehicles at Independence Day parade
Many countries may have sanctioned Myanmar's military junta, but the Southeast Asian nation continues to receive support from nations such as China, Russia and Ukraine.
Myanmar's military, the Tatmadaw, held a parade in the capital Naypyidaw on 4 January to celebrate the 75th anniversary of the country's independence.
The spectacle was attended by Sen Gen Min Aung Hlaing, who is both the supreme commander of the armed forces and the leader of the military junta that seized power in February 2021.
Of significance, two new types of indigenously developed land platforms appeared – a multiple rocket launcher (MRL) and a light tank. Three examples of each vehicle featured in the parade.
The MRL is called the MAM-03 and is based on a 6x6 truck chassis. The artillery system features four square-profile tubes for 300mm rockets.
The system resembles China's WS-1B, and it is quite possible that China shared technological know-how with its southern neighbour. The WS-1B has a maximum range of 180km.
The MAM-03 follows the domestically produced 122mm-calibre MAM-01 (comparable to China's Type 81) and 240mm MAM-02 (similar to the North Korean M1991) MRLs.
As for the second piece of kit, the light tank's nomenclature is MMT-40. A prototype was seen as far back as 2017. The chassis has seven road wheels per side, suggesting it might utilise the chassis of the 2S1U Gvozdika.
In March 2019, Ukraine and Myanmar signed a JV agreement to establish an armoured vehicle manufacturing plant in the latter's territory. Among its products are BTR-4U 8x8 vehicles and 2S1U self-propelled howitzers based on the MT-LBMSh tracked carrier.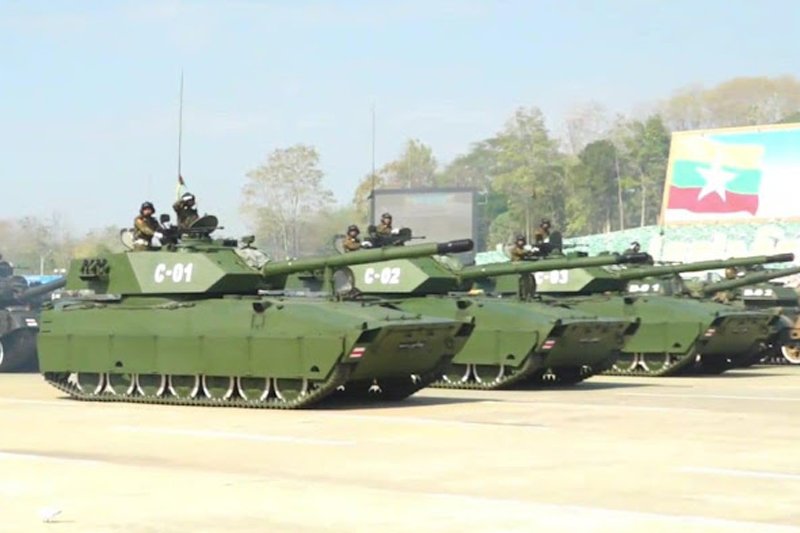 Armed with a 105mm main gun, the MMT-40 light tank appears to be a hybrid using a Russian/Ukrainian tracked chassis and a Chinese turret. (MRTV)
As for the MMT-40's turret, it appears identical to that used on the Chinese-built WMA03/PTL-02 6x6 assault vehicle. Its armament is therefore a 105mm main gun, a 7.62mm coaxial machine gun and roof-mounted 12.7mm machine gun. The Tatmadaw is a confirmed user of the WMA301.
Both these new weapons were developed and assembled by the Directorate of Defence Industries, though it is unclear what proportion of production is occurring in Myanmar.
Nor is it clear how many examples of the MAM-03 and MMT-40 have been manufactured to date.
Overhead, recently delivered Su-30SME fighters flew as part of the parade too.
As well as China, Russia remains a steadfast supporter of Myanmar's junta. Moscow is scheduled to deliver an undisclosed number of Pantsir-S1 air defence systems this year. An agreement had been signed in January 2021. Under the same contract, Russia will also deliver radars and Orlan-10E UAVs to the Tatmadaw.
Last December, the Naypyidaw government approved an additional budget of MMK440 billion (approximately $155 million) to fund its counterinsurgency campaign against a popular movement opposing the military government, on top of MMK3.7 trillion allocated under the FY2022 defence budget.
Myanmar also acquired the Chinese KS-1M air defence system, and there is a missile production facility in the country.
The military routinely uses airstrikes with ground troops struggling against the popular uprising.
More from Land Warfare
Sener Aerospace and Defense will lead a multi-national European Defence Fund project to explore swarming and interoperability of UGVs with crewed ground and air vehicles.

The Ukrainian and French defence ministers have signed an agreement for supply of a complete air defence system.