Land Warfare
​IDEX 2017: Raven claws on display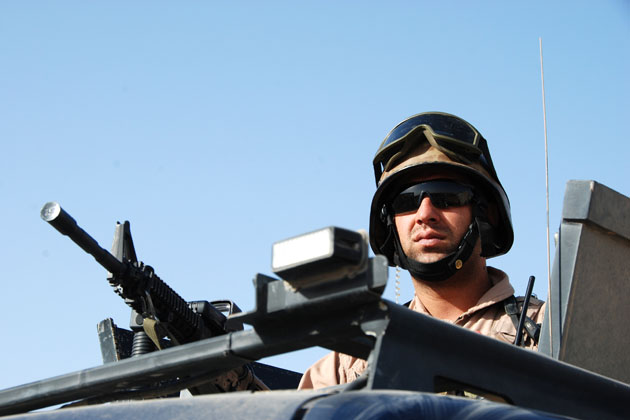 AMTANK Armor will unveil its technical data package (TDP) to upgrade commercial vehicles at the IDEX exhibition.
There is a growing market for militaries that want vehicles that can blend in more with civilian traffic but are well-protected at the same time. This enables them to better avoid detection and improve their operational efficiency. Furthermore it can be a cheaper option than buying an expensive purpose-built military vehicle.

The company, a subsidiary of AT&F, with technology partner Composhield have developed Raven, a highly-protected vehicle concept that combines a vehicle upgrade with a full composite armour kit and third-party hardware on show to attendees.
Prospective customers from the military or commercial sector will first be able to choose between an upgraded Toyota Land Cruiser, a modified Mercedes Sprinter 4x4 or a complete standard Ford F350 or F550. This is when AMTANK steps in with the TDP upgrading the vehicle with external hardware and the armour kit as demonstrated by their Raven solution.
The company, based in Cleveland, Ohio, boasts that the customer is in the driving seat of the overall manufacturing process. From the selection of the vehicle, side and belly protection levels, seat configuration to a range of customised hardware options.
All of which AMTANK says will not affect payload whilst being a cost-effective offering to the wider market as noted by Ken Ripich, president at AMTANK Armor.
'Our standalone composite armour technology allows us to offer the optimum balance among price, payload, and performance targets. This enables our customers to utilise a vehicle such as the F350 without costly modifications to the engine, transmission, suspension, or braking systems,' Ripich said.
For more news and information about the IDEX 2017 exhibition visit the Shephard Media homepage here.
French countermeasure experts Lacroix are in the process of adding additional capabilities to its Galix self-protection system with the integration of missile warning and laser ... Read More

The UAE Land Forces has ordered thousands of vehicles from their domestic manufacturer, Nimr, it was announced at IDEX.Although the value of the contract was ... Read More

The UAE Land Forces are set to receive and upgrade to their battle management that will see them transition to digital systems.A contract worth $189 ... Read More