Land Warfare
IDEX 2017: Hawkeye and new truck debut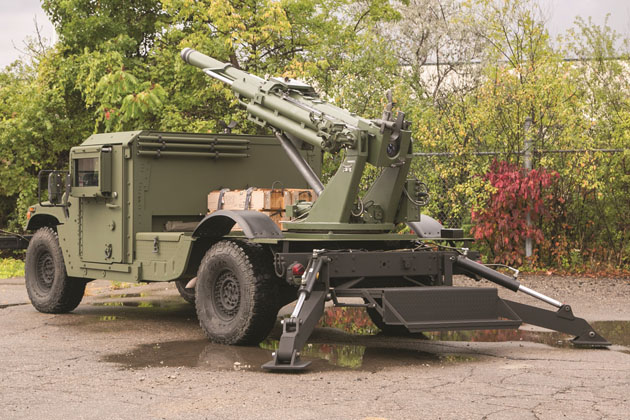 AM General is no stranger to the Middle East market with thousands of its HMMWV vehicles in the inventories of many armies in the region.
But this time it is offering a couple of new vehicles. The first is the Hawkeye Howitzer variant of the HMMWV and the second is a Multi-purpose Protected Truck.
Hawkeye is a HMMWV which has a Mandus 105mm gun installed on the back. It will be seen for the first time outside the US, where it was unveiled at AUSA in October 2016.
Hawkeye will be an attractive option for a lot of those Middle East armies with the HMMWV as it will offer the chance to acquire a new 105mm self-propelled light gun capability without the cost of acquiring a new chassis or going for an expensive heavier option.
For those asking how a 4x4 like the HMMWV can support a 105mm gun, the answer lies in the company's hybrid soft recoil technology that prevents damage to the vehicle and stops the gun moving around too much when firing.
Nguyen Trinh, director of international integration at AM General told Shephard that they are seeing strong demand for the vehicle worldwide and in particular the Middle East where he said the company aims to provide upgrades services through US FMS arrangements. He was not able to name any countries however.
He told Shephard that the other innovation at IDEX will be a new Multi-purpose Protected Truck, or MPT. Trinh said AM General is looking at how countries acquire US equipment and the MPT is a way of selling a product that is needed by avoids all the 'headaches' of the US procurement process.
It seems that there could be a way of circumnavigating various procedures or restrictions by selling a modular base vehicle that does not have barriers to export, but which then could be added to with systems at a later date, thus making the whole process faster.
The details of the MPT vehicle and its modular structure will be displayed at IDEX. Keep an eye on Shephard Media's IDEX news homepage for the information which will be published as soon as it arrives!
French countermeasure experts Lacroix are in the process of adding additional capabilities to its Galix self-protection system with the integration of missile warning and laser ... Read More

The UAE Land Forces has ordered thousands of vehicles from their domestic manufacturer, Nimr, it was announced at IDEX.Although the value of the contract was ... Read More

The UAE Land Forces are set to receive and upgrade to their battle management that will see them transition to digital systems.A contract worth $189 ... Read More