Home

>

News

>

Annual UK defence equipment spending jumps by more than £1 billion, deliveries nearly double
Annual UK defence equipment spending jumps by more than £1 billion, deliveries nearly double
The latest annual figures from MoD Defence Equipment & Support describe a significant increase in UK defence equipment spending.
Newly released figures from Defence Equipment and Support (DE&S) reveal that the UK increased its annual military equipment spending in 2021 by £1.2 billion ($1.6 billion) and almost doubled deliveries of new assets.
Full spending on equipment and support amounted to £11.1 billion with 1,422 new assets delivered, including three P-8A Poseidon MPAs sent to RAF Lossiemouth, according to the DE&S 2020-2021 annual report and accounts.
By comparison, the organisation spent £9.9 billion in 2019-2020 and delivered 746 assets.
The new annual report, published on 27 January 2022, noted that strategic milestones for 58 of 70 Command Acquisition and Support Plan (CAPS) were met across 2020-2021.
However, five of the 12 that were missed were caused by COVID-19 issues 'such as necessary slowdowns in production and interruptions to our supply chains'.
Acquisitions that failed to hit their milestones are not individually named within the report but a DE&S spokesperson described the five COVID-affected projects to Shephard.
Synthetic training equipment in the Merlin Life Sustainment Programme 'now has a revised FOC of June 2022', the spokesperson informed Shephard, while the Power Improvement Project for RN Type 45 destroyers 'has now been achieved'.
Meanwhile, the Large/Small Capacity Aircraft Refueller business case submission to the Air Investment Approvals Committee 'has been achieved and was only delayed by a month'; the CASP for Typhoon future synthetic training 'was subsequently achieved in December 2021'; and the Selective Precision Effects At Range (SPEAR) Capability 4 stockpile milestone 'was achieved only three weeks later than scheduled'.
The agency suffered a loss of £23,000 directly linked to the impact of COVID-19, according to the report, while total losses sustained amounted to £279,000 based mainly on interest charges issued from UK revenue and customs.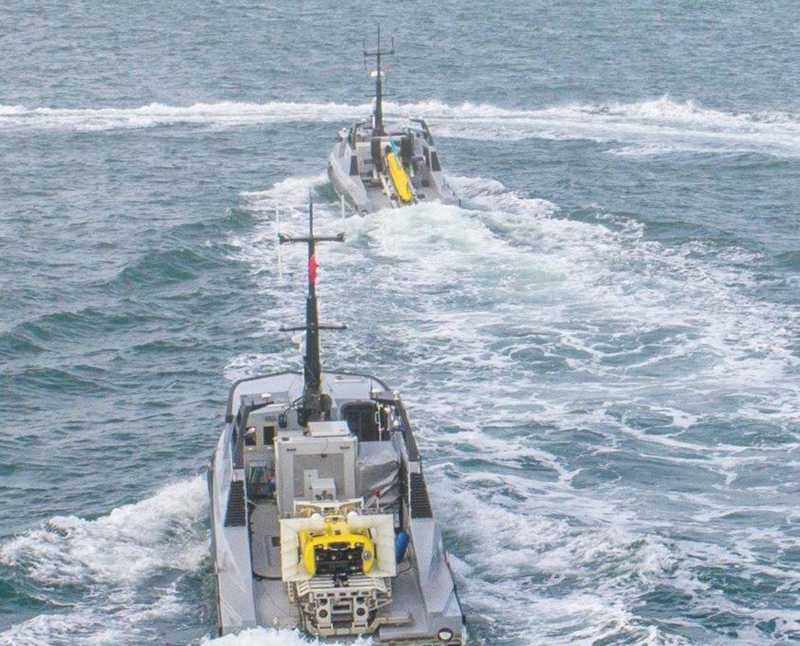 MMCM prototype pictured in tests conducted in June 2020. (Photo: Thales/Shaun Roster)
Equipment contracts signed off in 2020-2021 by DE&S included the £2.4 billion Next Generation Munitions Solution (NGMS) deal with BAE Systems that will see the manufacturer deliver 39 different munitions covering small arms, mortars, medium-calibre gun rounds and large-calibre artillery and tank shells to the RN, British Army, RAF and Strategic Command.
It also handed out a seven-year SPEAR 3 demonstration and manufacturing contract to MBDA, worth £550 million, which will lead to the new weapon entering service with UK F-35B fighter jets.
Missile and launcher production under the SPEAR 3 contract is set to begin in 2023, according to Shephard Defence Insight.
The air-to-surface missile features a turbojet engine instead of a conventional rocket motor, extending its range beyond 60 miles (96.5km) and has already been successfully test-fired by RAF Eurofighter Typhoons.
Other DE&S-approved contracts highlighted in the annual report include the £184 million investment, initially announced in November 2020, for the joint Maritime Mine Counter Measures (MMCM) programme with France.
Support contracts listed include £395 million spent to support the RN's Merlin Mk4/Mk4A upgrade that aims to extend the service life of the helicopter to 2030; and £317 million on development of the European Common Radar System Mark 2 (ECRS Mk2) radar for Eurofighter Typhoons.
The ECRS Mk2 AESA radar is designed to deliver EW attack capabilities and let RAF pilots identify and suppress enemy air defences through jamming.
'Our immediate focus for 2021-22 is on continuing to drive improvements to the way we support our clients, including through management of risks to project delivery, and implementing the changes to the programme of work brought about by the Integrated Review outcome, as part of delivering our DE&S Strategy 2025,' the report stated.
Among significant acquisition changes announced in the Integrated Review are the early retirement of RAF C-130 tactical transport aircraft, brought forward from 2035 to 2023; the withdrawal of Eurofighter Typhoon Tranche 1 jets in 2025; and a cut from five to three E-7 Wedgetail AEW&C platforms.
The UK has also said it expects to launch the New Medium Helicopter (NMH) procurement in February 2022.
Having already attracted interest in NMH from Airbus UK, Bell, Boeing, Leonardo, and Sikorsky, the MoD will eventually choose one manufacturer to produce a new helicopter to succeed RAF Puma HC2s, Army Air Corps Bell 212s, RAF Bell 412s and Airbus AS365 Dauphin platforms used by SOF.
A draft acquisition plan described a cost of £1 billion to procure up to 44 aircraft.
This article was updated on 28 January to include DE&S input on CASP.