Home

>

News

>

China shows smorgasbord of innovative UAVs in Zhuhai
China shows smorgasbord of innovative UAVs in Zhuhai
China's military is already using a number of capable UAV platforms, with even more advanced designs on the way.
China may have the most active and varied UAV programmes – by both state-owned and private enterprises – of any country in the world.
That was evident at the 13th China International Aviation and Aerospace Exhibition in Zhuhai, where new designs like the CH-6 UCAV, WZ-7 Soaring Dragon, WZ-8 high-speed reconnaissance UAV and FH-97 'loyal wingman' were unveiled.
Firstly, the CH-6 MALE UAV emanates from the China Academy of Aerospace Aerodynamics (the 11th Academy), part of the China Aerospace Science and Technology Corporation (CASC). This is the country's largest exporter of military UAVs, with more than ten export customers to date.
The CH-4 is the most popular model, with over 4,000 flights by foreign users to date. This amounts to 20,000 flight hours and a kill rate of 99% in more than 800 missile strikes.
However, the new CH-6, shown in mock-up form in Zhuhai, is branded as a top-end UCAV that will eventually be available for export. Its configuration is novel for CASC, featuring a chined fuselage, a T-tail and tapered wings that end in split winglets.
The development reportedly started in June 2019, followed by a preliminary design review in February 2020 and a critical design review last December. The prototype was completed in July after work commenced in January. The CH-6's first flight is slated for October 2022.
Shi Wen, the chief designer of the academy's extensive CH-series of UAVs, explained: 'The CH-6 is capable of performing a wide range of tasks, including high-altitude reconnaissance and airstrike, anti-submarine and sea patrol operations, long-range early warning and close-in firepower support. In future combat scenarios, the drone can engage in action in groups and can also cooperate with piloted aircraft or other unmanned hardware to conduct various types of operations.'
With a maximum take-off weight of 7.8t, this aircraft measures 15m long, 5m high and has a 20.5m wingspan. Two turbofan engines propel it to a top speed of 800km/h, or a cruise speed of 500-700km/h at a 10km altitude.
Its ceiling is 12km, and the maximum range is 12,000km or 4,500km, depending on whether it is an unarmed UAV or armed UCAV. The CH-6's maximum climb rate is 20m/s.
The CH-6 can carry a 300kg payload of sensors (reconnaissance type) or 2t of sensors and munitions (attack type). Its fuel capacity is 3.42t and 1.72t, respectively, for the two versions, meaning a maximum endurance of 20h or 8h.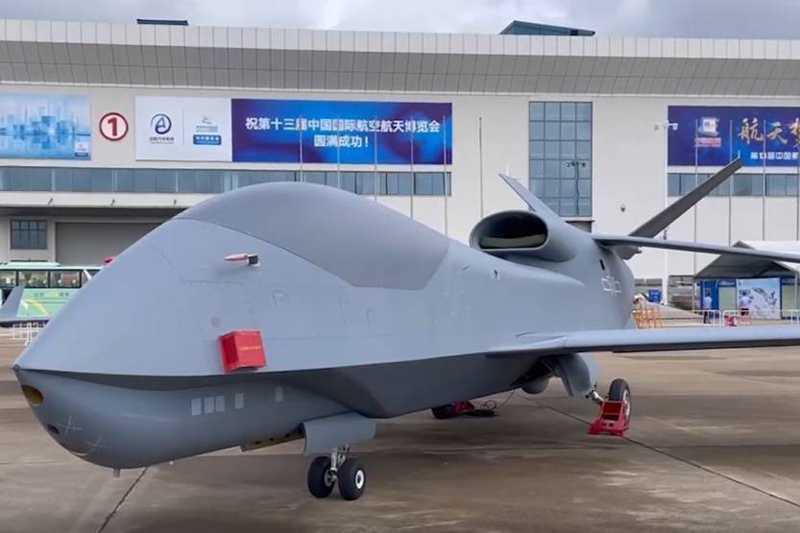 There were two WZ-7 HALE UAVs on display, including this PLAAF example displayed on the tarmac. (CCTV)
Secondly, on display for the first time was a production WZ-7 Xianglong (Soaring Dragon), the People's Liberation Army Air Force's (PLAAF) primary HALE UAV for strategic reconnaissance.
Designed by the Chengdu Aircraft most distinctive is its joined tandem wings. These are less flexible than traditional wings, but the configuration is said to give an increased lift-to-drag ratio and is less taxing on the flight control system. It is powered by a Guizhou WP-13 turbojet, a copy of the Russian R-13.
The WZ-7 is in service with the PLAAF, and a total of seven examples have been spotted at Shigatse Air Base in Tibet, Lingshui Air Base on Hainan Island and at Yishuntun Air Base near North Korea in the past few years. In July 2019, one shadowed a US guided-missile cruiser as it transited the Taiwan Strait, the first time it had done so.
The WZ-7 is routinely used for 'border reconnaissance missions' and maritime surveillance, and it can presumably designate targets for Chinese cruise missiles and anti-ship ballistic missiles. The WZ-7 is 14m long, 3.9m high and has a 22.8m wingspan.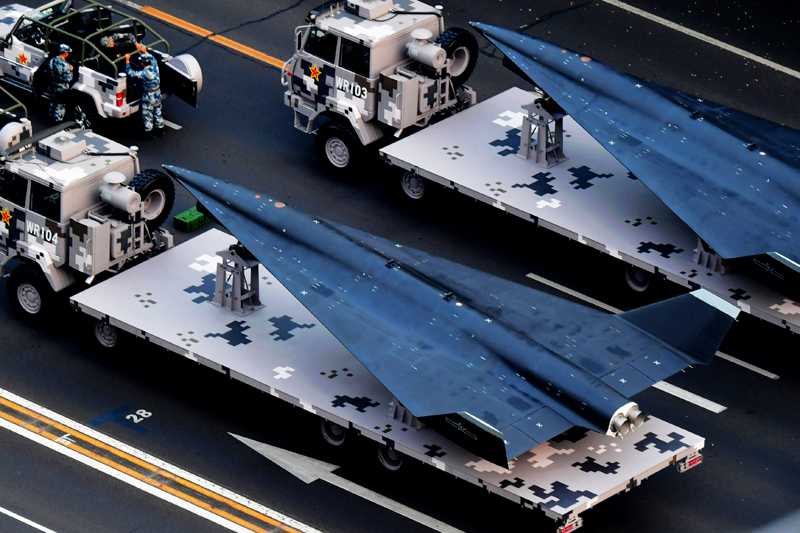 China showed off the WZ-8, designed to be launched from the H-6N bomber, for the first time in 2019. (Xinhua)
Thirdly, also making a maiden appearance at Zhuhai was the WZ-8 high-speed and high-altitude reconnaissance UAV. This mysterious unarmed aircraft actually debuted at a military parade in Beijing in October 2019. Two closed-cycle liquid-fuelled rocket engines power the WZ-8 to a claimed supersonic speed of Mach 3.
Two lugs on its back suggest it can be carried by an H-6N strategic bomber before being released in the air, greatly multiplying its range.
As part of an early-warning network, the WZ-8 can perform close reconnaissance and aid precision strikes for weapons like the DF-26 ballistic missile. Some speculate it might even carry out suicide attacks on high-value enemy targets, but this is unconfirmed.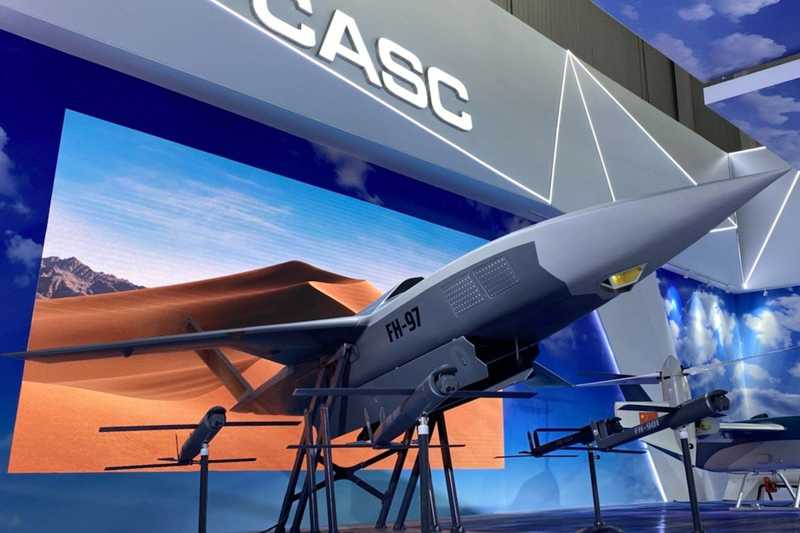 A mock-up of the Valkyrie-like FH-97 UAV from CASC. (Chinese Internet)
Fourthly, CASC also showed off its new Feihong (FH) series of UAVs. Starting with the most capable family member, the FH-97 is a medium- and long-range UAV with a stealthy design. Some describe it as a copy of the American XQ-58A Valkyrie from Kratos.
The FH-97 could be intended as a Chinese 'loyal wingman', a lower-cost platform than a manned fighter and which can go into dangerous situations. The FH-97 mock-up had a stealthy trapezoidal fuselage, sharply swept main wings, a V-shaped tail and a dorsal air intake. It had an internal weapons bay and an EO sensor under the nose.
Two jet engines power the FH-97. No dimensions were published, but it does appear roughly similar in size to the XQ-58A. Whether the FH-97 is aimed at the PLAAF or export markets is unclear, nor is the status of its development known.
Other FH family members are the FH-901 loitering munition (formerly known as the CH-901), FH-95 tactical UAV (driven by a pusher propeller) and the Feihong uncrewed helicopter (possessing a main rotor plus two propellers). The FH-97 may be intended to launch FH-901 loitering munitions as well as performing reconnaissance missions.
Fifthly, a mock-up of the GJ-11 Sharp Sword armed reconnaissance UAV was also exhibited in Zhuhai, after first being shown in the aforementioned Beijing parade in 2019. There are two internal weapon bays in this flying-wing design, each able to hold four weapons, and its design is reminiscent of the American X-47B.
Finally, reappearing from its Zhuhai unveiling in 2018 was the Tian Ying (Sky Hawk) flying-wing UAV. Allegedly, an example of the latter was delivered in mid-December 2020 and has since completed 81 days of flight testing in western China. Nothing more can be ascertained about its status.