Gaming the System: Project OdySSEy's Synthetic Training Revolution (Studio)
In the rapidly evolving, data-driven future environment, BAE Systems is leading the integration of game-changing systems that are revolutionising how military forces train. Project OdySSEy is bringing together simulation, supercomputing, data analytics and augmented reality to revolutionise the future of military training.
Brought to you in partnership with BAE Systems
Digital innovation has catapulted us into an era where synthetic environments are more realistic than ever.
Project OdySSEy, an initiative which sees BAE Systems integrating world-leading systems and technologies, is harnessing innovation to create a collaborative and immersive synthetic training ground for tomorrow's military forces.
A military metaverse
Imagine a simulator where military forces in the air, land, sea, cyber and space can all train as one. That's what Lucy Walton, BAE Systems' Head of Training for its Air business, and our guide to Project OdySSEy, is helping deliver.
A single synthetic environment where vast data libraries offer varied terrains and threats, enabling forces to train in scenarios the real world could not achieve – all within a secure setting.
The innovation behind Project OdySSEy meets a range of military needs, not least the need to train against an ever-changing threat, Walton explains. But this type of high-fidelity synthetic environment also offers significant practical advantages.
In the air domain, for example, there simply is not enough airspace in the UK to conduct the type of training required in the future.
Additionally, operations today are largely conducted alongside allies located across the globe, so there is a demand for training with partner nations which now involves huge, costly and environmentally harmful live exercises.
Going digital helps overcome many of these hurdles, providing the perfect stage for joint training exercises and learning to outsmart adversaries without prying eyes.
'There's also the great benefit that it is safe and very repeatable,' she adds. 'You're making mistakes in the synthetic environment so that when you're out in the live environment, you're much safer.'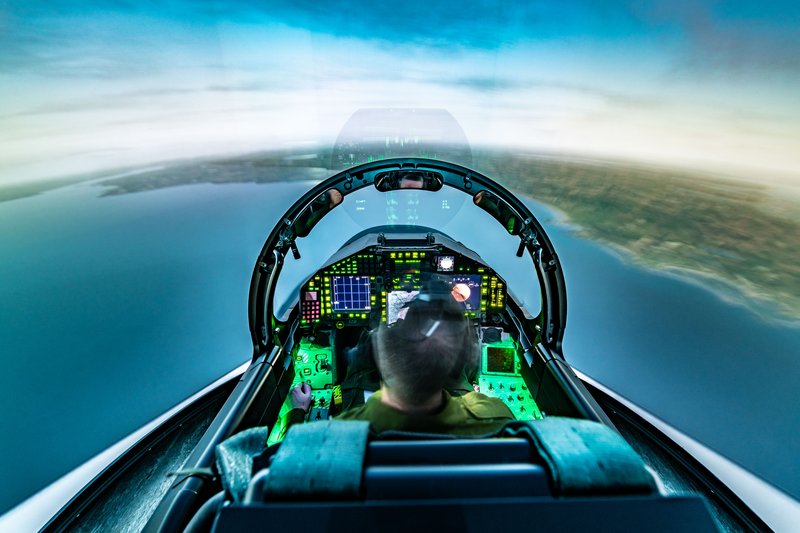 Training for the Future: Embracing Multi-Domain Operations
As we gear up for a future where multi-domain operations (MDO) are the norm, Project OdySSEy is leading the charge.
It looks across the entire product development and mission cycle, Walton adds. Historically, synthetic training has been offered for individual military systems and specific elements of the lifecycle.
'With Project OdySSEy, we're developing a capability that works from the initial operational analysis, design, development, testing, and evaluation of a product into collective training mission rehearsal.'
BAE Systems has taken a leaf from the gaming industry's book, employing its computational scale to boost realism. For example, the scenarios can feature swarming drones and other battlefield players without needing any hefty equipment.
This scaling allows the Project OdySSEy team to 'separate the simulation from the simulator', Walton explains, meaning operators do not need to install large servers or similar equipment to benefit from the synthetic environment.
'Together with our partners, we can use the gaming technology to maximise what you've got, both old and new assets.'
Finally, she highlights the ability to collect and use data in that environment to benefit customers. This leads to 'actionable insights', she says, focused on simple metrics that analyse how a trainee has performed in a particular environment or mission. All of this allows you to precisely tailor training to focus on a trainee's weaknesses as well as build on their strengths.
Project OdySSEy's Dream Team: Nine Partners Unite
One of the major strengths of Project OdySSEy is the team behind it, Walton says, and this is not just an industry prime running the show.
BAE Systems is global leader in this field and today it trains more than 6,000 people every year for military forces across the world, including hundreds of aircrew, technicians and specialists roles from air traffic control operators to electronic warfare engineers.
With this pedigree it is no surprise to see it performing the role of lead systems integrator, its team includes nine partners with particular specialities in important niches, such as Hadean, a supercomputing specialist, data analytics provider VRAI, simulation specialists Bohemia Interactive Simulations and Pitch Technologies, and military training specialists D3A Defence and Inzpire.
'Small and medium-sized enterprises deliver unique capabilities at an agile, fast pace,' Walton adds.
Pauley Interactive is one collaborator in the endeavour, bringing a 3D holographic visualisation layer, giving a holistic view of the battlefield, and helping trainees comprehend complex, fast-moving situations.
Philip Pauley, founder and owner of Pauley Interactive, says BAE Systems has provided a level playing field for partners involved in Project OdySSEy, allowing firms like them to contribute through agile innovation.
'They have created a flexible commercial and security environment which allows us to showcase the best of what we can do, working alongside other leaders in their respective technical specialisms,' he explains.
Harnessing AR: Turning Science Fiction into Reality
The 3D holographic visualisation layer provides 'a single source of truth that brings all the disparate, different datasets together'. This creates an overview of the battlespace, enabling training operators 'to really understand the wider perspective of the situation, rather than focusing on individual elements'.
Pauley outlines the technological innovation at the heart of OdySSEy, notably the emphasis on augmented reality (AR). While virtual reality (VR) is a well-trodden path, AR presents new advantages like mirroring real-life scenarios and offering just-in-time information.
'AR is straight out of science fiction – you are casting a hologram into the real world. It is a whole new dimension. We are bringing science fiction to life.'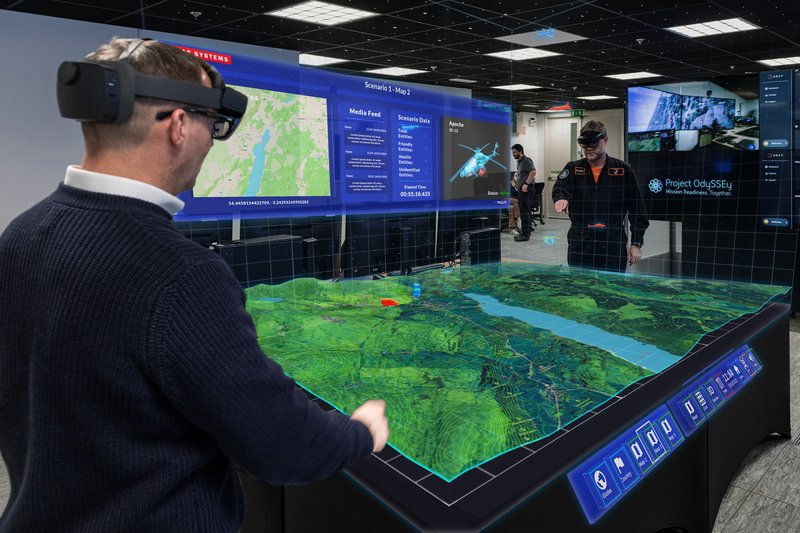 Keeping It Real: The Importance of Live Training
There will always be a fundamental need for an irreducible level of 'live' training, particularly when it comes to pilot training. You would expect a company like BAE Systems, which is behind a training aircraft like the Hawk that has a global fleet of 650 aircraft training pilots every day, to say that.
Walton argues that it is vital that pilots experience the physiological demands of flying and experience. 'That real-life sense of jeopardy will always be needed. No one has ever said training would be 100% synthetic.'
However, technological advances are expanding the training tools that militaries can deploy. In some aspects, synthetic training could even boost the realism of training, because it allows militaries to use the actual tactics and software they would deploy in a real-life situation; in live training, they could be forced to redact such tactics for security purposes.
Additionally, the fidelity of simulation is advancing rapidly. Mixed reality (MR) headsets and similar technologies enable more trainees in the scenarios to increase complexity at lower price points.
Project OdySSEy's Key Learnings: The Power of Agility
In its first 12 months, Project OdySSEy has validated the capabilities behind its single synthetic environment, and now it is looking to add further domains and increasing complexity.
Significant lessons have already been learned. Walton points to the ability to 'fail fast, learn fast'. It took just four months to develop the software for Project OdySSEy, a testament to the effectiveness of the agile sprint approach.
'The first time you do something, you might not get it right. But if you do it quickly and iteratively, you can really advance your development cycle in short order, which we've proven through Project OdySSEy.'