Home

>

News

>

Rising Anti-Armour Threats in Ukraine Spotlight Need for Active Protection Systems (Studio)
Rising Anti-Armour Threats in Ukraine Spotlight Need for Active Protection Systems (Studio)
Amid the evolving threats in modern warfare, active protection systems (APS), like Rafael's Trophy, offer advanced defence for armoured vehicles.
Brought to you in partnership with Rafael
In March, UK government officials reported that the Russian Army suffered the loss of over 900 main battle tanks (MBTs) and more than 3,000 armoured combat vehicles since their February 2022 invasion of Ukraine.
These significant losses were largely due to an array of both guided and unguided anti-armour weapons provided to Ukraine's Armed Forces. These weapons have demonstrated their potency against high-value and strategic platforms of a supposed 'peer' adversary.
Land warfare expert, Chris Foss, notes that the ongoing conflict has shown the rise of 'multi-dimensional warfare', wherein armoured platforms can be vulnerable from any direction on the battlefield.
"The traditional threat faced by a vehicle was predominantly from its front 180 degrees," Foss elaborated. "However, in Ukraine, top attacks against armour have become increasingly prevalent. This evolving threat landscape is something armoured vehicle designers must consider."
To defend against anti-armour weaponry, platforms can utilise a range of protective measures, from bar armour to explosive reactive armour (ERA) and active protection systems (APS). The latter boasts onboard technologies that identify and neutralise imminent threats via soft and/or hard kill countermeasures.
However, Ukrainian and Russian forces have scarcely deployed APS during the conflict to shield their premium armoured assets, especially the MBT. But Foss predicts a pivotal role for APS in the future, emphasising its potential in enhancing the survivability of both personnel and strategic platforms amid a swiftly changing battlespace.
Lessons Learned
The Israel Defense Forces (IDF) have consistently relied on APS technologies across diverse environments and against various threats.
'On Israel's northern border, armoured platforms are threatened by mines and improvised explosive devices as well as anti-armour missiles like Russia's Kornet, which is laser-guided and difficult to defend against,' Foss said.
'To the South, the IDF have experience desert warfare and, in Gaza, urban warfare, so they've gained a lot of experience operating in different types of terrain. This kind of information is fed directly back into APS technology like Rafael's Trophy system,' he continued.
Guy Bitton, Head of Business Development at Rafael's Land and Manoeuvre Directorate, affirmed the IDF's successful adoption of Trophy APS technology in 2011 to address unique challenges.
'Similar to situations we are witnessing in Ukraine, if an anti-tank weapon can "see" your vehicle, you're in deep trouble. APS is a game-changer in terms of manoeuvre, ensuring the survivability of soldiers and making sure the forces successfully advance and strike, achieving their objectives on the battlefield with uninterrupted combat continuity,' Bitton said.
Spotlight on Trophy
Presently, Trophy stands as the sole fully operational APS solution worldwide. It's seamlessly integrated into over 2,000 platforms globally, including renowned MBTs like Abrams, Leopard, the UK's Challenger and Merkava.
Bitton underscored Trophy's distinct advantages: 'Customers demand an APS with a lot of operational experience which saves lives and ensure greater freedom of movement and manoeuvrability across the battlefield.' Trophy can be integrated with all armoured platforms – wheeled, tracked, MBTs, and 8x8s.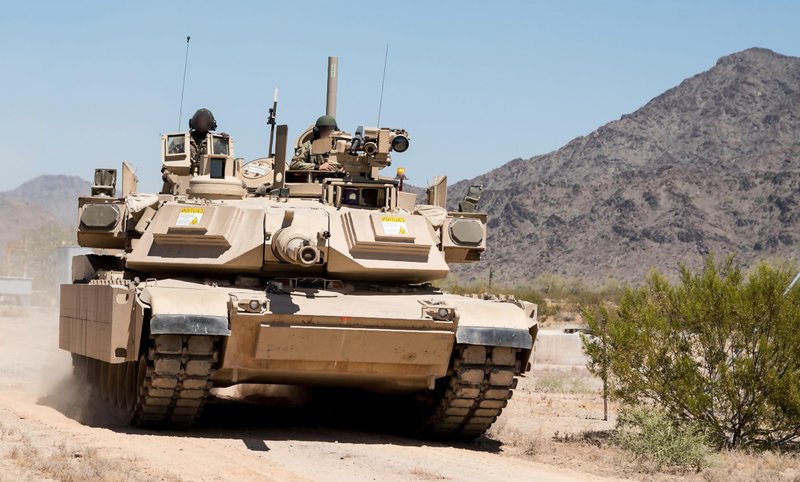 Trophy's radar and electro-optical sensors detect and track incoming threats before command & control software triggers hard-kill countermeasures to disrupt an approaching projectile.
Furthermore, Bitton detailed Trophy's reusability, contrasting it with other 'single-use' APS technologies and ERA tiles, which degrade and necessitate replacement after use.
Trophy can also be integrated into a layered survivability package on board a platform, working in coordination with ERA, bar armour, soft-kill effects, and C4ISTAR mission suites to optimise levels of situation awareness.
Looking Forward
Finally, Bitton highlighted the emergence of an 'arms race' between armoured platforms and anti-armour weapons across the contemporary operating environment.
'We are trying to give our clients the ability to win in this competition. Anti-armour weapons are being developed to stop any combat vehicle, and from time to time, adversaries can get very close to finding something to defeat Trophy.
'But at Rafael, we strive to be five years ahead of the threat, whether they be new versions of rockets or ATGMs to defeat ERA and APS. So today, after hundreds and thousands of tests, Trophy can defeat any type of threat.'
For this reason, Rafael continues to work to expand the application of Trophy across a wider inventory of armoured vehicles, including 8x8 infantry fighting vehicles, with Bitton concluding:
'Our challenge is how fast we can deliver this capability to our clients because there is a lot of interest in APS not only in Europe but worldwide.'
For more information on TROPHY