Home

>

News

>

Nothing Goes Unseen: Raytheon's LTAMDS Radar Enhances Situational Awareness Amidst Increasing Aerial Threats (Studio)
Nothing Goes Unseen: Raytheon's LTAMDS Radar Enhances Situational Awareness Amidst Increasing Aerial Threats (Studio)
Never before have air defenders contended with such complex, rapid and varied threats in the air environment. Raytheon's LTAMDS radar is the system they need for this ever-changing threatscape.
The air environment is becoming progressively more complex and hostile. Conventional airborne threats share the skies with ballistic missiles and uninhabited aerial vehicles (UAVs), often at the same time.
Airspace is congested and contested, and some threats move at hypersonic speeds. Situational awareness, always important in the air defence battle, must be more responsive than ever.
Against this backdrop, Raytheon's LTAMDS (Lower Tier Air and Missile Defence Sensor) is the right radar at the right time and will soon enter service with the US Army.
Bob Kelley, director for US Requirements and Capabilities for Raytheon's Land & Air Defense Systems business, explains that, while the air environment will only deepen in complexity, Raytheon has designed LTAMDS to overcome this challenge and provide air defenders with clear and timely situational awareness.
'LTAMDS is a next-generation radar, and it has three separate arrays that together see in 360 degrees; they are seamlessly integrated around the radar. We like to say that nothing goes unseen because we're not a rotating radar – we are always looking 360 degrees in every single direction,' Kelley says.
Testing Times
Raytheon had reasons to celebrate in early October. LTAMDS completed Contractor Verification Testing at the US Army's White Sands Missile Range in New Mexico. This significant milestone certifies that the radar has met its defined objectives following a series of demanding tests and now progresses into US Army Developmental Test.
These CVT tests pitted LTAMDS against simulated and real threats, showing the effectiveness of the radar's design and performance. Operators put the radar through tests that increased progressively in intensity and complexity to evaluate the radar's advanced capabilities and features.
LTAMDS was connected to the US Army's Integrated Air and Missile Battle Command System (IBCS) throughout. The IBCS provides a highly responsive, scalable command and control architecture federating geographically disparate and capability-diverse ground-based air defence systems.
Employing the IBCS was an important step because this is the command and control system the radar will work with when in US Army service.
The effective search and tracking of multiple targets, including inhabited aircraft, UAVs, cruise missiles and simulated ballistic missiles, were some of the mission scenarios the radar handled.
The latter tests saw LTAMDS remained connected to a simulated PAC-3 Surface-to-Air Missile (SAM), successfully engaging a simulated ballistic missile. The targets, real and simulated, represented several of those that LTAMDS is optimised to work with.
Passing the tests means that the radar is on course to achieve an Operational Capability (OC) level by the end of the year.
How is this Possible?
Raytheon has poured its enviable experience and heritage as a world-class radar house into LTAMDS' development. The radar provides 360-degree surveillance, while the company's state-of-the-art active electronically scanned array design uses Gallium Nitride (GAN) technology.
GAN is a transformational radar technology. The high operating temperatures GAN components tolerate mean that stronger radar signals can be transmitted, enhancing radar performance. Possessing its own GAN foundry also means that Raytheon can manufacture its Gallium Nitride components in-house.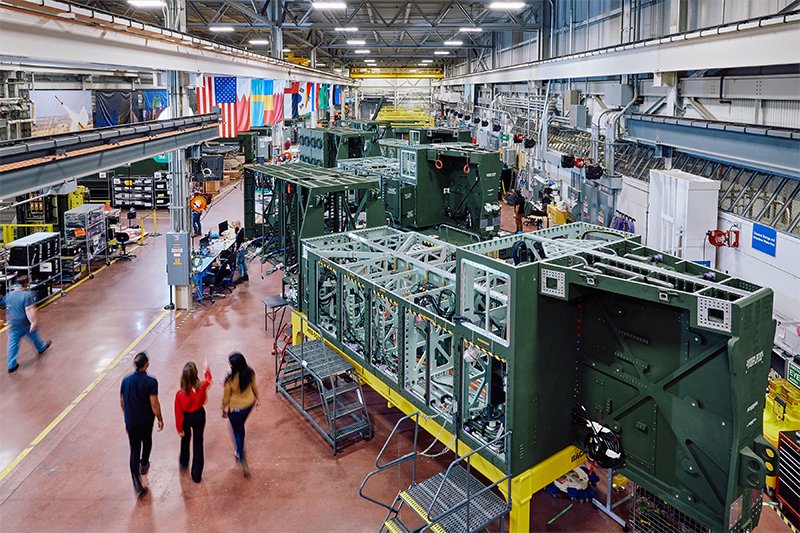 Kelley explains that targets are seen in better resolution, at longer ranges and in more detail. At the same time, the radar's low probability of detection/interception capabilities are unrivalled.
'LTAMDS will make those detections much earlier, giving that operator more time to understand the situation, and he or she will have a clearer understanding of the situation being presented to them. Because this radar is so powerful and looks in 360 degrees.'
Where Next?
Raytheon was contracted in 2019 to build an initial six radars, all of which have been produced and are now undergoing tests. The declaration of an OC level by the end of 2023 will culminate with ongoing training and soldier-conducted operational assessments.
Achieving an Operational Capability does not mean that work on the radar ceases. The testing regime continues with demanding environmental and mobility qualifications along with further integration and 'system of systems' evaluations. Upon completion, the radar will achieve Operational Capability in support of an Urgent Material Release.
LTAMDS will replace the existing AN/MPQ-53/65 radars used by the Army's Patriot SAM systems. The new radar works with existing PAC-2 GEM-T and PAC-3 MSE interceptors while having the growth potential to work with new effectors as they become available.
The international community is also taking notice. Twelve countries have shown significant interest in LTAMDS. Poland has become the first international customer for the radar, approving a letter of acceptance on 5 September to expand its Wisla air defence programme with 12 LTAMDS systems.
As Kelley explains, having the right radar at the right time for the right mission is not a luxury for air defenders but a necessity. LTAMDS satisfies this need.
'As a former air defender in the United States Army, I not only see the need for this capability in the army, given the threat advancements that we've seen over the past 20, 30 years, and what we project to see into the future… but we're making this radar much more usable for the soldiers out there.
'It'll be more reliable. It'll be easier to operate. And at the end of the day, it'll provide the capability that soldiers on the battlefield need and it's very exciting to be a part of this.'