Land Warfare
IDEX 2017: Patria unveils new AMV variant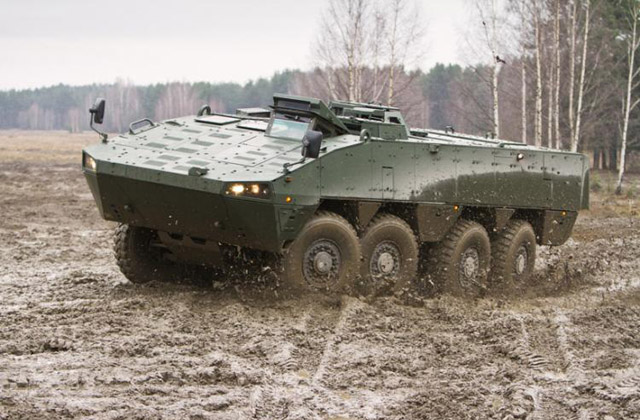 Patria is launching the AMV28A, a new AMV 8x8 vehicle variant fitted with a Kongsberg Protector Medium Calibre Turret (MCT-30) at IDEX 2017 in Abu Dhabi.
The vehicle will also be equipped with a commander's independent weapon station with a 12.7 mm machine gun and Javelin anti-tank missile launcher. The AMV28A will also include a bolt-on amphibious kit increasing the weight to 28t GVW and giving it an automatic amphibious mode.
AMV28A has a width of 2.85 m without the amphibious kit. One key attribute is that it has the option of an extended hull. The choice of an extended hull is important because it means that the vehicle could be lengthened and adapted to install larger sized turrets or more seats for dismounted soldiers.
For example, the UAE is looking to replace its Russian-built BMP-3 infantry fighting vehicles and it issued a RfP for 600 wheeled vehicles in 2012. Of those, 400 are due to be fitted with the old turrets from the BMP-3 vehicles. This new AMP variant, with its extended hull option, could be the company's method of showcasing the vehicle's potential for this modification.
Furthermore, the installation of the Javelin launcher on the AMV28A could also showcase to potential customers the over-watch capability of an anti-tank missile system and the increased range it offers, which could be a preferred option for the UAE than keeping the BMP-3 turrets. The turret is a unique requirement from the UAE that could prove difficult for a range of 8x8 manufacturers, which would all have to modify and extend their vehicle hulls between the second and third axle to fit the turret's large basket.
The other 200 8x8s required by the UAE would be used as APCs and C2 variants.
In January 2016 Patria received an order from the UAE Armed Forces Headquarters for the AMV 8x8 which are being built by the company's partner Rosomak in Poland. It is not clear if those vehicles - thought to be about 50-60 in number - have already been fitted with the BMP-3 turret, though the company insists that AMV is able to integrated it. There is likely to be a requirement for more 8x8 vehicles from the UAE, another opportunity for Patria if it can follow on from the 2016 order.
To-date almost 1,600 AMV vehicles have been ordered by customers in seven countries including the UAE, Finland, Poland, Slovenia, Croatia, South Africa, and Sweden. The AMV has been used operationally in both Afghanistan and Chad. Meanwhile other 8x8 manufacturers are still hovering to try and secure the contract.
Patria has kept its eye on Middle East programmes, announcing a teaming agreement with Kongsberg at IDEX in 2015 with the intention of competing for various contracts.
French countermeasure experts Lacroix are in the process of adding additional capabilities to its Galix self-protection system with the integration of missile warning and laser ... Read More

The UAE Land Forces has ordered thousands of vehicles from their domestic manufacturer, Nimr, it was announced at IDEX.Although the value of the contract was ... Read More

The UAE Land Forces are set to receive and upgrade to their battle management that will see them transition to digital systems.A contract worth $189 ... Read More