Maritime Security
Surface Navy: US Navy looks to enhanced laser weapons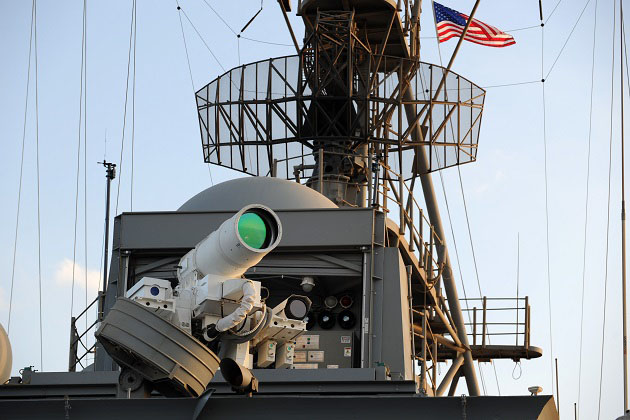 The US Navy is hoping to accelerate the introduction of new laser weapon systems aboard its surface fleet.
The rough plan for the introduction was outlined 10 January at the 29th National Symposium of the Surface Navy Association in Arlington, Virginia.
According to RADM Ronald Boxall, director, Surface Warfare Division (N96), the enhanced laser capabilities is one of the innovations being explored by several organisations within the service.
'The Office of Naval Research, right now, with DARPA [Defense Advanced Research Projects Agency] and with our organization, are looking at doing a lot more with lasers,' he said. 
'You'll hear more about it over the next few months as we figure out where we're going, but by this time next year I'd like to report to you that we have already got a new laser.'
He added that the notional design would initially install a 150 kilowatt system aboard the Paul F. Foster, a decommissioned Spruance-class destroyer that now serves as the Self Defense Test Ship for Naval Surface Warfare Center.
'Then shortly after that we want to get it operational on either a carrier of a destroyer or both,' added Boxall. 'That's kind of the way we want to go. We'll see if we can get there. I think we can.'
The US Navy has previously tested a 30 kilowatt laser weapon system fitted to the USS Ponce in the Gulf in 2014 (pictured above) and has been pursuing such technology for a number of years.
Other countries such as the UK are looking at developing directed energy or laser weapons. A recent contract award to the UK Dragonfire consortium, led by MDBA, charges the parties with a system demonstration by 2019.