Maritime Security
Surface Navy: US Navy distributed lethality concept evolves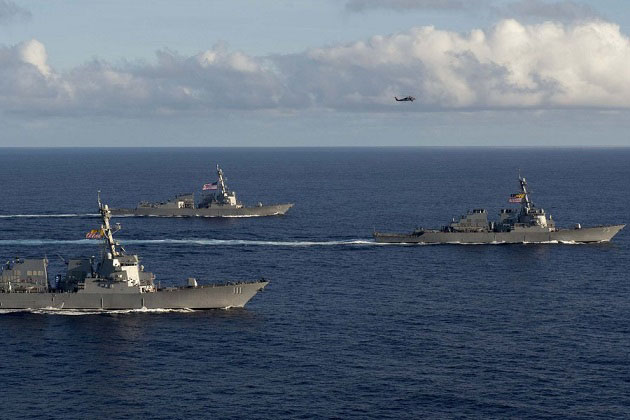 Senior US Navy officials used this week's Surface Navy Association (SNA) symposium in Arlington, Virginia, to emphasise the underlying concept of distributed lethality (DL).
The intent of the DL concept is to facilitate sea control at the time and place of US Navy choosing by increasing the offensive and defensive capabilities of individual warships and employing them in dispersed formations across a wide geographic expanse.
According to VADM Thomas Rowden, commander, Naval Surface Forces, the original concept was unveiled at the same event two years ago.
'For two years now we have been doing the hard work of putting meat on the bones of the concept that we knew had promise, but for which we had not done the required gaming and analysis,' he told attendees at the symposium.
'Putting more weapons on ships to allow them to hold more targets at risk seemed like a straightforward and sensible proposition,' he acknowledged. 'But straightforward and sensible are not sufficient when scarce dollars and opportunity costs are at stake. 
'We need to make a case, with hard numbers and data, that investments in offensive weapons and defensive resilience in our surface force add a powerful aspect to our conventional deterrence posture.'
The creation of the first Pacific Surface Action Group (PAC SAG) in 2016, comprised of three DDGs [guided missile destroyers], assisted real life testing of the concept and helped to provide some of the hard numbers and data necessary.
'After considerable effort we have made a persuasive argument – and resources have followed,' Rowden said, pointing to additional investments in systems like Tomahawk Maritime Strike and Standard Missile 6.
'The bottom line is that I am confident that distributed lethality is in fact critical and the degree to which the concept has found its way into everyday vernacular of Navy-wide communications and warfighting discussions is gratifying,' he added.
Rowden moved to state that 'we aren't doing distributed lethality for its own sake', rather to enable sea control.