Maritime Security
Euronaval 2016: Norway to push for coast guard vessels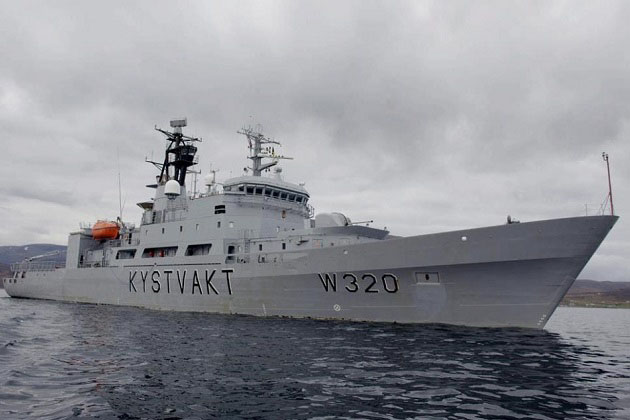 The Norwegian government this week followed up from June's long term defence plan with a 2017-budget that involves an increase in the funding level for the Norwegian Armed Forces and an earlier push to secure new coast guard vessels.
The budget proposes a NOK 1.9 billion ($280 million) increase year on year, of which NOK 1.14 billion addresses specific measures recommended by the defence plan.
Significantly, the budget also for the first time includes funding increases specifically intended to address the cost growth of military equipment, which consistently exceeds that of civilian sectors. 
One recommendation was for the accelerated purchase of three new helicopter capable coast guard vessels to replace the current Nordkapp-class. This is an earlier commitment than initially expected in the defence, while the vessels will be constructed in Norway.
The Norwegian government will plan to present this procurement project for parliamentary approval in early 2018.
'We said when we introduced the new long term defence plan that first we had to make sure that what we already have actually works… We still have a long way to go, but this is an important first step towards building more capable and sustainable Armed Forces for Norway,' stated Norwegian minister of defence Ine Eriksen Søreide.
Earlier this year DCNS and ThyssenKrupp Marine Systems were selected by the Norwegian MoD as the strongest candidates to replace the existing Ula-class submarines.
A statement said that the MoD 'has decided to focus our future efforts towards these two companies and their respective national authorities'.
The RNoN's existing fleet of boats were commissioned between 1989 and 1992 with all submarines currently receiving service upgrades to extend their lifecycles up to the mid-2020s.
DCNS Group's Scorpene 2000 conventional attack submarine (SSK) has been selected for use by the naval forces of Chile, Malaysia, India and Brazil, the latter two of which chose to build their boats in country. A total of 14 vessels have been sold to date.
In June the Norwegian Ministry of Defence (MoD) announced in its long term defence plan a series of measures to rationalise its estate and introduce savings where possible. This includes a reduction in airbases for maritime patrol aircraft and cutting two vessels from its six-strong MCM fleet.
This plan indicated that the pool of MCM crews is being consolidated to enable the full manning of the remaining hulls.
It was also put forward that the Coastal Ranger Command will be disbanded with some personnel reallocated to other units across the land and maritime services. In doing so, this would support the creation of a new unit in the Norwegian Army, in the form of a Ranger company reinforcing the Army Border Guard.
The defence plan followed an intention by the Norwegian government to increase defence spending by NOK 165 billion ($19 billion) over the next 20 years.
For more from Euronaval 2016, see our dedicated news page.