Maritime Security
Euronaval 2016: French Guiana OPV undergoes sea trials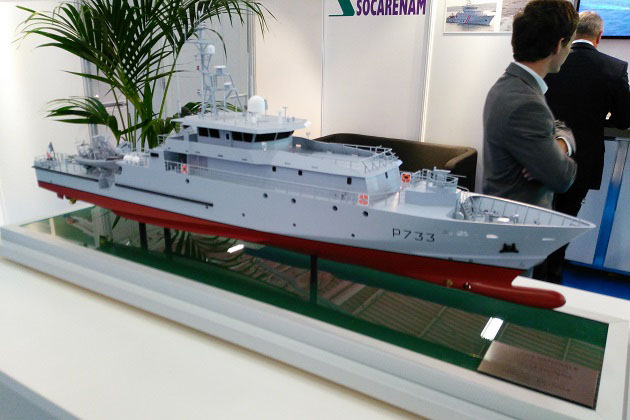 The first of two offshore patrol vessels (OPVs) destined for French Guiana has undergone sea trials last week, revealed French shipbuilder Socarenam.
The second OPV for the French Guiana programme is expected to be delivered in February next year.
Speaking to Shephard at the Euronaval 2016 defence exhibition at Le Bourget, Paris, Tristan Serça, chargé d'affaires naval construction, said the global market for coast guard and OPV sized vessels was strong. In terms of the portfolio of vessels in their catalogue, the company was well placed to meet a range of maritime security and policing needs.
'Every nation wants a good coast guard, it is a market of opportunity,' stated Serca, adding that the company was looking to increase awareness of their ship design and construction capability.
The first military export was to the Belgian Navy with two 53m patrol vessels weighing in at over 550t. These vessels are designed for EEZ patrol, search and rescue and other littoral policing missions, and were commissioned in 2014.
The two patrol vessels destined for French Guiana, measuring around 60-65m in length, were confirmed last year by French authorities to assist in maritime security roles for the French territory.
There are a range of other vessels currently in various stages of construction, said Serca, including a second 32m light patrol vessel for the French customs agency in addition other smaller patrol craft for national customers.
With the company's military and security segment at present mainly dealing with customers in Europe, including the Belgian and French navies, officials said that there were opportunities to be had worldwide.
Established in 1961, Socarenam Shipyard has developed a range of vessels from 15-80m in length for the French and international export market, delivering more than 280 ships in this time.
For more from Euronaval 2016, see our dedicated news page.