Home

>

News

>

The Global Quest for Seamless Communication: Bridging the Communication Gap (Studio)
The Global Quest for Seamless Communication: Bridging the Communication Gap (Studio)
The evolution of the global satellite communications industry highlights the importance of interoperability, connectivity, and technological advancements to address modern warfare challenges and ensure resilient coalition operations.
Brought to you in partnership with Intelsat
In the rapidly evolving landscape of satellite communications, connectivity and interoperability are not just buzzwords but critical components of global alliances and operations.
As entities worldwide lean heavily on data-intensive applications and technology, the importance of secure, resilient communications cannot be understated.
Rory Welch, VP of Global Government and Satellite Services at Intelsat, sheds light on how the company navigates these waters. 'Intelsat makes our customers' communications reach global. We cover 99% of the world's population with our network,' Welch begins, underscoring the sheer scale of their operations.
While the US military may be one of its major customers, Intelsat's reach spans nations and alliances, proving its solutions truly have a global impact.
In a military context, Intelsat sees its role as bridging the gaps, ensuring seamless communication from national headquarters to soldiers at the very edge of the network. This integration is vital because information, no matter how valuable, is not relevant if it cannot be delivered to those who need it.
Welch describes Intelsat's mission to make connectivity simpler and more scalable. Their global network caters to a vast clientele – from media outlets and airlines to militaries. The aim is to deliver ubiquitous connectivity anywhere customers need, with next-generation networking capability.
Intelsat dives deep into software-defined networks (SDN), looking at virtualisation to reduce the clunky hardware traditionally required for communication. Instead of carrying multiple modems or radios to communicate over various networks, virtualisation compresses these into a more compact, software-driven solution.
Welch draws a comparison with the past era of mobile networks, highlighting how the mobile industry evolved from a siloed environment into one of seamless connectivity. The goal for military communications is similar – interoperability and seamless transitions between different networks across multiple domains.
'The solutions we provide, which are based on commercial technology, are highly interoperable,' he notes.
This adaptability is key. Rather than imposing stringent requirements on the equipment a customer uses to interface with their network, Intelsat remains largely equipment agnostic. This flexibility enhances the essence of interoperability, ensuring that varied devices across different platforms can communicate effectively.
However, achieving true cross-platform communication isn't just about compatible devices. The broader architecture of the networks plays a pivotal role.
'For us, it's promoting things like standards when it comes to these future networks...everyone if they're operating on the same standards...can interoperate across multiple networks without having to have multiple devices,' Welch emphasises. Here, Intelsat's focus on virtualisation and standards, particularly 5G standards, comes to the fore.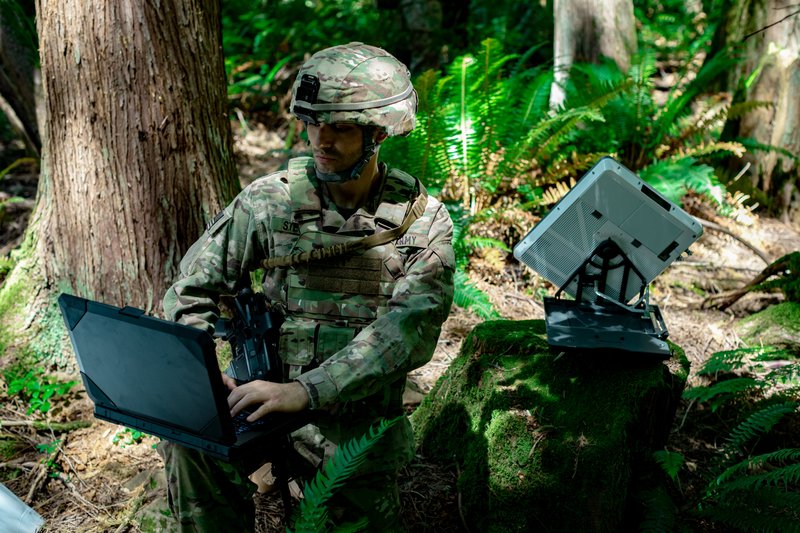 Operating in Contested Environments
As Welch notes, the criticality of integrated communications in military operations cannot be understated. Modern warfare assumes a contested environment, where communication disruption becomes a prime tactic for adversaries.
Drawing upon the PACE principle of communications (Primary, Alternate, Contingency, Emergency), Welch emphasises the need for multiple paths of communication. Modern military units expect their primary systems to work seamlessly, but they need backup solutions – both military and commercial.
By employing multiple layers of satellite coverage, Intelsat ensures overlapping satellite access. If one satellite faces interference, the network shifts users to another satellite, reducing downtime and potential risks.
Cybersecurity is another cornerstone of Intelsat's approach, and the company deploys a robust "defence in depth" strategy. Intelsat incorporates the most modern security capabilities on its satellites and network infrastructure, thwarting potential adversaries from tampering with satellite commands or the data being transmitted.
Moreover, introducing software-defined satellites offers dynamic routing and increased flexibility in responding to interferences. This allows for more effective RF interference monitoring and innovative solutions to mitigate its effects.
Additionally, on the user end, Intelsat provides added layers of security, including transmission security that masks communications activity, making it harder for adversaries to detect traffic volume or origins.
These elements are then supercharged by multi-echelon collaboration between governments, space agencies and other key stakeholders across the commercial and military world, bolstering preparedness against emerging challenges.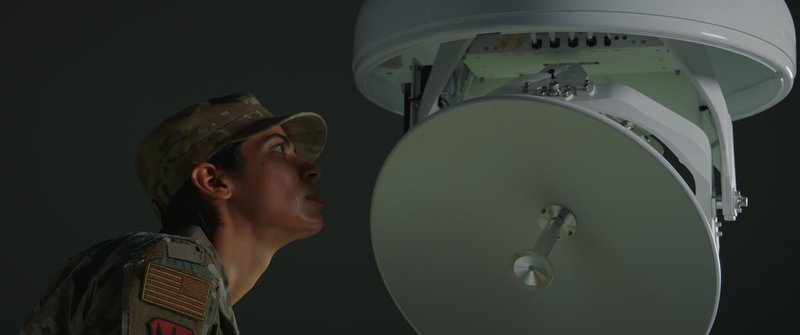 Enabling Coalition Operations
As modern warfare dynamics evolve, so do the communication systems supporting them. With its innovative approach and strategic vision, Intelsat is poised to play a pivotal role in bridging the communication gaps and setting the stage for a more connected, efficient, and resilient military future.
With a global network of satellites and robust ground infrastructure, Intelsat's scale enables them to provide connectivity in places that other solutions might not reach. Partnerships like Team Aurora in the UK, led by Babcock International, and collaborations with entities across Europe, the Middle East, and Southeast Asia are a testament to their commitment to global solutions.
'We continue to invest in new capabilities, new solutions for our customers,' Welch states.
By focusing on addressing the needs of different government and military intelligence customers, Intelsat is well-poised to provide tailored solutions that resonate with specific challenges and requirements.
'We work on things like smart edge devices, which can operate across multiple networks... A lot is happening in the satellite industry, and Intelsat continues to lead the way in developing innovative solutions that support increasingly complex and evolving markets.'
To discover more, see Intelsat at DSEI – Hall 6, Stand 152