Home

>

News

>

How Advanced Systems are Transforming NATO's Approach in a Data-Dense Battlespace
How Advanced Systems are Transforming NATO's Approach in a Data-Dense Battlespace
There is a fundamental shift in how battles are managed – a shift driven by data. From optical systems to the communications space, to manufacturing and beyond, RTX is supporting NATO and its allies in the modern, digital battlespace.
Brought to you in partnership with Raytheon ELCAN
NATO nations and their allies face an increasingly contested environment, with the rise of peer and near-peer rivals posing new threats and challenges.
They must prepare for a battlespace dominated by Multi-Domain Operations (MDO), or Combined Joint All-Domain Command and Control (CJADC2), in which platforms and systems across domains will be interconnected and interdependent.
Against this backdrop, data is a vital resource, with myriad sensors gathering data in all domains and providing an essential advantage to militaries that seize the initiative. Weapons and other systems must excel in their own right, but must also closely interact and connect – allowing commanders to make decisions quicker.
Such challenges were a key focus at the recent Defence and Security Equipment International (DSEI) exhibition in London in mid-September 2023.
Dr Alex Rose-Parfitt, Engineering Director for Raytheon UK, said that the technologies in the contested environment of today and tomorrow were a major topic for RTX – the parent company of Collins Aerospace, Raytheon and Pratt & Whitney – at DSEI, including a focus on the connections between different systems.
'At DSEI, we're demonstrating a breadth of capabilities, from high-energy laser systems to requests for anti-jamming capabilities, and how to connect it all,' he said.
The Importance of Cutting-Edge Optics
Rose-Parfitt also noted that optics were a key focus for the company and its customers at the exhibition. Cutting-edge optics are essential to deliver operational advantage in the data-rich modern battlespace, with RTX's Canada-based subsidiary, Raytheon ELCAN, a core supplier for NATO allies.
Raytheon ELCAN works across multiple domains, with proven capabilities in targeting systems, weapons guidance and seekers, high energy laser optics, cockpit avionics and beyond.
A key focus in the modern, digital battlespace is integrating the soldier as a sensor. Digitally enabled optical systems, like the ELCAN Specter DFCS (Digital Fire Control Sight), establish a connection, providing information to the commander from the soldier's point of view. The ELCAN DFCS will connect the dismounted soldier to a network while increasing soldier lethality, improving accuracy and reducing cognitive workload.
'The beauty is you're bringing very, very high-clarity optics together with real-time data processing within the sight to allow a better understanding of what the environment is like around you,' Rose-Parfitt explained.
The modern battlespace will also pose challenges across the communications space, shifting the focus from voice to digital command and control networks. This is a top priority for RTX business Collins Aerospace, which works across advanced military aerospace systems, from mission systems to avionics.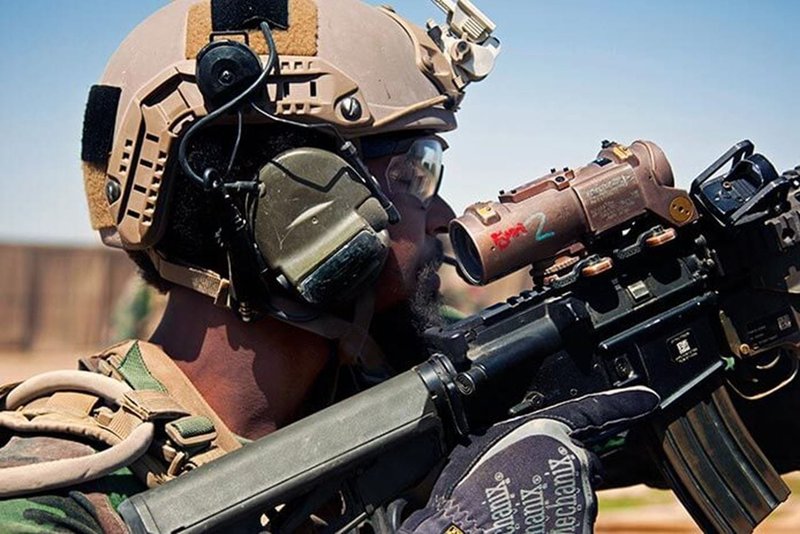 Matt Duckering, a Business Development Manager for the Connected Battlespace at Collins Aerospace, said the company was working on the most difficult problems its customers face in the modern contested battlespace.
He highlighted the challenges of an increasingly interconnected multi-domain environment, where legacy platforms and systems must connect digitally: for example, fourth or fifth-generation aircraft connecting with the newest sixth-generation technology. This is a key element of achieving multi-domain integration.
The Digital Approach to Manufacturing
For Collins Aerospace, Raytheon and the wider RTX portfolio of businesses, it is essential to take a cross-domain approach to support NATO, Duckering noted. He said this data-rich environment also demands a new approach to manufacturing, with digital engineering a core element of adapting to the connected battlespace.
It is vital to deliver 'early TRL [technology readiness level] technologies into the field, not only so we can learn more about customer problems, but also so that we help them define their requirements and help to start solving them and proving concepts very early on,' he added.
Through a model-based systems engineering approach, RTX has rapidly developed concepts and communicated them to its customers. This begins with operational analysis, Duckering said, 'learning from what the armed forces user does now and replicating that in a model-based systems engineering environment'.
'RTX is in the unique position to provide end-to-end solutions in the connected battlespace,' noted Rose-Parfitt. 'We never want to send allied airmen, soldiers or sailors into a fair fight. RTX provides NATO and its allies with the competitive advantage to win in the future battlespace.'
Discover how Raytheon ELCAN has been delivering high‐precision optical systems for the most demanding challenges in the world.