UV Online
SAS14: UCLASS draft RfP expected within weeks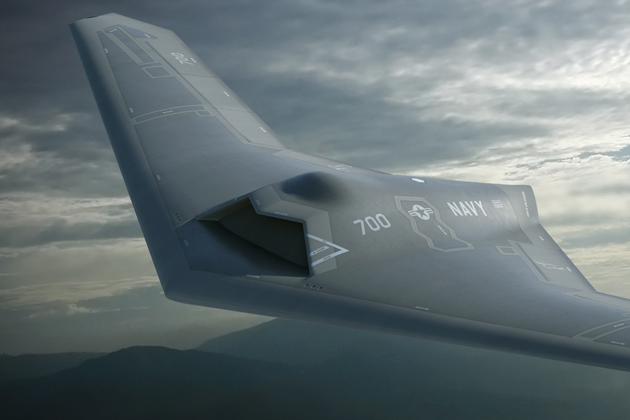 The highly anticipated draft RfP for the air vehicle segment of the US Navy's future Unmanned Carrier Launched Airborne Surveillance and Strike (UCLASS) programme is expected to be released 'before the end of April', the programme manager has revealed.
Following a delay in the release of the draft, RAdm Mat Winter affirmed to media at the Sea-Air-Space exhibition that it is currently being passed within the higher echelons of the navy and will be released to industry by the end of April.
'The CNO [Chief of Naval Operations] has signed and approved this,' Winter said. 'I am 100% confident that this will push back [and be signed off].
'The technology has to have a feasible path for growth. The requirements have to be solid, and we need to flow these down into the technical design requirements. All of that is being wrapped up and we will deliver it to industry before the end of April.'
Four companies – Boeing, GAASI, Lockheed Martin and Northrop Grumman - have been waiting patiently for the release after it was initially promised in September 2013. The companies won PDR contracts for the air vehicle design in August 2013.
Winter offered a timeline of events going forward, which will include industry days for each bidder to discuss the draft RfP, followed by the release of the final RfP 'this Summer'.
Following the release of the final RfP, industry will have 60 days to respond, followed by a 10-month source selection which will result in the downselect of one vehicle design in 2015. Early Operational Capability is then expected to be achieved by 2020.
'As we go down range we don't know how we're going to operate UCLASS because we've never had it in the carrier environment before,' Winter continued. 'Draft RfPs are absolutely essential to getting this right. We want to minimise the confusion for industry. We've done a lot of work upfront to ensure as mature a draft RfP as possible.'
He added that the designs from the vendors are guaranteed to meet the requirements because the navy has been 'engaged with all vendors' throughout the process of writing the draft RfP.