UV Online
Euronaval 2016: Thales introduce new USV/AUV hybrid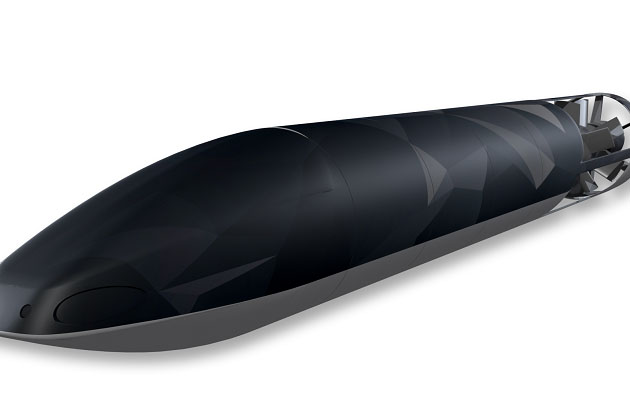 As Europe's largest maritime and naval defence show gets underway Thales have been among the first of the major exhibitors to unveil a new system to visiting delegates.
The Autonomous Underwater and Surface System (AUSS) is the world's first hybrid unmanned system capable of operating both surface and sub-surface roles, the company states. The platform has been designed for both civil and military roles including intelligence gathering, counter-terrorism, mine countermeasures (MCM) and offshore platform surveillance.
At a recent media briefing near Toulon, Thales officials detailed some of the capabilities that the AUSS is proposed to have, including a degree of persistent and covert surveillance previously unknown for such a system.
'This system can sit at the bottom [of the sea] for days, pop up to take a picture, and dive back down again. It is a big programme, a revolutionary system and not just an AUV but a multi mission and multi sensor [platform],' said one Thales official.
The system has been developed according to no outside requirement from a potential customer, rather is a product entirely of Thales' own making. It has been described as having 360 degrees of movement and is able to hold its position steady in the water, likely using ballast tanks to maintain buoyancy.
Describing the technology readiness level as 'four to five' officials said that AUSS could also conceivably be deployed by submarine or surface vessel, given its dimensions. Two prototypes are thought to have been developed and tested, each based on a two-shaft propulsion design.
During trials the system was claimed to have been able to function as a stable ISR mast protruding some 3m from the surface and is capable of navigating vertically. Additional capabilities that were discussed include an endurance of two weeks, length of 5.5m and a circumference of 21" – the same as many submarine torpedo tubes.
Thales officials also stated that extra rings or segments could be added to the length of the AUSS, termed a 'modular concept', for different sensors and capabilities. The system is also thought to be able to dynamically control its pitch, depending on surface conditions. 
Datalink capabilities will be explored further down the development cycle, officials added.
A release issued on 17 October said that the AUSS concept is the result of a joint effort with a total of 19 SMEs based in Brittany, Anjou and Paris taking part in the project alongside Thales for the last three years. Sea trials have already been conducted on five occasions in 2016.
For more from Euronaval 2016, see our dedicated news page.