Home

>

News

>

Redefining Modern Warfare: Multi-Domain Operations and the Shift to Integrated Communications across the Force (Studio)
Redefining Modern Warfare: Multi-Domain Operations and the Shift to Integrated Communications across the Force (Studio)
The multi-domain operations (MDO) concept is now a core focus for the US and its allies. The paradigm has significant implications for communications technology as militaries seek to integrate platforms and systems across different networked communications domains.
The evolution of MDO is linked to the growing power of near-peer rivals, who pose an increasingly sophisticated threat to the US and its allies in NATO and beyond. "The electromagnetic spectrum is becoming more contested and congested due to escalating threats", says Brian Calvasina, product manager for international HF and accessories at L3Harris.
Against this backdrop, satellite communications (SATCOM) is also facing new challenges. The range of channels militaries want or need, particularly given the threat from electronic warfare, may not always be available. (EW) or even kinetic attacks on satellite infrastructure is another barrier to reliable communications.
High-frequency (HF) communications offer a robust alternative, capable of operations in a SATCOM-denied environment. It also offers an extremely reliable networking redundancy for BLOS communications.
Unpacking the Potential of HF Communications
'HF opens up the spectrum, literally and figuratively, freeing up that congestion,' says Calvasina, pointing to the company's wideband, 4G Automatic Link Establishment (ALE) manpack radios, such as the Falcon III Rf-7800H-MP and the AN/PRC-160(V).
'It's a premier way of communicating beyond line of sight,' Calvasina explains. 'The radios are software-defined, so we can host different waveforms and capabilities, often just with a firmware update.'
When some operators think of HF radios, their minds may turn to large, even fixed-site systems. However, L3Harris designs its products to meet stringent size, weight and power (SWaP) demands, providing covert communication and a very low RF signature at minimal infrastructure demands or burden for the end user.
'We work our way down through mobile command posts down to a backpack, where you're on the move – you don't need a large antenna,' he says. 'We're very mobile, and the configuration is also very flexible.'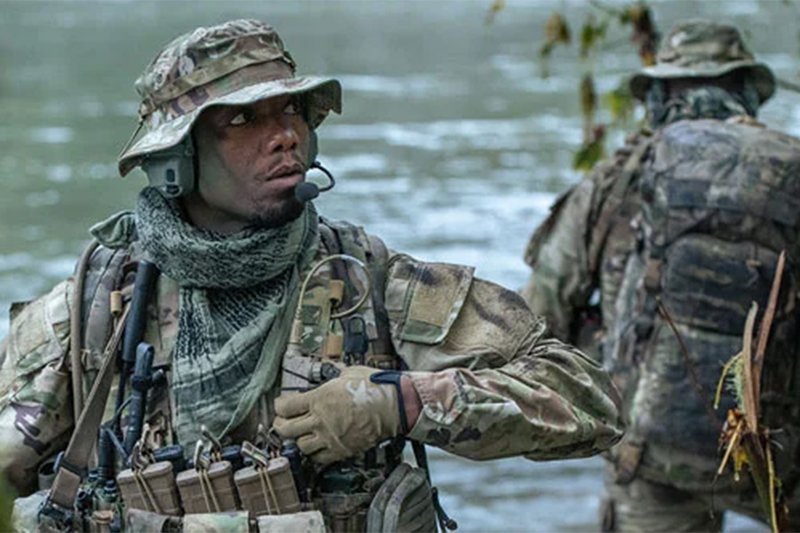 Flexibility is key to success in the era of MDO, also known as Joint All-Domain Command and Control (JADC2) or Joint All-Domain Operations (JADO).
Thomas Withington, an independent expert on EW, radar and military communications, says the "network-centric warfare" focus of the 1990s and early 2000s has now morphed into 'the idea of complete connectivity across the force – land, sea, air, space and cyber – and integrating all of it together'.
Communications are a key priority in this innovative vision. Under MDO, whoever makes the fastest and highest-quality decision will prevail, Withington explains.
'The access to data underpins the quality of decision-making, so having as much information as you need to make an informed decision. And that, in turn, depends on the [data] moving around the battlespace as efficiently as possible.'
The Military Internet of Things (IoT)
Indeed, the military is in the midst of a journey to create a military Internet of Things (IoT), argues retired General Sir Richard Barrons, co-chair of Universal Defence and Security Solutions, who served as commander of the UK's Joint Forces Command until 2016.
This concept is based on 'the application of technology that has been developed at the expense of billions of dollars in the civil sector for civil purposes … a span of things like data in the cloud and AI, robotics and autonomy, and cyber resilient networks and synthetics, all combine to change how the military [operate]'.
The first feature of this is the creation of a "digital backbone" for armed forces, Barrons says, which comprises a combination of secure data in the cloud, managed by AI and distributed by cyber resilient networks.
This is presented and visualised in large, synthetic replications of the operating environment 'at a scale and complexity you couldn't do before, known as a single synthetic environment'.
These technologies have been developed in the commercial sector, Barrons notes, rather than in the military. This means a growing demand for closer links between armed forces and such companies exists.
'We have to build a better bridge,' Barrons says. 'That includes changing the acquisition system to partnering and spiralled development, away from competing against frozen specifications that are out of date the day they're signed off.'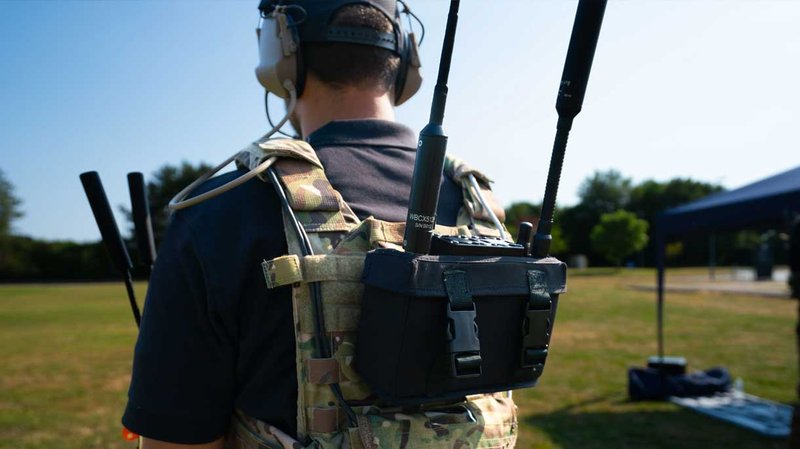 Military IoT and the digital backbone create a huge opportunity, argues Barrons, in the evolution of armed forces from 'essentially equipment manned by people … to an evolving, manned, unmanned and increasingly autonomous mix,' with the advantage that such platforms will be less expensive to acquire.
'They don't have to have people on them – and all the things that people bring with them – so they can be smaller and more disposable. They'll be cheaper to own because you won't wear them out on training; you simply update them. And you'll care less if you lose them.'
Smarter Technology, Stronger Communications
While the cost-effective and autonomous nature of these platforms is a game-changer, it's the innovative integration of data technologies that truly amplifies their potential.
This evolving industrial and military landscape is central to MDO and the evolution of armed forces for the 21stcentury.
It can be seen in concepts like Last Ditch Data (LDD), a feature of L3Harris products such as the AN/PRC-160(V), which empowers radiotelephone operators to monitor 16 simultaneous incoming messages of up to 160 characters, according to the US Army, providing applications in everything from spot reports delivered by scouts to calls for fire.
'This is text messaging, essentially, that absolutely needs to get through,' says Calvasina, built on equipment like 3G and 4G ALE. Such innovations are changing the narrative.
As environments become more contested in the MDO battlespace, waveforms like LDD provide a quiet and simple way to communicate across huge distances; L3Harris has tested the technology in communications between Rochester, New York and Florida, Calvasina explains, a range of about 1500 miles (2400 km).
He says that using a manpack to text or send a message with a very low infrastructure, at low power and in a quiet way is extremely powerful. Such innovations are driving a new perspective on HF radios in modern communications, leaving equipment like large antenna farms firmly in the past.
'You can't beat physics, and you're still going to need some verbal communication planning, especially with environmental factors,' Calvasina says. 'But the radios are becoming smarter and removing some of the burden, making communication links more consistent, robust and reliable.'
Brought to you in partnership with L3Harris