Home

>

News

>

Interoperability: The Vital Ingredient for NATO's Future Success (Studio)
Interoperability: The Vital Ingredient for NATO's Future Success (Studio)
The lens of multi-domain operations is sharpening, and software-driven communication choices, deeper integration, and innovative technology are increasingly crucial. Companies like L3Harris are enabling a new age of international collaboration by emphasising NATO-standardised interoperability.
The world of technology is continuously evolving, and in the crosshairs of this change, NATO and its allies are recognising a pivotal shift towards interoperability.
As communication technology leaps forward, armed forces face opportunities and challenges that will redefine the face of military operations.
Multi-domain operations (MDO) drive increased integration across all five domains – land, sea, air, space, and cyber – with the aim of enhancing effects and overwhelming adversaries.
It affects everybody, from the smallest NATO members to its largest contributors, notes Thomas Withington, an independent electronic warfare (EW), radar, and military communications expert.
Multi-Domain Operations and the Need for Connection
This makes it imperative that all coalition partners and NATO members can connect to one another when performing operations, he says.
He points to recent efforts in this space, such as the European Secure Software Defined Radio (ESSOR), which aims to develop common technologies for European military radios.
'Say you have a French formation on the left flank and a German formation on the right flank, [this would mean] they can inter-network … they can actually connect directly with one another and use that connection for the wideband carriage of data,' he says.
'This becomes incredibly important when you're sending things like video, when you're sending very dense pictures, when you're sending a lot of written information.'
The "HF Renaissance" and the Importance of Standards
Interoperability is a crucial topic today and has come to the fore across technological domains, particularly high frequency (HF) communications, says Alan Pilecki, chief engineer for the HF product line at L3Harris.
He notes that the company has been heavily involved with standards development for HF in the US and NATO for many years, and has helped drive a recent "HF Renaissance," whereby the technologies are increasingly viewed as a secure option in Satcom-denied environments and more widely.
'What NATO is pushing, what the US government is pushing, what the various vendors are pushing is an increased level of collaboration, an increased level of adoption of these standards, to ensure that the interoperability for the NATO allied user community is where it needs to be,' Pilecki says
'I think there's still work to be done there.'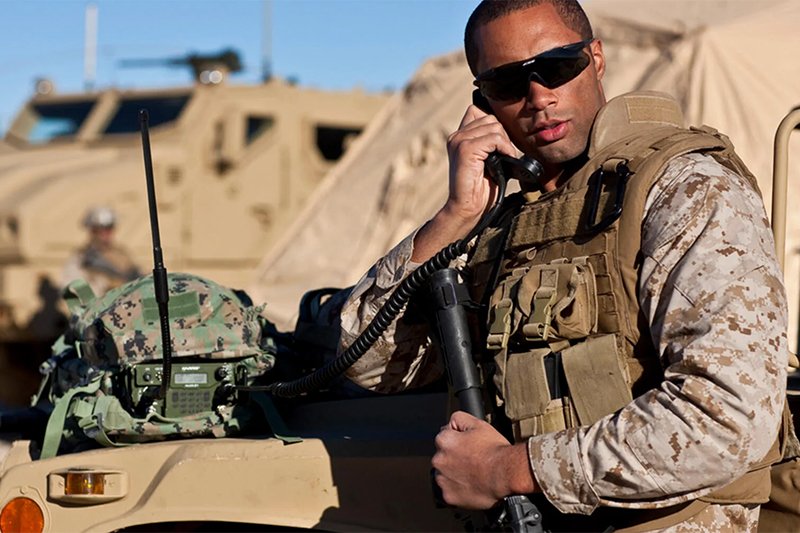 Additionally, there is a need to develop, implement and deploy new standards, Pilecki says, at a much faster rate. The challenge for the NATO community, including vendors like L3Harris, is to maintain interoperability across new capabilities 'so that you have cross-country, cross-vendor interoperability', Pilecki warns.
Interoperability is a key focus for L3Harris across its HF range, says Brian Calvasina, product manager for international HF and accessories at the company.
He points to the international footprint of the company's products, including the Falcon III RF-7800H-MP Wideband HF/VHF Manpack Radio, the AN/PRC-160(V) Wideband HF/VHF Manpack Radio and the Falcon radio product line.
'Interoperability is top of mind,' he says. 'Leveraging our footprint, having a common architecture and common products, is just incredibly powerful.'
Superior capabilities are recognised across national boundaries, notes Scott Pichette, portfolio manager for the HF and airborne product groups in L3Harris. For example, he points to the AN/PRC-160(V), which is the first and only HF manpack that meets the crypto-modernisation standards of the US National Security Agency (NSA).
The company is also looking to the future in such products, developing an increasingly sophisticated human-machine interface (HMI), for instance, making it easier for personnel to deliver voice recordings digitally and perform other essential tasks on the modern battlefield.
The Evolution of HF in Modern Communications
HF is moving higher along the Primary, Alternate, Contingency or Emergency (PACE) communications priority plan for customers around the world, Pichette notes, due to its ability to continue to function and deliver beyond line of sight (BLOS) communications even when sophisticated technologies like satellite communications (SATCOM) have been impeded by EW or kinetic means.
'Regular forces, large forces are starting to recognise that once we enter this contested environment, we will have to continue to fight – we will just have to fight leaner,' Pichette says.
'You're going to have to have data communications, digital voice comms, and data itself – it could be as simple as SMS messaging or battle orders or emails', he says.
This capability and resilience are recognised not just across NATO nations but among nations that rely on NATO support or operate alongside the alliance in various scenarios, such as emergency or disaster relief.
'That can happen after a hurricane, typhoon, or in a combat zone, where there isn't any outside entity like LTE [Long-Term Evolution] … your cell phone, for example, is very reliant on [external] structures and systems.'
The Future of Connection: Integration and Innovation
The future depends on deepening the connections and integration across all echelons. One route could be 'Auto PACE', where software automatically determines the optimum communications choice depending on environmental and operational factors.
Additionally, Pichette highlights the integration of 4G Automatic Link Establishment (ALE), something L3Harris has pursued across its radios portfolio in recent years. This offers a range of technological benefits, such as "staring mode", the ability to ensure faster linking and receive multiple frequencies simultaneously.
'We actually are doing this today, capabilities that show our multi-receive capability and couple it with an existing radio,' he says.
L3Harris has prototyped spectrograph technology that could eventually provide operators with communications technology that can automatically reassign itself to a clear part of the spectrum when necessary. Such capabilities would be delivered on existing equipment through software updates.
Ultimately, MDO will rely on integration and a tight level of networking, Withington says.
This means the respective communications systems of various nations must be capable, at the most basic level, of communicating with each other.
He notes that such work is being pursued today through the US Department of Defense's Joint All-Domain Command and Control (JADC2) initiative, for example. He expects to see increasing collaboration and standardisation agreements at the NATO level in the coming years.
'This will provide the requirements for interconnectivity protocols to link respective multi-domain operations architectures to one another.'
Brought to you in partnership with L3Harris