Home

>

News

>

Chinese UCAVs remain popular, but buyer beware!
Chinese UCAVs remain popular, but buyer beware!
Chinese continues its strong presence on the international UCAV market, with new models coming on stream. However, not all its customers remain enamoured with their Chinese-bought UCAVs.
The Wing Loong 1E UAV successfully performed its maiden flight in China on 18 January, flying for a total of 22 minutes.
This variant of AVIC's Wing Loong is distinguished by its fuselage and wings made entirely from composites. AVIC has released no specifications, but the designer claims better endurance, efficiency, range and reliability.
Minor modifications on the Wing Loong IE include a slightly modified nose and winglets to improve aerodynamics. Like the baseline Wing Loong I, it will carry weapons on underwing hardpoints.
It is unclear how the Wing Loong IE differs from the existing ID, which first flew in December 2018. According to a limited number of reports, Egypt may be considering an order of Wing Loong-ID UAVs, but this is yet to be confirmed.
Apart from the Wing Loong family, another successful Chinese UCAV on the export front is the Caihong/Rainbow series from the China Aerospace Science and Technology Corporation (CASC).
In January, some media sources asserted that Algeria had ordered six CH-5 UCAVs from China, allegedly to be delivered from March. The North African nation would be the platform's first customer if true.
Algeria already flies the CH-3 (x5 units) and CH-4 from CASC, and Shephard Defence Insight lists an Algerian order for 24 Wing Loong II UAVs too. By the end of this year, Algeria should therefore have a sizeable fleet of UCAVs in service.
Chinese UCAV marketing highlights advantages such as affordable pricing, flexible payment methods (e.g. bartering for natural resources), and a wide range of platforms. Add to that Beijing's willingness to sell to regimes with questionable human rights records, where others like the US refuse to sell.
Demonstrating the market penetration of Chinese armed UAVs, SIPRI listed the sale of 220 UCAVs to 16 countries in the past decade. Most were to nations in the Middle East or Africa.
Chinese UAVs are generally thought of as low cost, which helps with their popularity on the international market. This is despite maintainability issues and what seem to be relatively high crash rates.
By way of example, eight of 20 Iraqi CH-4Bs crashed within the first few years of operation, and the remainder is kept in storage because of a lack of spare parts. Similarly, Algeria lost three CH-4Bs within a period of months.
Some even decided to move on from Chinese UAVs. Jordan, for instance, put its CH-4Bs up for sale less than two years after buying them. Meanwhile, other nations such as Morocco, Nigeria and Turkmenistan have moved on from Chinese UCAVs to Turkish ones instead.
The blogsite Oryx collated data on Chinese UCAV crashes by late 2021 (see table below). It admitted that the data is incomplete because many countries do not publicise crashes, and Oryx only includes incidents where photographic evidence exists.
| | |
| --- | --- |
| Type | Number |
| CH-4B | 21 |
| Wing Loong II | 8 |
| Wing Loong I | 5 |
| Sky-09P | 3 |
| UV10CAM | 2 |
| Chilong CL-11 | 2 |
| DB-2 | 2 |
| Sky-02A | 1 |
| CH-3A | 1 |
| CH-92A | 1 |
| BZK-005 | 1 |
| Sea Cavalry SD-60 | 1 |
| ASN-209 | 1 |
Source: Oryx
Oryx also provided a breakdown by operator, as follows: Saudi Arabia (14 aircraft); UAE (12); Iraq (eight); North Korea (five); Libya (four); Algeria (three); Sudan (two); China (two); and one apiece for Egypt, Ethiopia, Myanmar, Nigeria and Pakistan.
A good number have been lost in combat, including 18 over Libya, 16 in Yemen and 14 in Iraq. Of course, these figures should not be taken in isolation, and it would be useful to compare data for US- or Israeli-made UCAVs.
In a separate entry for the Yemen Civil War, Oryx noted the loss of seven US-built UCAVs and 16 Chinese-manufactured ones.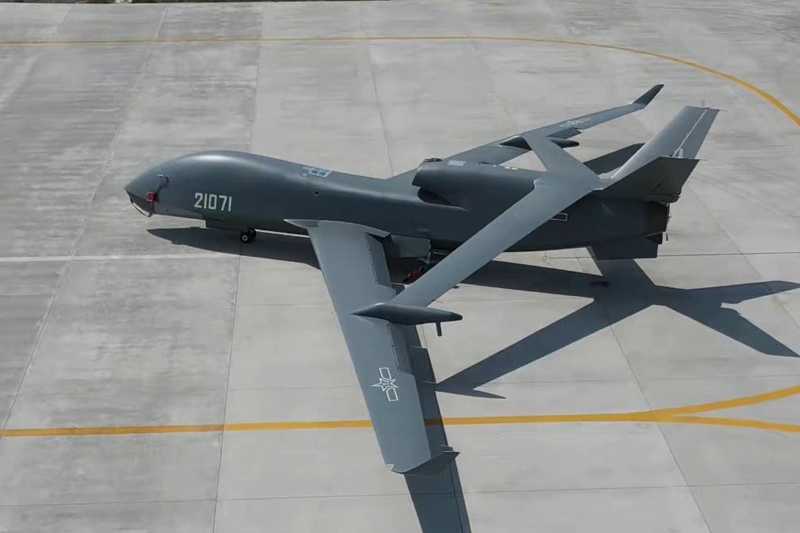 Markings on this WZ-7 indicate it belongs to the 48th Air Regiment of the PLAAF. (Photo: CCTV)
China's own military is a heavy user of UAVs and UCAVs. The People's Liberation Army Air Force (PLAAF), for example, operates the WZ-7 Xianglong (Soaring Dragon). Recently, a CCTV video showed a couple of WZ-7s with uncensored serial numbers, revealing that they belonged to the 48th Air Regiment based at Shuangliao in the Northern Theatre Command.
This regiment is part of the 16th Special Mission Division, which also contains JZ-8F reconnaissance fighters in the 46th Air Regiment and several Y-8/Y-9 electronic warfare variants in the 47th Air Regiment.
The WZ-7s aired in the CCTV report were participating in an air exercise with other aircraft such as J-20 and J-16 fighters, J-16D EW aircraft, Y-20 transporters, KJ-500 AEW aircraft and HQ-9B air defence systems.
A CCTV report aired in September 2021 claimed that the CH-4 from CASC had been adopted by PLA Army Aviation. It was seen fitted with a belly SAR pod and an EO/IR turret.
Another particularly interesting case is the PLAAF's use of J-6W unmanned aircraft. The Shenyang J-6 was a Chinese fighter from the 1950s (a copy of the MiG-19) but many have been converted into UAVs.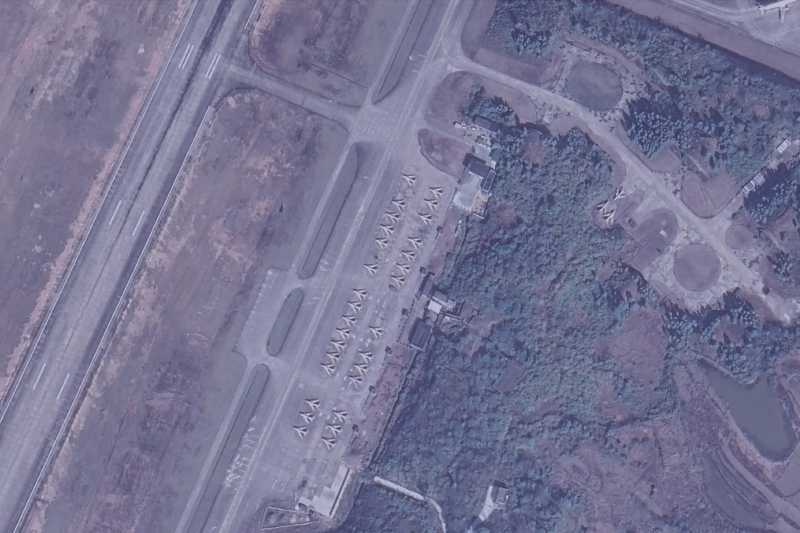 Ranks of J-8W unmanned fighters can be seen lined up at Liangcheng Air Base in eastern China. (Photo: Google Earth)
In fact, the Eastern Theatre Command published photos of two J-6s on its Weibo account last year, highlighting a ceremony to start the training cycle for the second half of 2021.
Censors blurred the aircraft serial numbers and the unit identifier number, but a large number of these J-6 aircraft are visible in satellite imagery of two PLAAF bases near Taiwan: Liangcheng in Fujian Province, and Yangtang Li in Guangdong Province.
The former had up to 50 J-6s, and up to around 30 at the latter facility, in imagery taken last year. These aircraft are believed to belong to the 180th Unmanned Attack Brigade, which has detachments at Liangcheng, Yangtang Li, Wuyishan, Ji'an and Fuzhou.
Such aircraft, cheap and disposable, could act as decoys or could help overwhelm enemy air defences with weapons carried on three hardpoints under each wing.
Loitering munitions are another area important to the PLA. The ASN-301 loitering munition was first exhibited in a military parade on 30 July 2017, but Norinco offers the similar Loitering Dragon 300B. The latter has a semi-delta wing form and resembles the Israeli Harpy.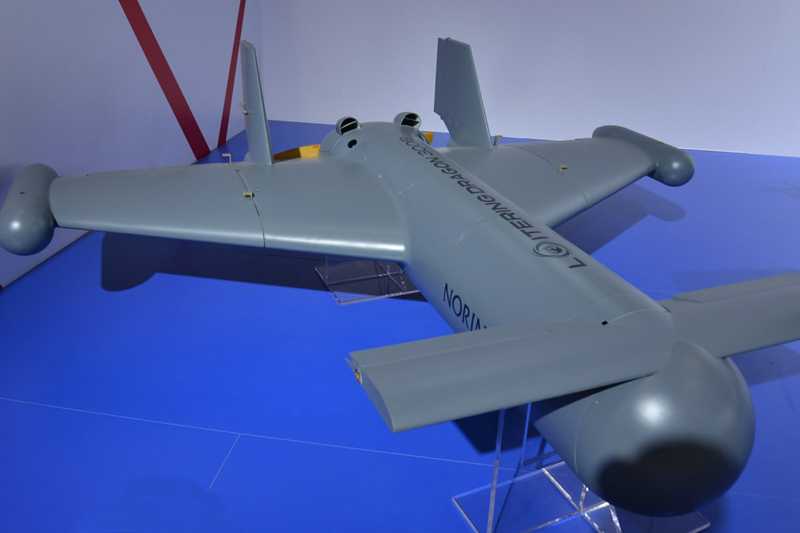 A newcomer from Norinco is its Loitering Dragon 300B platform. (Photo: Chinese Internet)
In March 2020, the PLA's weapon and equipment procurement website stated that China's military would procure two types of loitering munition. Unsurprisingly, no details were provided on types or numbers.
Other known loitering munition designs include the 1.2m-long CH-901 and the 60km-range WS-43.
Norinco also makes the Sky Saker UAV. Three variants in the family were exhibited at last year's Zhuhai Airshow: the VTOL FV80A, the FX400A with pusher propeller, and the turbojet-powered FX500A. The latter is especially designed for artillery targeting in conjunction with long-range rocket launcher units.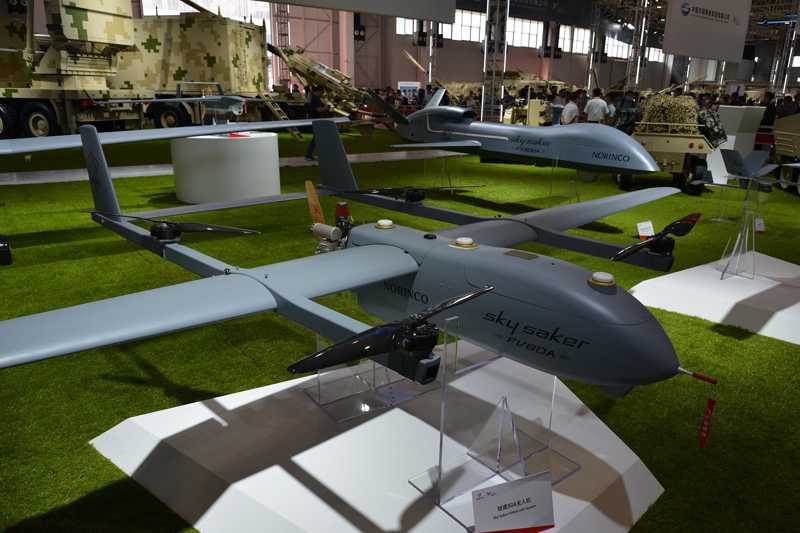 The Sky Saker family has several different family members. In the foreground is the FV80A hybrid UAV. (Photo: Chinese Internet)
The FX500A's maximum take-off weight is 500kg and its top speed 800km/h. The aircraft has a 9,000m ceiling and 50kg payload. The original FX500 debuted at the 2018 Zhuhai Airshow, buts its parading in Beijing in October 2019 indicated it had entered PLA service.
Another new Chinese UAV design is the CH-817 from CASC, as exhibited at the Zhuhai Airshow last year. This VTOL micro-UAV can be carried in a backpack, and is designed for use in urban, jungle or mountainous terrain. The cylinder-like body flies via two mid-mounted coaxial two-bladed rotors.
It looks very like Rafael's Spike FireFly, and similarly carries an explosive warhead that turns it into a loitering munition. The CH-817 weighs 850g, has a top speed of 18m/s and can stay aloft for 15 minutes.
Finally, it is rumoured that the WJ-700 UAV from the China Aerospace Science and Industry Corporation (CASIC) has achieved a first export sale. However, Shephard has not been able to independently confirm this or who the customer might be.
CASIC first flew this gas turbine-powered UAV on 11 January 2021.