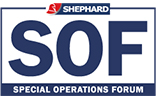 Subscribe
Special Operations Forum is the most widely distributed special operations-specific publication in the world.

It provides the most comprehensive coverage of the people, technologies, innovations and events that shape the special operations community and global security.

Shephard's team of expert journalists covers the full spectrum of equipment, procurement, tactics, techniques and procedures, and it features exclusive interviews with senior SOF commanders from around the globe.
1. Jan-Feb 2017
Cover Q&Q
Lt. Gen. Marshall B. "Brad" Webb
Commander, US Air Force Special Operations Command
Special Focus
Staff Brig. Gen. Musallam Mohamed Saeed Al-Rashedi
Commander, Special Operations Command, Presidential Guard, UAE
Features
Middle East Special Forces
Swimmer Delivery Systems
Making Drinkable Water
Individual Assault Rifles
Distribution:
IDEX
2. Mar/Apr 2017
Cover Q&A
BG John R. Evans, Jr.Commander, US Army
Special Operations Aviation Command
Special Focus
Brig Gen Jaime Iniguez Andrade, Commander
Joint Special Operations Command, Spain
Features
SOF Tactical Communications
Close Air Support Options
Latin American SOF
Individual Weapon Sights
Distribution:
AUSA Global
Sea-Air-Space
Quad A Mission Solutions
LAAD
SOFINS
3. May/Jun 2017
Cover Q&A
James F. Geurts
US Special Operations Command Acquisition Executive
Special Focus
Maj Gen Jørgen Høll, Commander,
Special Operations Command Denmark.
Features
Tackling Subterranean Operations
Geospatial Tools for SOF
The EOD/Counter-IED World
Sniper Weapons, Gear and Optics
Distribution:
SOFIC
Paris Air Show
ISDEF
4. Jul-Aug 2017
Cover Q&A
Gen. Raymond A. "Tony" Thomas, III
Commander, US Special Operations Command
Special Focus
Col Piotr Gasta
Commander, GROM Unit, Poland
Features
Mobile SATCOM
Cold Weather Gear
Navigation in Denied Space
Bunker/Heavy Target Killers
Distribution:
MSPO
5. Sep-Oct 2017
Cover Q&A
Maj. Gen. Carl E. Mundy, III
Commander, US Marine Corps Forces Special Operations Command
Special Focus
Maj Gen James Criswell
Director, Special Forces, UK
Features
Global Night Vision
SOF Ground Mobility
Sniper/Shot Detection
Tagging, Tracking and Locating
Distribution:
DSEI
Modern Day Marine
AUSA Annual
6. Nov-Dec 2017
Cover Q&A
Commander, US Naval Special Warfare Command
Special Focus
Commander, Republic of Korea Army Special Operations Command
Features
SOF Handguns and Personal Weapons
Target Identification
TALOS Technology
Body Armour
Distribution:
D&S Bangkok
Milipol Europe
I/ITSEC
Gulf Defence
DIVER DELIVERIES
Equipment used for covert insertion of USSOCOM operatives from submarines is undergoing a revamp under a current program initiative.
ADVISE AND ASSIST
NATO and other Western SOF operatives are playing a crucial role in training and supporting their counterparts in the Middle East in the fight against regional insurgencies.
THE HYDRATION EQUATION
While ongoing work on water purification technologies has broad applications across different military roles, certain projects and goals have significant implications for SOF units.
HEIGHT ADVANTAGE
The nature of airborne ISTAR and fire support for Special Forces on the ground is changing as new technologies expand the envelope of coverage.
Q&A
Lieutenant General Brad Webb Commander US Air Force Special Operations Command
MAINTAINING THE EDGE
What options are available to Special Forces operators looking to acquire advanced small arms to overmatch increasingly well-equipped adversaries?
INDUSTRY INTERVIEW
Kris "Tanto" Paronto