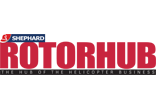 Subscribe
The global rotorcraft world is changing dramatically, and so to keep abreast of these rapidly changing events we at Shephard are pleased to publish what is THE business information source for the civil, public service and corporate rotorcraft market.
The Shephard Team, with their extensive experience gained through the company's publishing portfolio and the global news-wire, www.rotorhub.com, in addition to their incisive international conference and exhibition expertise, have tracked market trends and after extensive research have formulated all of their knowledge into a strong information channel.
The magazine delivers the viewpoint you need to help take your business forward and plan for the future. It keeps readers up to date on trends and deals with all the key economic, regulatory, technological, financial and political issues that are driving the fastest period of growth the rotorcraft world has seen for decades.
No other magazine currently provides such important content for rotorcraft operators, contractors or industry suppliers and we intend to create a forum for you, the decision makers of the industry, to have your say.
COMMENT

NEWS
• UAE signs for three AW609s
• HTS900 engine for SKYe SH09
• LCH set to boost Airbus's South Korea market share
• Offshore operators defer deliveries

EMS: DARE TO BE DIFFERENT
Dare County EMS became the first operator of the Airbus Helicopters H145 in the US when it took delivery of the type in April. Barry D Smith visited the North Carolina-based company to see first-hand the transition from the BK 117 to its new-generation replacement.


SAR: IT COMES IN WAVES
Over the past few years, SAR provision in the UK and Ireland has undergone some significant changes. Jonathan Tringham outlines what future coverage will encompass for both nations.

EO/IR: SMARTER SENSORS
Faster processing speeds, weight reductions and more detailed images than ever before are just some of the advances being achieved in the EO/IR sensor community. Grant Turnbull looks at some of the new-generation, 'intelligent' products emerging.

TYPE FOCUS: KAMOV KA-32
The Kamov Ka-32 has seen success around the world in the law enforcement, fire-fighting and aerial crane markets, with slow but steady sales. Alexander Mladenov charts the history of a type that has arguably no direct Western competition.

MRO: DEDICATED TO THE JOB
Helicopter MRO organisations are responsible for the health and safety of complex machines that often operate in challenging environments. Peter Donaldson examines how the industry achieves this while also keeping costs down.

COLLECTIVE PITCH: WORKING TOGETHER
As oil prices remain low, offshore helicopter operators have had to adapt and search for efficiencies within their services. Mark Abbey, CHC regional director for the western North Sea, outlines how his company is approaching the current climate.
Dec/Jan 2015/16
(Singapore Airshow)
•    SAR Part 2
•    Helicopter completions
•    MRO
•    EO/IR
Feb/Mar 2016
(Heli-Expo, Aerial Firefighting International, FIDAE)
•    EMS
•    Avionics
•    Communications
•    Leasing Part 1
Apr/May 2016
(EBACE, ILA Berlin)
•    Parapublic market
•    VIP interiors
•    Second-hand market
•    Training
Jun/Jul 2016
(Farnborough International Airshow)
•    MRO
•    Law enforcement
•    Leasing Part 2
•    Crew safety
Aug/Sep 2016
(AAD, Aerial Firefighting Asia-Pacific)
•    Asian market
•    Oil and gas
•    Fire-fighting
•    EO/IR
Oct/Nov 2016
(Helitech International, Indo Aerospace, Helishow Dubai, I/ITSEC)
•    Helicopter tracking
•    Simulation
•    SAR Part 1
•    Heavylift
Dec/Jan 2016/17
(Aero India)
•    Engines
•    SAR Part 2
•    Blades
•    Finance and insurance
Shephard Media is delighted to announce that our range of defence, aerospace and security magazines are now available through dedicated Apps for both Android and Apple devices.

Optimised for mobile viewing, the App allows readers to download and view each issue offline, and provides additional content such as interactive links, slideshow galleries, animations, video and more.

The first issue in each App is free to download and all issues will soon be available free to access for Shephard Plus subscribers using their existing Shephard Plus login details.

We hope you enjoy this great new way to access your favourite magazines.