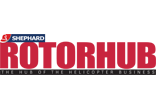 Subscribe
The global rotorcraft world is changing dramatically, and so to keep abreast of these rapidly changing events we at Shephard are pleased to publish what is THE business information source for the civil, public service and corporate rotorcraft market.
The Shephard Team, with their extensive experience gained through the company's publishing portfolio and the global news-wire, www.rotorhub.com, in addition to their incisive international conference and exhibition expertise, have tracked market trends and after extensive research have formulated all of their knowledge into a strong information channel.
The magazine delivers the viewpoint you need to help take your business forward and plan for the future. It keeps readers up to date on trends and deals with all the key economic, regulatory, technological, financial and political issues that are driving the fastest period of growth the rotorcraft world has seen for decades.
No other magazine currently provides such important content for rotorcraft operators, contractors or industry suppliers and we intend to create a forum for you, the decision makers of the industry, to have your say.
COMMENT

NEWS
• Launch customer for improved H135 revealed
• NPAS accepts first upgraded EC135 aircraft
• Dart Aerospace aims for European bullseye
• AVIC unveils AC352 prototype
• AC312C design details emerge
• Waypoint Leasing places major orders

P4I: BALANCE TRANSFERS
There is uncertainty over the future of the Russian rotorcraft industry as the country's armed forces get set to complete a ten-year acquisition programme in 2020. Alexander Mladenov considers how Russian Helicopters is looking to reposition itself in the civil sector and whether this will be enough to ensure further growth.

OIL AND GAS: SAFE AND SECURE?
Despite a number of positive safety improvements in the offshore oil and gas transport industry since CAP 1145 was introduced in 2014, the continued downturn in oil prices is bringing in another issue – job security for pilots, Jonathan Tringham reports.

MISSION EQUIPMENT: FLYING SQUAD
Kitting out a police helicopter with the necessary role equipment can sometimes be as expensive as the airframe itself. Jim Winchester looks at what is involved in getting such machines fit for purpose.

CREW SAFETY: MITIGATION MEASURES
In an effort to reduce fatality rates in helicopter crashes, research into seating, harnesses and simulation technology is being conducted by academic institutions in Europe and NASA in the US. David Oliver examines how some of this work has fed back into industry.

PROPULSION: EVOLUTION OR REVOLUTION?
In the search for more efficient helicopter engines,
industry is looking at some radical ideas, as well as chasing incremental gains from traditional turboshaft technology, Peter Donaldson discovers.

OFFSHORE: WHEN THE WIND BLOWS
With over 70 offshore wind farms active along Europe's coasts, helicopter operators are seeing sustained demand for support services. David Oliver looks at how Helicopter Travel Munich, one such company, is positioned within the sector and what challenges are faced.

COLLECTIVE PITCH: A PARTING SHOT
The global helicopter market is facing a 'challenging'
period as oil prices remain low and demand for new aircraft reduces, outgoing Bell Helicopter CEO John Garrison told RotorHub during an interview in October.
Dec/Jan 2015/16
(Singapore Airshow)
•    SAR Part 2
•    Helicopter completions
•    MRO
•    EO/IR
Feb/Mar 2016
(Heli-Expo, Aerial Firefighting International, FIDAE)
•    EMS
•    Avionics
•    Communications
•    Leasing Part 1
Apr/May 2016
(EBACE, ILA Berlin)
•    Parapublic market
•    VIP interiors
•    Second-hand market
•    Training
Jun/Jul 2016
(Farnborough International Airshow)
•    MRO
•    Law enforcement
•    Leasing Part 2
•    Crew safety
Aug/Sep 2016
(AAD, Aerial Firefighting Asia-Pacific)
•    Asian market
•    Oil and gas
•    Fire-fighting
•    EO/IR
Oct/Nov 2016
(Helitech International, Indo Aerospace, Helishow Dubai, I/ITSEC)
•    Helicopter tracking
•    Simulation
•    SAR Part 1
•    Heavylift
Dec/Jan 2016/17
(Aero India)
•    Engines
•    SAR Part 2
•    Blades
•    Finance and insurance
Shephard Media is delighted to announce that our range of defence, aerospace and security magazines are now available through dedicated Apps for both Android and Apple devices.

Optimised for mobile viewing, the App allows readers to download and view each issue offline, and provides additional content such as interactive links, slideshow galleries, animations, video and more.

The first issue in each App is free to download and all issues will soon be available free to access for Shephard Plus subscribers using their existing Shephard Plus login details.

We hope you enjoy this great new way to access your favourite magazines.