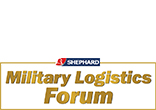 Subscribe
Acquired by Shephard Media in October 2015, Military Logistics Forum is the publication of record for the military logistics community. It provides invaluable insight into senior decision-makers shaping the logistics enterprise, while helping senior leaders in the military stay connected to the many joint logistics issues they face.
Military Logistics Forum is distributed to all principal logistics and operational military commands, as well as being distributed at major trade shows and conferences.
COVER Q&A
General Darren W McDew, Commander, US Transportation Command
A GLIMPSE OF TOMORROW
Military Logistics Forum visited AWA 17.1 at Fort Bliss in October to catch up on the latest in battlefield logistics technology.
A CHANGING WORLD
Military logistics in the 21st century is by definition a global enterprise, with coalitions and partnerships being required for successful delivery.
MAINTAINING STANDARDS
Military Logistics Forum looks at the topics under discussion at next month's DoD Maintenance Symposium in Albuquerque.
INDUSTRY PERSPECTIVE 
Gene Colabatistto, Group President CAE Defence and Security Group
10.1 Feb 2016
Cover Q&A
Alan F Estevez
Principal Deputy Under Secretary of Defense for Acquisition, Logistics and Technology

Special section
Supply chain management

Features
LCS sustainment
Maximizing PBLs
Smartphones and apps in the time of logistics

Special supplements
Who's Who at the Air Logistics Complexes

10.2 Mar 2016 (AUSA Global Force)
Cover Q&A
MG Kevin G O'Connell
Commander, US Army Sustainment Command

Special section
CASCOM's role in the logistics chain

Features
Microgrids and power management
JLTV sustainment
Contractor-delivered field support

Special supplements
Who's Who at Army Aviation and Missile Command

10.3 Apr 2016 (Quad A, National Logistics Forum)
Cover Q&A
Lt Gen John B Cooper
USAF Deputy Chief of Staff, Logistics, Engineering and Force Protection (A4)

Special Section
Army aviation maintenance

Features
Modernizing the army's navy
IT solutions for the maintainer
Army depot-level public-private partnerships

Special Supplements
Special Report - Corpus Christi Army Depot

Sea-Air-Space Special
CoverQ&A
VAdm Paul Grosklags, Commander, Naval Air Systems Command (NAVAIR)

Special supplements
Who's Who at Naval Supply Systems Command

10.5 Jun 2016
Cover Q&A
Lt Gen Andrew Busch
Director, Defense
Logistics Agenc

Features
Logistics big data
Warehousing, storage and automation
Global fuel supply and delivery

Special supplements
Who's Who at the Defense Logistics Agency

10.6 Aug 2016 (NGAUS General Air & Space Technology Expo)
Cover Q&A
Gen Ellen M Pawlikowski
Commander, Air Force Materiel Command

Features
Enhancing aerial refueling capabilities
Managing ground vehicle life cycle costs
Sustaining global engagement (panel review from NDIA National Logistics Forum)

Special supplement
Who's Who at Air Mobility Command 

10.7 Sep 2016 (Modern Day Marine)

Cover Q&A
Lt Gen Michael Dana
Deputy Commandant, Installations and Logistics, HQ, USMC

Features
Corrosion control and mitigation
Marine Corps expeditionary energy
Materiel handling equipment

Special supplements
Who's Who at PEO Land Systems, USMC

10.8 Oct 2016 (AUSA Annual, LOA Symposium)

Cover Q&A
LTG Gustave Perna
Deputy Chief of Staff for Logistics, Office of Chief of Staff of the Army

Features
Maximizing Army depot efficiencies
Long-term storage options
Predictive maintenance

Special supplements
Who's Who at US Army PEO Combat Support and Combat Service Support

10.9 Nov 2016 (I/ITSEC, Defense Logistics, DoD Maintenance Symposium)

Cover Q&A
Commander, USTRANSCOM     

Features
Commercial transportation partners
Cyber threats in the logistics world
Logistics mission planning /training and simulation

Special supplements
Who's Who at USTRANSCOM 

10.10 Jan 2017 (Surface Navy)
Cover Q&A
VADM Philip Cullom
Deputy Chief of Naval Operations for Fleet Readiness and Logistics

Special section
TBC

Features
TBC

Special supplements
TBC
Shephard Media is delighted to announce that our range of defense, aerospace and security magazines are now available through dedicated Apps for both Android and Apple devices.

Optimized for mobile viewing, the App allows readers to download and view each issue offline, and provides additional content such as interactive links, slideshow galleries, animations, video and more.

The first issue in each App is free to download and all issues will soon be available free to access for Shephard Plus subscribers using their existing Shephard Plus login details.

We hope you enjoy this great new way to access your favourite magazines.