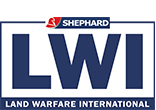 Subscribe
Shephard's Land Warfare International is the only global magazine dedicated to all elements of land warfare. The publication, which is distributed to a hand-picked audience of military and industry leaders, covers all aspects of the land battle.
LWI draws on the expertise of Shephard's experienced staff of defence writers that span the globe.
The bi-monthly publication supplies readers with all the latest news analysis and keeps them up to date with the technologies and programmes that they need to know about.
The magazine is supplemented by a daily news feed www.landwarfareintl.com, bringing live coverage from major exhibitions and events as well as all the latest company information.
EDITORIAL COMMENT
Cause for concern
NEWS
• Germany reverses troop cuts
• More tracks and wheels for Georgia
• Russian National Guard gets heavy
• Negotiations begin for Turkish weapon carrier
• Stop and go for Indian programmes

THE BEAR AWAKENS
Despite the country's recent economic woes, Russia's land forces are pressing ahead with a broad range of equipment modernisation programmes.
SWITCHING OVER
A fresh generation of armoured fighting vehicles is equipping Europe's armies, with a raft of new types and models entering service or in development.
CORE CAPABILITY
LWI rounds up recent acquisition and technology developments from the vibrant global assault rifle procurement market.
ON THE BRIGHT SIDE
Western night vision technology is having to adapt rapidly to keep ahead of parallel developments in countries such as Russia in China.
KEEPING UP THE PRESSURE
Ensuring damage to a wheel or tyre does not result in extremely costly chassis repairs or leaves an armoured vehicle stranded in the middle of a combat zone is a key challenge for specialist engineering companies.
REMOTELY INTERESTED
With unmanned turrets capable of mounting large-calibre weapons now a reality, the pros and cons of crewed versus un-crewed weapon stations are being hotly debated by industry and militaries alike. 
PARTING SHOT
INSPIRED INNOVATION
The South African-based Paramount Group has established itself as one of the largest defence companies in Africa. In anticipation of the Africa Aerospace & Defence exhibition in September, LWI talked to executive chairman Ivor Ichikowitz about his vision for the future.
Dec/Jan 2015/16
•    Optics
•    Air defence guns
•    Vehicle-mounted weapons
•    Reconnaissance vehicles
Feb/Mar 2016
(AUSA Global Force, DefExpo)
•    Artillery systems
•    Tracks and wheels
•    Rifle optics
•    Sniper rifles
Apr/May 2016
(DSA, SOFEX, IDEB, SOFIC)
•    Precision munitions
•    Special operations infantry equipment
•    Special operations vehicles
•    Camouflage
Jun/Jul 2016
(Eurosatory, Farnborough International Airshow)
•    Assault rifles
•    European armoured vehicles
•    Night vision Part 1
•    Tyres and run-flat technology
Aug/Sep 2016
(Land Forces, MSPO, AAD, Modern Day Marine, ADAS)
•    Sniper training and technology
•    Future armoured vehicle design
•    Remote weapon station technology
•    Vehicle optics and targeting systems
Oct/Nov 2016
(AUSA Annual, Milipol Qatar, Indo Defence, I/ITSEC)
•    Vehicle-mounted cannon
•    Anti-tank weapons
•    Armoured vehicle upgrades
•    Mortars


Dec/Jan 2016/2017
(SHOT Show)
•    Night vision Part 2
•    Active protection systems
•    Power and mobility
•    Body armour
Shephard Media is delighted to announce that our range of defence, aerospace and security magazines are now available through dedicated Apps for both Android and Apple devices.

Optimised for mobile viewing, the App allows readers to download and view each issue offline, and provides additional content such as interactive links, slideshow galleries, animations, video and more.

The first issue in each App is free to download and all issues will soon be available free to access for Shephard Plus subscribers using their existing Shephard Plus login details.

We hope you enjoy this great new way to access your favourite magazines.