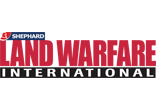 Subscribe
Shephard's Land Warfare International is the only global magazine dedicated to all elements of land warfare. The publication, which is distributed to a hand-picked audience of military and industry leaders, covers all aspects of the land battle.
LWI draws on the expertise of Shephard's experienced staff of defence writers that span the globe.
The bi-monthly publication supplies readers with all the latest news analysis and keeps them up to date with the technologies and programmes that they need to know about.
The magazine is supplemented by a daily news feed www.landwarfareintl.com, bringing live coverage from major exhibitions and events as well as all the latest company information.
EDITORIAL COMMENT
As the ACV 1.1 prototype contract is awarded, Editor Tim Fish examines the protests that have ensued.

NEWS
• Spanish WCV contract nears
• New Zealand selects new pistol

STAYING POWER
Recent conflicts that have necessitated more substantial armoured vehicle protection , as well as the rise of more capable but heavier payloads, has had a direct impact on engine manufacturing. Tim Fish looks at how some of the OEMs have responded.

SCOPING OUT THE SCENE
Optical gunsight technology has been the primary driver in advancing military firearm capabilities over the past decade. Andrew White explores some of the more recent innovations in the market.

FIGHTING FOR INFORMATION
A number of armed forces around the world are set to acquire new-generation reconnaissance vehicles as they prepare for future threats. Ian Kemp examines some of the projects now under way.

TAKING UP ARMS
Small arms manufacturing has been an ideal way for a number of Asian nations to boost their domestic defence sectors. Gordon Arthur provides an overview of some of the weapons programmes emerging from the region.

DOWN THE LINE
Guns, missiles or both? Stephen Miller examines where the optimum balance lies in an effective air defence strategy for military planners.

LASER QUEST
Technological advancements have reached a point where vehicle-mounted laser weapon systems are now a reality. Jonathan Tringham finds out where this force multiplier is now being implemented and on which vehicles.

PARTING SHOT
BACK TO BUSINESS
At Pindad's offices in Jakarta, Indonesia, company director Silmy Karim talked to Darren Lake about how the firm is looking to position itself going forward, while continuing to meet the needs of the country's army.
Dec/Jan 2015/16
•    Optics
•    Air defence guns
•    Vehicle-mounted weapons
•    Reconnaissance vehicles
Feb/Mar 2016
(AUSA Global Force, DefExpo)
•    Artillery systems
•    Tracks and wheels
•    Rifle optics
•    Sniper rifles
Apr/May 2016
(DSA, SOFEX, IDEB, SOFIC)
•    Precision munitions
•    Special operations infantry equipment
•    Special operations vehicles
•    Camouflage
Jun/Jul 2016
(Eurosatory, Farnborough International Airshow)
•    Assault rifles
•    European armoured vehicles
•    Night vision Part 1
•    Tyres and run-flat technology
Aug/Sep 2016
(Land Forces, MSPO, AAD, Modern Day Marine, ADAS)
•    Sniper training and technology
•    Future armoured vehicle design
•    Remote weapon station technology
•    Vehicle optics and targeting systems
Oct/Nov 2016
(AUSA Annual, Milipol Qatar, Indo Defence, I/ITSEC)
•    Vehicle-mounted cannon
•    Anti-tank weapons
•    Armoured vehicle upgrades
•    Mortars


Dec/Jan 2016/2017
(SHOT Show)
•    Night vision Part 2
•    Active protection systems
•    Power and mobility
•    Body armour
Shephard Media is delighted to announce that our range of defence, aerospace and security magazines are now available through dedicated Apps for both Android and Apple devices.

Optimised for mobile viewing, the App allows readers to download and view each issue offline, and provides additional content such as interactive links, slideshow galleries, animations, video and more.

The first issue in each App is free to download and all issues will soon be available free to access for Shephard Plus subscribers using their existing Shephard Plus login details.

We hope you enjoy this great new way to access your favourite magazines.