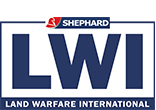 Subscribe
Shephard's Land Warfare International is the only global magazine dedicated to all elements of land warfare. The publication, which is distributed to a hand-picked audience of military and industry leaders, covers all aspects of the land battle.
LWI draws on the expertise of Shephard's experienced staff of defence writers that span the globe.
The bi-monthly publication supplies readers with all the latest news analysis and keeps them up to date with the technologies and programmes that they need to know about.
The magazine is supplemented by a daily news feed www.landwarfareintl.com, bringing live coverage from major exhibitions and events as well as all the latest company information.
EDITORIAL COMMENT
Bursting into life
NEWS
• Downselect for Land 400 Phase 2
• Terrex eyes up MIV
• Canada TAPV gets initial acceptance
• Singapore Marauders to be commissioned next year
• Norinco offers 8x8 SPAAG
DELAYED ACQUISITION
After a personnel and funding deficit lasting many years, the strain on South African defence may finally be easing with some long-overdue equipment upgrades.
INTELLIGENT DESIGN
Militaries in Europe and the US have seen many design projects fail in recent years, but now armoured vehicle programmes are seeing a new lease of life.
LAND DOWN UNDER
The Australian Defence Force is one of the most well-trained and equipped militaries in the Indo-Pacific region. A steadfast ally of the US, Canberra has announced plans in recent years to transform the ADF into a fully networked, integrated fighting force.
IF LOOKS COULD KILL
The sniper rifle remains a valuable tool on the contemporary battlefield, with technological developments pushing new capabilities and the shift in operating environment necessitating new approaches to training.
PROTECTED ENGAGEMENT
Remote weapon stations offer the benefits of protection, surveillance and target acquisition, and greatly improved engagement capability over pintle-mounted weapons.
SUPERIOR SIGHT
Whether upgrading legacy equipment or acquiring brand new vehicles, the focus for many militaries today is bolstering MBT and IFV capabilities. An unpredictable geopolitical environment and the potential for a future conflict involving a well-equipped foe has seen renewed focus on armoured vehicle optics.
PARTING SHOT
QUESTIONS TO ANSWER
The UK Strategic Defence and Security Review in 2010 was widely panned for its lack of strategy and the Army 2020 reforms followed. Under the 2015 review, the service is being reformed again. Peter Antill and Jeremy Smith from the Centre for Defence Acquisition at Cranfield University assess whether the future is any clearer
Dec/Jan 2015/16
•    Optics
•    Air defence guns
•    Vehicle-mounted weapons
•    Reconnaissance vehicles
Feb/Mar 2016
(AUSA Global Force, DefExpo)
•    Artillery systems
•    Tracks and wheels
•    Rifle optics
•    Sniper rifles
Apr/May 2016
(DSA, SOFEX, IDEB, SOFIC)
•    Precision munitions
•    Special operations infantry equipment
•    Special operations vehicles
•    Camouflage
Jun/Jul 2016
(Eurosatory, Farnborough International Airshow)
•    Assault rifles
•    European armoured vehicles
•    Night vision Part 1
•    Tyres and run-flat technology
Aug/Sep 2016
(Land Forces, MSPO, AAD, Modern Day Marine, ADAS)
•    Sniper training and technology
•    Future armoured vehicle design
•    Remote weapon station technology
•    Vehicle optics and targeting systems
Oct/Nov 2016
(AUSA Annual, Milipol Qatar, Indo Defence, I/ITSEC)
•    Vehicle-mounted cannon
•    Anti-tank weapons
•    Armoured vehicle upgrades
•    Mortars


Dec/Jan 2016/2017
(SHOT Show)
•    Night vision Part 2
•    Active protection systems
•    Power and mobility
•    Body armour
Shephard Media is delighted to announce that our range of defence, aerospace and security magazines are now available through dedicated Apps for both Android and Apple devices.

Optimised for mobile viewing, the App allows readers to download and view each issue offline, and provides additional content such as interactive links, slideshow galleries, animations, video and more.

The first issue in each App is free to download and all issues will soon be available free to access for Shephard Plus subscribers using their existing Shephard Plus login details.

We hope you enjoy this great new way to access your favourite magazines.