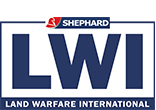 Subscribe
Shephard's Land Warfare International is the only global magazine dedicated to all elements of land warfare. The publication, which is distributed to a hand-picked audience of military and industry leaders, covers all aspects of the land battle.
LWI draws on the expertise of Shephard's experienced staff of defence writers that span the globe.
The bi-monthly publication supplies readers with all the latest news analysis and keeps them up to date with the technologies and programmes that they need to know about.
The magazine is supplemented by a daily news feed www.landwarfareintl.com, bringing live coverage from major exhibitions and events as well as all the latest company information.
EDITORIAL COMMENT
Faster tracks
NEWS
• Pakistan examines new rifle options
• US Stryker 30mm upgrade design unveiled
• Malaysia acquires first self-propelled howitzers
• Australia to boost land force capabilities
• Russia upgrades T-72 MBTs
• Kongsberg purchases 49.9% of Patria
VERSATILE VEHICLES
With more being asked of them in the contemporary operating environment, specialoperations forces are now being equipped with specialist vehicles capable of providing mobility to conquer the so-called 'tyranny of distance'.
BRINGING IT HOME
Ambitious plans to cut reliance on foreign suppliers and establish an independent defence industrial base appear to be paying off in Turkey.
ASIAN ASSEMBLY
The traditional Asian strongholds of armoured vehicle manufacturing in China, Japan and South Korea have forged indigenous designs for many years, though newcomers are beginning to make a splash on their domestic scenes and even in the international arena.
UNITED FRONT
The Cameroonian Defence Forces operate with the tried and tested approach of joint force/combined arms. This interarmisation has seen success against terrorist groups and earned the respect of those sceptical of African military operations.
HIDING OUT
Despite the proliferation of sensors on the networked battlefield, using camouflage techniques can still give forces a tactical advantage.
FULLY EQUIPPED
Special operations forces executing missions in the contemporary operating environment are equipped with a vast array of technology, designed to optimise their lethality, protection, mobility and connectivity in order to let them successfully conduct strategic tasks to the best of their ability.
ON POINT
Major suppliers in the precision munitions field are seeking to make their product ever more precise and are designing increasingly robust and accurate guidance systems that can withstand enemy interference.
PARTING SHOT
EMIRATI ENGINEERING
NIMR Automotive CEO Dr Fahad Saif Harhara talks to Tim Fish about recent developments at the company in supporting the policy aims of the UAE.
Dec/Jan 2015/16
•    Optics
•    Air defence guns
•    Vehicle-mounted weapons
•    Reconnaissance vehicles
Feb/Mar 2016
(AUSA Global Force, DefExpo)
•    Artillery systems
•    Tracks and wheels
•    Rifle optics
•    Sniper rifles
Apr/May 2016
(DSA, SOFEX, IDEB, SOFIC)
•    Precision munitions
•    Special operations infantry equipment
•    Special operations vehicles
•    Camouflage
Jun/Jul 2016
(Eurosatory, Farnborough International Airshow)
•    Assault rifles
•    European armoured vehicles
•    Night vision Part 1
•    Tyres and run-flat technology
Aug/Sep 2016
(Land Forces, MSPO, AAD, Modern Day Marine, ADAS)
•    Sniper training and technology
•    Future armoured vehicle design
•    Remote weapon station technology
•    Vehicle optics and targeting systems
Oct/Nov 2016
(AUSA Annual, Milipol Qatar, Indo Defence, I/ITSEC)
•    Vehicle-mounted cannon
•    Anti-tank weapons
•    Armoured vehicle upgrades
•    Mortars


Dec/Jan 2016/2017
(SHOT Show)
•    Night vision Part 2
•    Active protection systems
•    Power and mobility
•    Body armour
Shephard Media is delighted to announce that our range of defence, aerospace and security magazines are now available through dedicated Apps for both Android and Apple devices.

Optimised for mobile viewing, the App allows readers to download and view each issue offline, and provides additional content such as interactive links, slideshow galleries, animations, video and more.

The first issue in each App is free to download and all issues will soon be available free to access for Shephard Plus subscribers using their existing Shephard Plus login details.

We hope you enjoy this great new way to access your favourite magazines.