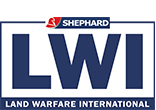 Subscribe
Shephard's Land Warfare International is the only global magazine dedicated to all elements of land warfare. The publication, which is distributed to a hand-picked audience of military and industry leaders, covers all aspects of the land battle.
LWI draws on the expertise of Shephard's experienced staff of defence writers that span the globe.
The bi-monthly publication supplies readers with all the latest news analysis and keeps them up to date with the technologies and programmes that they need to know about.
The magazine is supplemented by a daily news feed www.landwarfareintl.com, bringing live coverage from major exhibitions and events as well as all the latest company information.
EDITORIAL COMMENT
Dancing to technology's tune
NEWS
• Russia fields Arctic APC
• Russia Buks trend for new SAM
• Thailand to adopt DTI-2 rocket launcher
• India to buy T-90MS tanks
• Anti-tank Kornet for Algeria
• Belgian army battalions fire first Spikes
FOUR-WHEEL THRIVE
Development of 4x4 vehicles is seeing the arrival of new technology with models that are faster, lighter and better suited to their off-road missions.
ACTIVE SERVICE
Militaries across the globe are adopting new technologies to further secure their MBTs.
THE DARK SIDE
The night vision industry is continuing to evolve capabilities further than ever before, while ensuring the increasing SWaP demands by militaries are still being fulfilled.
POSITIVE REINFORCEMENT
Continuing pressures due to disputed territory and uncertainty over future US support mean the Japan Ground Self-Defence Force is undertaking new acquisitions and restructuring.
PROTECTIVE COVER
Advanced technologies are required to meet the needs of today's soldiers fighting at close quarters.
POWERING UP
Growing demands for onboard electrical supply are allowing new technologies to take advantage of opportunities to revolutionise military vehicle power and mobility in the near future.
PARTING SHOT
LIGHT TOUCH
As the 4x4 market evolves, Gordon Wolverton, head of engineering and programme management at Navistar, speaks to Tim Fish about how the company views the latest procurement trends and how it is addressing them.
Feb/Mar 2017
Features
Middle East armour development
Close-quarter weapons
Brazilian Army modernisation
Light artillery systems

Event distribution
IDEX (Abu Dhabi, UAE)
Chatham House Security & Defence (London, UK)
AUSA Global (Huntsville, AL, USA)
LAAD (Rio de Janeiro, Brazil)
Future Armoured Vehicles Situational Awareness (London, UK)

Apr/May 2017
Features
Special operations – USSOCOM
Turkish land programmes
Rifle optics technology
Long-range GBAD

Event distribution
IDEF (Istanbul, Turkey)
Future Armoured Vehicles Central and
Eastern Europe (Prague, Czech Republic)
SOFIC (Tampa, FL, USA)
IDET (Czech Republic)
CANSEC (Ottawa, Canada)

Jun/Jul 2017
Features
Amphibious armour technology
Heavy mortars
Assault rifles market
Night vision systems – Part 1

Aug/Sep 2017
Features
European vehicle programmes
Sniper rifle development
Anti-materiel munitions
Armoured vehicle upgrades

Event distribution
MSPO (Kielce, Poland)
DSEI (London, UK)
Modern Day Marine (Quantico, VA, USA)

Oct/Nov 2017
Features
Asian vehicle development
Heavy machine guns
MANPADS
Tank munitions

Event distribution
AUSA Annual (Washington, DC, USA)
Seoul ADEX (Seoul, South Korea)
Defence & Security (Bangkok, Thailand)
Milipol Paris (Paris, France)
I/ITSEC (Orlando, FL, US)

Dec 2017/Jan 2018
Features
Night vision – Part 2
RWS market
Precision mortar and artillery
munitions
Tracks and wheels technology

Event distribution
Gulf Defence (Kuwait)
SHOT Show 2018 (Las Vegas, NV, USA)
Shephard Media is delighted to announce that our range of defence, aerospace and security magazines are now available through dedicated Apps for both Android and Apple devices.

Optimised for mobile viewing, the App allows readers to download and view each issue offline, and provides additional content such as interactive links, slideshow galleries, animations, video and more.

The first issue in each App is free to download and all issues will soon be available free to access for Shephard Plus subscribers using their existing Shephard Plus login details.

We hope you enjoy this great new way to access your favourite magazines.