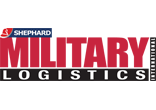 Subscribe
Founded in 2005 and added to Shephard's publishing portfolio in 2009, Military Logistics International is a truly global, market-leading publication covering the broad area of military logistics.
MLI's comprehensive coverage of ground, air and naval logistics ranges from fresh 'after-action' reports of logistics operations in the field, through logistics transformation issues, to analysis and discussion about industrial aspects of logistics and supply chain matters. The writing in MLI mirrors the common approach to military logistics: factory to foxhole.
Leading figures in the world of military logistics are regularly interviewed to give their views on crucial logistics matters. A highly respected international list of contributors ensures that MLI features the best analysis, comment and news.
EDITORIAL COMMENT

NEWS
EGYPT SIGNS FOR MORE C295s
NEW ZEALAND APPROVES NEW SUPPORT VESSEL
GROUND CLEARANCE 
Combat engineer units are faced with the dual pressures of financial cutbacks and expeditionary deployments, finds Stephen Miller. 
CARRY ON CAMPING 
Tented facilities and products are employing new technologies, reports Claire Apthorp.
THE PRICE OF FUEL 
With the finite lifespan and premium cost of fossil fuels, militaries are looking for alternatives. Liza Helps looks at how industry is helping drive innovation in this area. 
IN CONTROL 
The NATO Support Agency is changing and widening its capabilities. Tim Fish talks to Steve Bernett, director of logistics operations, who is retiring after a four-and-a-half-year tenure, about where NSPA is heading.
Winter 2013/2014
(Dubai Airshow, I/ITSEC)
• Logistics IT
• Field power
• Water supply
• Deployable infrastructure
• Fuel logistics - land
• Aircraft MRO
Spring 2014
(DIMDEX, FIDAE, NDIA Logistics, Defence Services Asia, SOFEX)
• Asian support aircraft
• Logistics vehicles
• Maritime support
• Field sanitation
• Base support
Summer 2014
(Eurosatory, Farnborough Airshow)
• European transport aircraft
• Combat kitchens
• Engineering support vehicles
• Equipment tracking
• Force protection
Autumn 2014
(African Aerospace & Defence Exposition, Euronaval, AUSA Annual)
• Contractor naval logistics
• IT stores
• F-35 sustainment
• US future trucks
• Power generation
Winter 2014/2015
(Airshow China, Indo Aerospace)
• Pallets and cases
• Tanker aircraft
• Maintenance training
• Tents
• Medical support
Shephard Media is delighted to announce that our range of defence, aerospace and security magazines are now available through dedicated Apps for both Android and Apple devices.

Optimised for mobile viewing, the App allows readers to download and view each issue offline, and provides additional content such as interactive links, slideshow galleries, animations, video and more.

The first issue in each App is free to download and all issues will soon be available free to access for Shephard Plus subscribers using their existing Shephard Plus login details.

We hope you enjoy this great new way to access your favourite magazines.