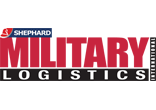 Subscribe
Founded in 2005 and added to Shephard's publishing portfolio in 2009, Military Logistics International is a truly global, market-leading publication covering the broad area of military logistics.
MLI's comprehensive coverage of ground, air and naval logistics ranges from fresh 'after-action' reports of logistics operations in the field, through logistics transformation issues, to analysis and discussion about industrial aspects of logistics and supply chain matters. The writing in MLI mirrors the common approach to military logistics: factory to foxhole.
Leading figures in the world of military logistics are regularly interviewed to give their views on crucial logistics matters. A highly respected international list of contributors ensures that MLI features the best analysis, comment and news.
EDITORIAL COMMENT

NEWS

China commissions MLP
KC-46A primed for first flight
Construction kit

Modular platforms, bolt-on accessories and fresh approaches to financing vehicle fleets are some of the options open to planners faced with maintaining a broad range of frontline engineering capabilities in an era of shrinking budgets, finds Claire Apthorp.
From ship to shore

Landing craft are an essential component of amphibious operations, delivering troops, armoured vehicles and the full spectrum of equipment from ship to shore during military and humanitarian operations. Ian Kemp examines major projects now under way.
Hardened haulage

Historically, military trucks were soft-skinned platforms, often with little to distinguish them from their commercial counterparts. However, recent conflicts have seen a much greater emphasis on protection emerge, finds Liza Helps.
Linking up

The distribution of military supplies for overseas operations and domestic transportation is a serious challenge. Mike Bryant talks to Air Commodore Christine Tolson, director general, supply chain, in Australia's Joint Logistics Command.
Winter 2014
(AUSA Annual, IndoDefence, Aero India)
• US future trucks
• F-35 sustainment
• Pallets and cases
Spring 2015
(IDEX, Avalon, AUSA Winter, LIMA, LAAD, IMDEX)
• Suuport ships
• Airlift platforms
• Logistics hubs
Summer 2015
(Paris Air Show)
• Tanker aircraft
• Weapon storage and transport
• Humanitarian assistance and disaster relief
Autumn 2015
(MSPO, DSEi, Modern Day Marine)
• Landing craft
• Logistics trucks
• Bridging systems


Winter 2015
(AUSA Annual, ADEX, Defense & Security, Milipol, Dubai Airshow)
• Batteries
• Engineering vehicles
• Deployable infrastructure


Shephard Media is delighted to announce that our range of defence, aerospace and security magazines are now available through dedicated Apps for both Android and Apple devices.

Optimised for mobile viewing, the App allows readers to download and view each issue offline, and provides additional content such as interactive links, slideshow galleries, animations, video and more.

The first issue in each App is free to download and all issues will soon be available free to access for Shephard Plus subscribers using their existing Shephard Plus login details.

We hope you enjoy this great new way to access your favourite magazines.