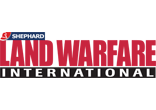 Subscribe
Shephard's Land Warfare International is the only global magazine dedicated to all elements of land warfare. The publication, which is distributed to a hand-picked audience of military and industry leaders, covers all aspects of the land battle.
LWI draws on the expertise of Shephard's experienced staff of defence writers that span the globe.
The bi-monthly publication supplies readers with all the latest news analysis and keeps them up to date with the technologies and programmes that they need to know about.
The magazine is supplemented by a daily news feed www.landwarfareintl.com, bringing live coverage from major exhibitions and events as well as all the latest company information.
EDITORIAL COMMENT 
Militant tendency 
NEWS 
• Russia to counter sanctions with increased army spend 
• Loc wins Bradley IFV mobility contract 
• European land consolidation edges closer 
• Djibouti parades new acquisitions 
• PLA displays new small arms at open day 
TOUGH CUSTOMERS 
African armies have struggled with underfunding and sustained civil unrest over the years, but the requirement for modern equipment is now becoming critical, finds Helmoed-Römer Heitman. 
A BRIGHT SPOT 
Operations in Afghanistan and Iraq have demonstrated the advantages of equipping every soldier with optical sights to improve situation awareness and lethality. Ian Kemp explores the evolution of this technology. 
BANG ON TARGET 
Technologies are now available to greatly increase the accuracy of indirect fires. David Saw details the decades-long quest for precision and examines the guided munition options currently on the market. 
HARD CHOICES 
Combat operations in Gaza have shown that the combined arms team remains at the heart of Israel's ground forces. Ian Kemp reports on army modernisation efforts in the face of competing budget pressures.
PULLING THE TRIGGER 
Bullpup or traditional? Upgrade or acquisition? Tim Fish examines how militaries around the world are approaching their current and future inventory of assault rifles, and what new trends are emerging. 
BODY OF WORK 
Soldier modernisation efforts around the world are resulting in some exciting developments in body armour, with unprecedented levels of protection, mobility and functionality being promised. Adam Wakeling reviews recent developments. 
PARTING SHOT 
ACCESSING AFRICA 
Stephan Burger, CEO of Denel Land Systems, talks to Helmoed-Römer Heitman about the African marketplace and how the company will position itself for exports.
Dec/Jan 2013/14
(Defexpo, Singapore Airshow 2014)
• Anti-materiel weapons
• Armoured vehicle upgrades
• Weapon sights and accessories
• 4x4 vehicles
Feb/Mar 2014
(AUSA Winter)
• Indian land procurement
• Heavy machine guns
• Amphibious vehicles
• Ammunition development
Apr/May 2014
(Defence Services Asia, IDEB, SOFEX)
• SOF vehicles
• South East Asian army modernisation
• Special operations equipment
• Rockets and launchers
Jun/Jul 2014
(Eurosatory)
• Track development 
• Assault weapons
• European land procurement
• Active protection systems
Aug/Sep 2014
(Africa Aerospace & Defence Exposition, MSPO)
• African army modernisation
• Israel army procurement
• Optics
• Body armour
Oct/Nov 2014
(AUSA Annual)
• Innovation - armoured vehicles
• US Army vehicle programmes
• Night vision systems
• Grenades
Dec/Jan 2014/2015
(SHOT Show)
• Sniper rifles
• Training equipment
• Future wheeled fleets
• Vehicle-mounted grenade launchers
Shephard Media is delighted to announce that our range of defence, aerospace and security magazines are now available through dedicated Apps for both Android and Apple devices.

Optimised for mobile viewing, the App allows readers to download and view each issue offline, and provides additional content such as interactive links, slideshow galleries, animations, video and more.

The first issue in each App is free to download and all issues will soon be available free to access for Shephard Plus subscribers using their existing Shephard Plus login details.

We hope you enjoy this great new way to access your favourite magazines.