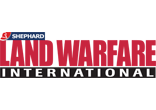 Subscribe
Shephard's Land Warfare International is the only global magazine dedicated to all elements of land warfare. The publication, which is distributed to a hand-picked audience of military and industry leaders, covers all aspects of the land battle.
LWI draws on the expertise of Shephard's experienced staff of defence writers that span the globe.
The bi-monthly publication supplies readers with all the latest news analysis and keeps them up to date with the technologies and programmes that they need to know about.
The magazine is supplemented by a daily news feed www.landwarfareintl.com, bringing live coverage from major exhibitions and events as well as all the latest company information.
EDITORIAL COMMENT
Independence movements

NEWS
• FNSS details new AFV family
• US to replace GATOR with smart mines
• Puma IFV enters service amid spiralling costs
• US Army to rationalise shoulder-launched munitions
• UK boosts Belize jungle training

COMMAND PERFORMANCE
The Turkish ground combat vehicle industry is leading the charge towards the twin goals of eliminating the country's dependence on foreign suppliers for the army's needs and boosting defence exports. Ian Kemp provides an overview.

SPECIAL INTERESTS
More than a decade of fast-paced kinetic operations in Afghanistan and Iraq has seen the face of US SOF equipment change dramatically. Andrew White examines what is currently being used in-theatre and where the technology is heading.

RETURN TO THE JUNGLE
The British Army is putting greater emphasis on jungle training as part of its preparation for a broader range of contingency operations. Tim Fish reports from the recent pilot Long Range Reconnaissance Patrol Course held in Brunei.

ENGAGEMENT STRATEGY
Clear vision and quick response times are essential to acquiring and targeting the enemy from within an armoured vehicle. Grant Turnbull discusses the technology available.

OFF THE BEATEN TRACK
Providing a level of deployable mobility not found in conventional tactical platforms, ATVs are appealing to an ever broader array of military units, finds Jonathan Tringham.

PRIVATE'S PROGRESS
With industry arguably taking a larger role in maintaining and supporting military ground equipment, a number of benefits are being realised. Stephen Miller assesses the distinctions between private and government-run facilities and services.

PARTING SHOT
A CLOSE CONNECTION
Following the sudden resignation of his predecessor, Harry Dunstall became the new acting CEO of Australia's Defence Materiel Organisation in late February and has been tasked with giving the organisation a refresh. Gordon Arthur talks to him
about the challenges ahead.
Dec/Jan 2014/15
(Shot show)
• Sniper rifles
• Training equipment 
• Future wheeled fleets
• Vehicle-mounted grenade launchers
Feb/Mar 2015
(IDEX, AUSA Winter, LAAD)
• Light wheeled vehicles
• Air defence - missiles
• Submachine guns and pistols
• Remote weapon stations
Apr/May 2015
(IDEF, SOFIC)
• Special operations equipment
• Turkish land sector growth
• All-terrain vehicles
• Targeting systems
Jun/Jul 2015
(Paris Air Show, Bridex)
• Weapon sights and accessories
• Self-propelled mortars
• Drive train technology
• Assault weapons
Aug/Sep 2015
(MSPO, DSEi, Modern Day Marine)
• Amphibious vehicles
• IFVs and APCs
• Night vision/thermal imaging systems
• Armour solutions
Oct/Nov 2015
(AUSA Annual, ADEX, Defense & Security)
• MANPADs
• Tactical vehicles
• Infantry support weapons
• MBT upgrades
Dec/Jan 2015/2016
(DefExpo 2016)
• Optics
• Air defence guns
• Vehicle-mounted weapons
• Reconnaissance vehicles
Shephard Media is delighted to announce that our range of defence, aerospace and security magazines are now available through dedicated Apps for both Android and Apple devices.

Optimised for mobile viewing, the App allows readers to download and view each issue offline, and provides additional content such as interactive links, slideshow galleries, animations, video and more.

The first issue in each App is free to download and all issues will soon be available free to access for Shephard Plus subscribers using their existing Shephard Plus login details.

We hope you enjoy this great new way to access your favourite magazines.