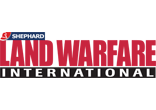 Subscribe
Shephard's Land Warfare International is the only global magazine dedicated to all elements of land warfare. The publication, which is distributed to a hand-picked audience of military and industry leaders, covers all aspects of the land battle.
LWI draws on the expertise of Shephard's experienced staff of defence writers that span the globe.
The bi-monthly publication supplies readers with all the latest news analysis and keeps them up to date with the technologies and programmes that they need to know about.
The magazine is supplemented by a daily news feed www.landwarfareintl.com, bringing live coverage from major exhibitions and events as well as all the latest company information.
EDITORIAL COMMENT
Editor Tim Fish sees a frantic rush to get projects under contract before the UK's next defence review.

NEWS
• New UK facility for Scout SV work
• Franco-German industry unites

A LEAP IN THE DARK
Night vision and thermal imaging technology for ground forces could be about to take a major step forward in terms of capability provided to the user, discovers Andrew White.

TEAM PLAYERS
Cannon-armed IFVs, designed for mounted combat, are an integral part of modern land forces. Ian Kemp examines recent developments

TREADING WATER
It has been a protracted and expensive process replacing the Amphibious Assault Vehicle in USMC service, but there are now signs of progress. Jonathan Tringham looks at the history of the programme and what the next key milestones are.

A LOT ON THEIR PLATES
Innovations in materials technology are resulting in a significant boost to vehicle armour capabilities. Tim Fish sizes up the offerings on both the steel and composites sides.

PARTING SHOT
READY TO REACT
Stephen Miller speaks to General Tim Evans, who assumed command of the NATO Allied Rapid Reaction Corps in September 2013, about the missions and challenges faced in his organisation.
Dec/Jan 2014/15
(Shot show)
• Sniper rifles
• Training equipment 
• Future wheeled fleets
• Vehicle-mounted grenade launchers
Feb/Mar 2015
(IDEX, AUSA Winter, LAAD)
• Light wheeled vehicles
• Air defence - missiles
• Submachine guns and pistols
• Remote weapon stations
Apr/May 2015
(IDEF, SOFIC)
• Special operations equipment
• Turkish land sector growth
• All-terrain vehicles
• Targeting systems
Jun/Jul 2015
(Paris Air Show, Bridex)
• Weapon sights and accessories
• Self-propelled mortars
• Drive train technology
• Assault weapons
Aug/Sep 2015
(MSPO, DSEi, Modern Day Marine)
• Amphibious vehicles
• IFVs and APCs
• Night vision/thermal imaging systems
• Armour solutions
Oct/Nov 2015
(AUSA Annual, ADEX, Defense & Security)
• MANPADs
• Tactical vehicles
• Infantry support weapons
• MBT upgrades
Dec/Jan 2015/2016
(DefExpo 2016)
• Optics
• Air defence guns
• Vehicle-mounted weapons
• Reconnaissance vehicles
Shephard Media is delighted to announce that our range of defence, aerospace and security magazines are now available through dedicated Apps for both Android and Apple devices.

Optimised for mobile viewing, the App allows readers to download and view each issue offline, and provides additional content such as interactive links, slideshow galleries, animations, video and more.

The first issue in each App is free to download and all issues will soon be available free to access for Shephard Plus subscribers using their existing Shephard Plus login details.

We hope you enjoy this great new way to access your favourite magazines.